Investors searching for high yielding opportunities found a safe haven in The Female Health Company (NASDAQ:FHCO) in past quarters. Recently, it was yielding approximately 5%, which is unheard of in the current market environment categorized by historically paltry yields. Moreover, in the past, when a company has decided to halt their dividend payments, it is usually a harbinger of negative events to come. However, there are companies that use the funds saved from not paying shareholders to generate outsized gains and create shareholder value through capital appreciation. I believe FHCO has the opportunity to be one of those later companies. Nonetheless, when management announced the suspension of the dividend, investors were quick to sell their shares. With the significantly depressed trading level, FHCO represents an asymmetric risk/reward opportunity.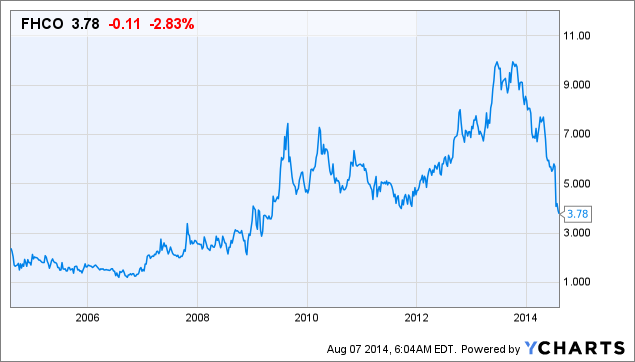 About The Female Health Company
The Female Health Company manufactures, and sells the FC2 Female Condom, which is the only female condom approved by both the FDA and WHO. FHCO relies on public sector purchases of its products, such as governments or the FP2020 program. Since the company began distributing the FC2 in 2007, it has shipped the product to 144 countries. FHCO has a first mover advantage in the industry being the only FDA and WHO approved product, which has allowed for generous margins, but also required them to create their own market through expensive education and training programs.
Recently, the Bill and Melinda Gates Foundation has announced a challenge to redesign a female condom. The winner of the challenge will receive $100,000 from the foundation. Although some can view this as a negative development, as there will be more competition in the market, I contrarily view it as a positive. Currently there are roughly 10 billion male condoms sold each year and the ratio to male and female condoms is 10 to 1. Therefore, creating more awareness of female condoms and swinging the ratio slightly in favor of female condoms could generate substantial demand. This burgeoning market has room for more than one player.
Quarterly Report
During the most recent quarter, FHC sold 13.7 million FC2 Female Condoms, generating $7.9 million in revenue, which is up 9% from the same quarter last year. The company was able to flow more of this revenue to the bottom line, as their operating profit margin improved to 26% from 15% in the prior year quarter. However, this improvement does not mark an increased demand for the product, but is more of a function of the volatility of timing and shipment of orders. The company relies on public sector orders for nearly all of its revenue, so orders are generally lumpy.
With that being said, in the nine-months ending in June 2014, net revenues decreased 29% to $18.9 million and EPS declined to from $0.27 to $0.10. Investors superficially viewed that steep revenue decline as a negative development, and sold the stock accordingly. Nonetheless, demand has remained steady for the product, and concern about falling demand is unfounded.
New Strategic Direction
The company's first action in their new strategic direction was to suspend its cash dividend. The company's strategy is segmented in two-parts. The first priority is to grow demand for FC2 Female Condom around the world. The ratio of male to female condoms is about 10 to 1 currently. With 10 billion male condoms distributed globally each year, swinging this ratio slightly could have dramatic effects.
In the past, the company has relied on programming and training teams to help drive awareness through education and training. This method of marketing has proven to be very costly. The company has brought on a marketing expert, Susan Ostrowski, to lead their sales marketing and sales support team. Susan will explore more traditional, cheaper alternatives to spreading awareness about its product. Furthermore, FHCO will begin marketing to the consumer sector, which it previously has not advertised to before.
The second element of its strategy is to diversify and expand their product portfolio. The company has been a single product company for nearly all of its 20 plus year history. Although this has proven to be profitable in the past, there is an inherent risk with this proposition that is beneficial to mitigate. The company will use the saved dividend funds to systematically explore acquisition targets that would be complementary to its current product offering. Although no acquisitions have been announced, the cash to do one will certainly be available. In the event of an acquisition announcement, I expect the stock to gap upwards.
FP2020 Program
FP2020 is a facilitation body to help assure that reproductive health programs get implemented in 69 of poorest countries around the world. Additionally, the program attempts to reach 120 million through education programming and training. The company is financed by several non-profits and governments such as the Gates Foundation and the UK Government. As FP2020 begins programming and educating in new countries, orders for the FC2 increase. As the goal of the organization is to enable 120 million more women and girls to use contraceptives by 2020, this is a positive for FHCO. The organization has $4.6 billion in funding to accomplish this goal. Being aligned with the interests of such a powerful non-profit can certainly prove to be lucrative.
Tax Loss Carry Forwards
Another positive note that many investors gloss over is that FHCO has significant tax loss carry forwards saved. FHC has $17.2 million in state, $19.2 million in Federal, and $63.2 million in UK tax loss carry forwards. The UK tax loss carry forwards do no expire and the U.S. ones do not for several years. These loss carry forwards will mitigate future taxes and allow for more revenue to flow through to the bottom line.
Risks
There are several risks in investing in FHCO that are worth discussing.
First, the copyright, patent, and trademark laws are much more lax in certain countries such as India. With that being said, an Indian based company, Cupid Limited has introduced a female condom by the same name and achieved WHO approval. The product does not have FDA approval, however. The company has been receiving some orders from the UNFPA, but it remains to be seen if the company can deliver the product in sizeable quantities.
There are three other competitors worth mentioning. First, PATH, a non-profit organization, has begun developing a women's condom, but it has not been commercially launched anywhere. There are also two Chinese companies offering versions of the female condom under the trade names Pleasure More and Fonar.
Even though some countries do not provide patent protection, FHC's FC2 product is covered by 38 patents across 50 countries. So although the company will lose some sales to inferior copycats, it still possess a competitive advantage in numerous markets in the form of patents. Moreover, the proliferation of competitors is evidence of the market potential and could help to generate a growing market size overall.
Another notable risk worth mentioning is the lack of liquidity that is present in trading FHCO. The company has an average volume of just 258,990 so there is an inherent risk about unloading your shares and about facing wide bid/ask spreads.
Valuation
During the quarter, FHCO ended with $4.1 million in cash, and remained debt-free. If the company does not find a favorable acquisition, it could create significant shareholder value through a share repurchase program. With the current trading level of $3.78 and its current cash position of $4.1 million, the company could buy back 1.1 million shares or 4% of total float. Moreover, in the current low interest rate environment, management could create even more shareholder value by levering up to purchase more shares at this undervalued level.
With a PE ratio, at an all-time low, of just 7.58x and a price to sales ratio, again at an all-time low, of just 3.46x, there is a certain margin of safety in this investment.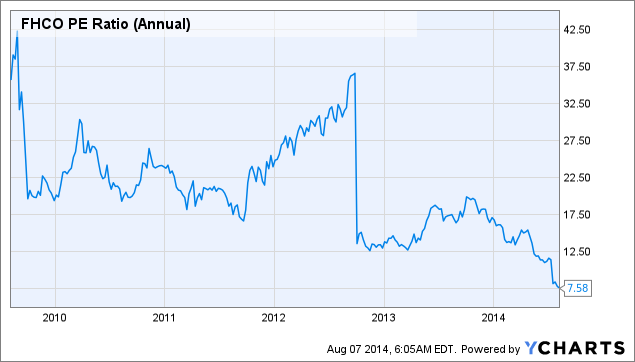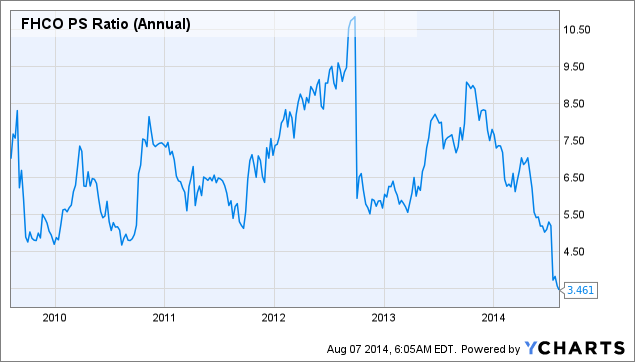 Insider Stake Growing
Insiders may sell their stake in a company for numerous reasons. However, there is only one reason for them to purchase additional shares, they think they are undervalued. Over the past few months, especially since the recent sell-off, insiders have been accumulating shares. With recent purchases, insiders, including directors and management, now own more than 24% of outstanding shares. Management clearly has an incentive to create shareholder value.

Source: Openinsider.com
Concluding Remarks
The Female Health Company provides an asymmetric risk/reward opportunity. The business has not fundamentally changed, but due to the lumpy nature of revenue, investors may fallaciously think it has. Moreover, I opine that their outlook has actually improved by halting the dividend, as they will market to the consumer sector and have the ability to generate substantial demand, as they have never marketed through this avenue before. Generally marketing has a diminishing rate of return, so this presents a bright future for FHCO. At the current depressed trading level FHCO has zero debt, is profitable, is in a growing industry, and trades at a low range based on its assets, sales, and earnings. I would suggest accumulating shares at the current price.
Disclosure: The author is long FHCO. The author wrote this article themselves, and it expresses their own opinions. The author is not receiving compensation for it (other than from Seeking Alpha). The author has no business relationship with any company whose stock is mentioned in this article.