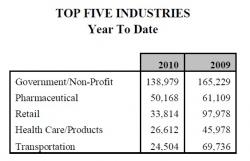 One probably does not need to read the latest monthly tally from Challenger Gray & Christmas, the outplacement consultants, to know that pharmaceutical employment remains gloomy. In the past 24 hours, Novartis (NYSE:NVS) finally acknowledged plans to lay off 1,400 reps and Pfizer (NYSE:PFE) is saying goodbye to more than 180 employees at a distribution center. And just two weeks ago, Roche (OTCQX:RHHBY) announced that 4,800 jobs worldwide will soon disappear.
But just how many industry jobs in the US were lost last month? The headcount amounted to 4,905, bringing the annual damage to 50,168, which means the the number of jobs so far this year is closing in on the revised total of 61,109 that were shed last year. Given recent developments - and let's not forget that Express Scripts (NASDAQ:ESRX) this month may close two processing centers that employ about 1,000 people (back story) - 2010 may prove to be as bad as 2009 (see the report here). Challenger, however, does not place pharmacy benefit managers in the pharma category.
However, as we have noted previously, there are two caveats. First, not all job cuts are disclosed, since some companies cut staff in dribs and drabs and, therefore, are not required to file notices with their state governments. The implication is that job losses are greater than the survey implies. At the same time, though, the monthly tallies do not necessarily present a complete employment picture, given that selective hiring continues for various positions at numerous companies. So the net effect may, unfortunately, be skewed. Yet, the larger trend is clearly not favorable.
Disclosure: None