The use of specialty grade phosphate products is becoming ubiquitous. It is a niche segment of the chemicals sector market that has great potential. It covers an ever-broadening range of applications from water, paper and metal treatment and agriculture to electronics, textiles, tablets, meat preservation and detergents. These specialty ingredients can act as flavor enhancers in beverages, leavening agents in baked goods, additives in deli meals and cleaning agents in toothpaste. The diversity and importance of specialty phosphates applications create a demand that is resilient to financial turbulence, as most of the associated applications are sorely needed regardless of the stage of the economic cycle.
Innophos Holdings (NASDAQ:IPHS) has become one of the two main North American manufacturers of specialty phosphates, serving a diverse range of customers across multiple applications, geographies, and channels. With over a century of experience and innovation in their field, they have deservedly earned their market-leading position. With corporate headquarters in Cranbury, N. J., and Mexican headquarters in Mexico City, Innophos has approximately 1,100 employees throughout North America, with plant operations in Illinois, Tennessee, Louisiana, Canada, and Mexico. They hold a number of key patents governing the manufacture and use of phosphates and continue to develop new and innovative phosphate based products to address specific customer applications.
Valuation
With a market capitalization of $1.3 billion, Innophos has plenty of room to grow as the industry of specialty phosphates expands globally. The company has very little debt. Its debt-to-equity ratio is only 0.549 and it has been steadily decreasing, which is very encouraging. The current ratio, which basically measures the company's ability to pay its short-term obligations, stands at an impressive 4.81. Practically, this means liquidity is there -- in ample amounts.
The firm had a robust performance in the second quarter of 2014. They achieved higher levels of profitability and their operating performance improved significantly over the year-ago period.
They achieved net sales of $220 million in the second quarter, up 3% from the same period last year and up 2% sequentially, diluted earnings per share of $0.93 were up 45% sequentially and up 18% compared to the $0.79 recorded in the prior year period. As a matter of fact, they delivered the highest specialty phosphates operating income in nine quarters, with operating margins that were above their targeted 2014 range. Earnings growth was driven by stronger margins primarily due to improved operations in Mexico.

Operating income in the U.S. and Canada was down $2 million compared to second quarter, 2013 but slightly above the last three quarters run rate. They recently implemented a price increase that will take effect at the beginning of the third quarter to help offset rising raw material cost. As a result, their operating income margin target of 14% has been raised to 15% for 2014. A continued strength in export sales combined with the improved performance of the Mexico operation as well as the disciplined cost management have determined their ambitious profitability goals for the year. The company generated additional cash from operations and the net debt decreased by $11 million in the second quarter of 2014 to $101 million. With a solid balance sheet and the ability to generate free cash flow on a recurring basis, they aim at maximizing shareholder value. The quarterly dividend rate to be paid in the third quarter was increased by 20% to $0.48 per share. This follows a 14% increase in the dividend rate in the fourth quarter, 2013.
The consistent dividend increase is an important indicator of the health and prospects of the firm's finances. In that sense, the chart below is quite encouraging with regard to the future of Innophos.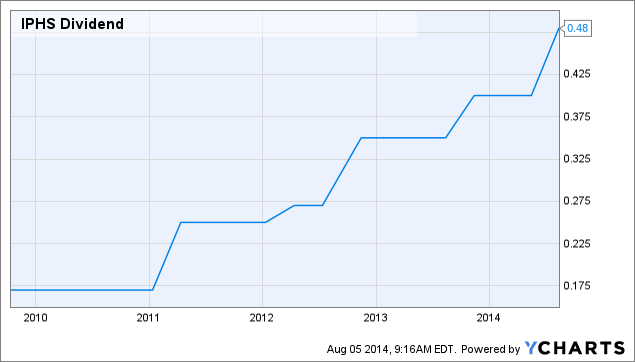 Competitors
The company is successfully outperforming its main competitors. This is a trend that appears to be gaining steam. Earnings per share jumped in a way that far outpaced its competition.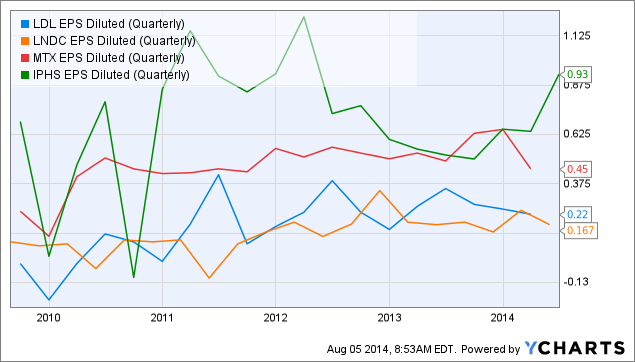 Similarly, the company achieved a substantial increase in its free cash flow, which also set it apart from its competitors. This matters because the cash that it generates allows the company to actively pursue opportunities, enhancing shareholder value and expanding the firm's presence.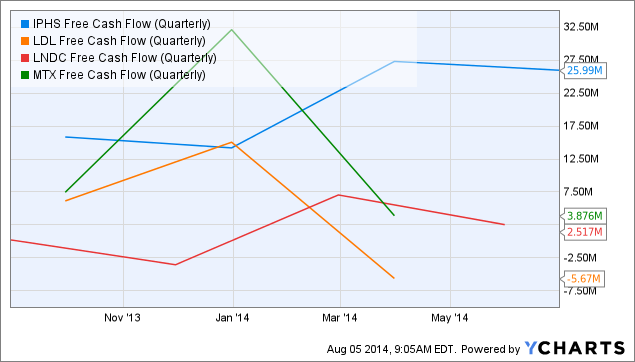 Furthermore, the company excelled in another key metric that speaks volumes about the effectiveness and soundness of its management's work. I'm referring to the return on assets that has been climbing at a markedly accelerated pace in the last two quarters.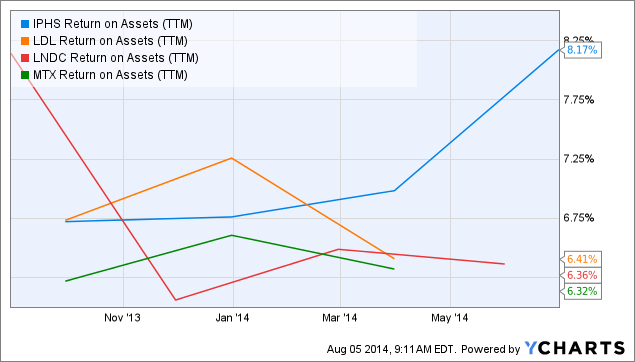 Technical Picture
Over the past five years, Innophos has established a trend of consistent, low-volatility rising without any sharp moves in either direction. It has handily surpassed the major indices, while maintaining a smooth pace. This offers confidence and peace of mind to the long-term investor.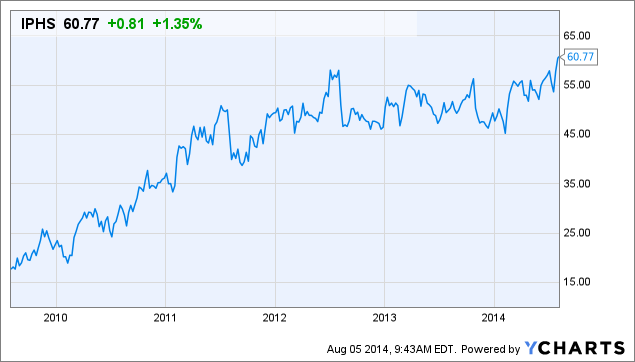 Strategy
With all the valuable experience they have gained over the years, their strategy has become quite sophisticated. One of their main goals is to boost the growth of export sales by expanding geographically across numerous regions in Asia, Europe, Middle East, Latin America, and Africa. Their plans include investing in research and development to enhance their products and develop new ones, building on their position in the high growth micro-nutrient ingredient space and seeking strategic acquisition opportunities.
Conclusion
In the past five years, the price of IPHS has climbed approximately 600%. This stellar rise far exceeded the major indexes returns, as well as most other companies in its sector. The steady pace of its phenomenal price gains, the quality of its management, and the nature of its industry-specific demand make this an investment with increased relative safety and great growth potential.
Disclosure: The author has no positions in any stocks mentioned, and no plans to initiate any positions within the next 72 hours. The author wrote this article themselves, and it expresses their own opinions. The author is not receiving compensation for it (other than from Seeking Alpha). The author has no business relationship with any company whose stock is mentioned in this article.