Petroleum & Resources (NYSE:PEO) released it's mid-year semi-annual report recently. For the 6 months ended June 30, 2013 the fund had a total market return of 14.7%. Results compare favorably with the 12.5% total return of the Lipper Global Natural Resources Funds Index - the yardstick by which PEO measures itself. However, when measured against a broadly based energy ETF like Energy Select Sector SPDR (NYSEARCA:XLE) over the past 5 years, the results are not so rosy: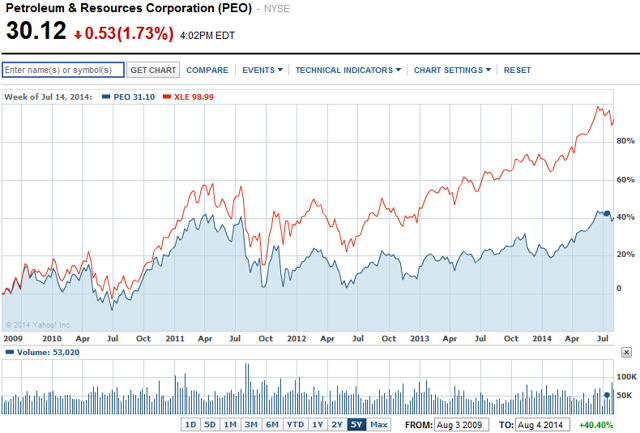 Click to enlarge
Note: the above chart is market price only - dividends are not included.
PEO benefited from energy stocks that were generally strong in the first half of the year. Several of the fund's larger holdings, including EOG Resources (NYSE:EOG) and Pioneer Natural Resources (NYSE:PXD), were cited by the company's press release as among the best contributors to performance. New names added to the portfolio were Suncor Energy (NYSE:SU) and Whiting Petroleum (NYSE:WLL), which the report listed as an "oil and gas producer operating in the Permian." Considering Whiting is best known as a leading Bakken producer (not so much as a Permian player), that might explain why PEO was so late to the party.
Top-10 Holdings
The fund's top-10 holdings at the end of Q2 are shown below: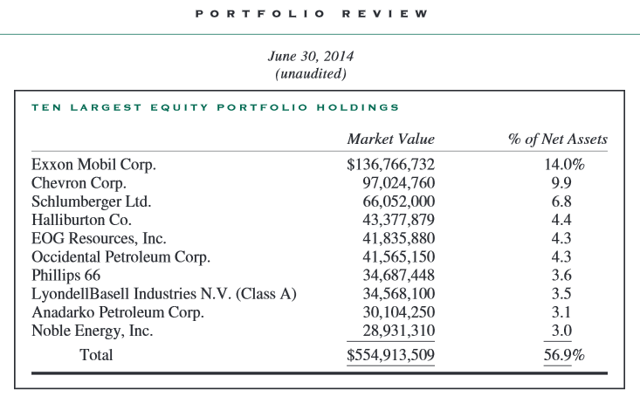 Click to enlarge
Source: Company Report
We have gotten used to PEO's over-emphasis on two big names: Exxon Mobil (NYSE:XOM) and Chevron (NYSE:CVX), which together comprise almost one quarter of the entire NAV of the fund. Also, the two stocks the fund mentioned as among the "top contributors to performance" comprise relatively small positions in comparison to XOM and CVX:
| Company | Shares | Mkt. Val. | % of NAV |
| --- | --- | --- | --- |
| EOG Resources | 358,000 | $41,835,880 | 4.3% |
| Pioneer Nat Res. | 99,500 | $22,866,095 | 2.3% |
| Whiting Petroleum | 140,000 | $11,235,000 | 1.2% |
| ConocoPhillips (NYSE:COP) | 197,000 | $16,888,810 | 1.7% |
If EOG and PXD were indeed top contributors to the fund's performance with such small positions, that indicates the rest of the portfolio must be severely lagging. The fund also has a very small stake in Whiting, one of the best performers in the first half of 2014.
I also included ConocoPhillips in the above chart to show what a relatively small position the fund holds in this out-performer. On Monday, highly respected energy analyst Liam Denning penned a piece for the Wall Street Journal titled Big Oil Needs A New Vessel In Rough Seas. Denning notes the drooping performance of the biggest international oil companies (Exxon, Chevron, BP (NYSE:BP), and Shell (NYSE:RDS.A)) as average ROCE has been roughly cut in half since 2008. He also points out that the best performing stock of the major oil companies over the past 5-years has been ConocoPhillips - a company that "threw in the towel on bigness" and began a strategic plan unleash shareholder value. Part of that plan, which included large asset dispositions, was the spin-off of its midstream and downstream businesses in 2012 into Phillips 66 (NYSE:PSX). PSX subsequently formed Phillips 66 Partners LP (NYSE:PSXP), the MLP which created even more shareholder value. Denning ended the article by suggesting that major oil companies should consider downsizing. I could not agree more! As a shareholder in all three companies, it was easy for me to see how COP had left XOM and CVX in the dust. In fact, I recently wrote two pieces suggesting the obvious:
Interestingly enough, shareholders of both companies generally left comments criticizing my suggestions. Of course my response is if they have been happy owning Exxon and Chevron over the past 5 years, they would have loved owning COP. In addition, almost every objection raised was simply untrue:
It's a gimmick (MLP's are a proven method of unleashing value).
The company will lose control of assets (As the general partner, they absolutely will not).
The company will lose the benefits of being integrated (They will not - the GP sets the operating and strategic path for the LP).
All the ramifications of spinning off an MLP are positive: the MLP gets direct access to debt and equity markets; the MLP provides the GP with a tax advantaged distribution stream; the MLP is a ready made mechanism to drop-down additional assets for cash. The end result is the goal: an unleashing of shareholder value. These reasons are exactly why companies like Anadarko Petroleum, Apache, Hess, and Occidental Petroleum have all announced plans to slim down and/or have planned MLP spin-offs.
My question is this: are institutional holders of Exxon and Chevron stock, like Petroleum & Resources, contacting the executive management of those two companies and asking: "Hey, when are you guys going to spin-off an MLP to unlock shareholder value and get your stock moving?"
Discount to NAV
Despite PEO's decent returns over the years, they still have a basic problem: the discount to NAV is huge (a whopping 14.9%). Those who have read my previous Seeking Alpha articles about PEO know I have contacted the company many times over the years and strongly advised (begged?) them to convert the fund to a "normal" mutual fund that closes the trading day by updating to NAV, just like the Vanguard Energy Fund (MUTF:VGENX) for example.
PEO was the second equity I ever bought, way back in the early 1980's. I thought I was getting a good deal since the fund was trading at an 8% discount to NAV at that time. I never dreamed it would balloon to 14.9%.
It is my belief the fund's managers tried to address the "discount problem" by announcing in September of 2012 its commitment to a 6% minimum annual distribution rate. While the income is certainly welcome in this day-and-age of 1% (if you are lucky) 5-year CD rates, it did nothing to change the discount to NAV issue. In rising markets, PEO's discount to NAV tends to widen, and in falling markets it tends to contract - but so does the share price. There is never a good time to sell the fund and claw back the discount gap. And I suppose that is why I still own the damn thing after ~30 years. The past 10-years of (fairly sub-par) performance is shown below: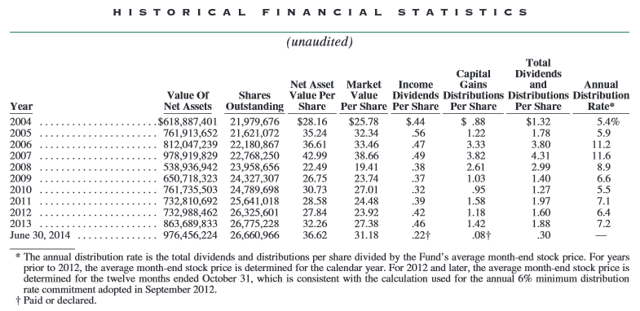 Click to enlarge
Source: Company Report
The fund's performance could be so much better. PEO's executive management has something in common with Exxon's and Chevron's: they are simply unwilling to take the obvious steps necessary to reward ordinary shareholders by unlocking the long-term value of assets of the operation. Ironically, that is exactly what they are being paid to do and is the primary component of their job description. Two suggestions:
End the love affair with Exxon and Chevron, reduce the over-emphasis on these two stocks, and increase the stakes in companies like COP and EOG.
Convert from a closed-end fund to a "normal" fund that closes the day priced at NAV.
Summary & Conclusion
Petroleum & Resources is a very mediocre closed-end fund due to two main reasons: a huge discount to NAV and over-weighted positions in two lagging companies: Exxon and Chevron. Worse, the executive management at the fund, and of these two companies, do not seem overly concerned about their lagging stock price performance. I say this because all three have not been inclined to do anything about it.
If you don't own PEO, don't buy it. If you do own it, hold it. Misery loves company. PEO is a HOLD.
Disclosure: The author is long COP, CVX, PEO, XOM. The author wrote this article themselves, and it expresses their own opinions. The author is not receiving compensation for it (other than from Seeking Alpha). The author has no business relationship with any company whose stock is mentioned in this article.
Additional disclosure: I am an engineer, not a CFA. The information and data presented in this article were obtained from company documents and/or sources believed to be reliable, but have not been independently verified. Therefore, the author cannot guarantee their accuracy. Please do your own research and contact a qualified investment advisor. I am not responsible for investment decisions you make. Thanks for reading and good luck!