For long-term utility investors, Southern Company (NYSE:SO) is still a buy. With an above average current yield and the potential for a tapering of capital expenses budgets over the next three years, SO stock price should respond favorably. As the company's two big construction projects come on line, the current overhang of construction-related uncertainty should slowly evaporate and SO stock should strengthen. However, current valuations seem to indicate SO is about fairly valued.
Below are selected valuation parameters compared to a few other large cap regulated electric utilities: Duke Energy (NYSE:DUK), NextEra (NYSE:NEE), Exelon (NYSE:EXC), American Electric Power (NYSE:AEP), PPL Corp (NYSE:PPL), Edison International (NYSE:EIX), Xcel Energy (NYSE:XEL), Northeast Utilities (NU), and FirstEnergy (NYSE:FE).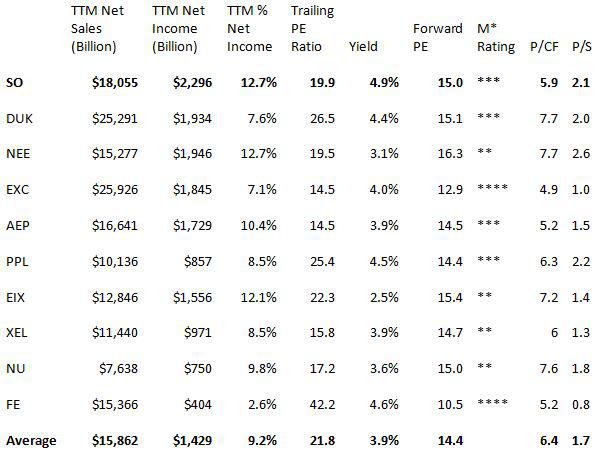 Source: reuters.com, morningstar.com, thestreet.com
While the forward PE ratio for SO is just a bit over the average of these 10 utilities, SO generated higher net income margins. NEE and EIX both generate high net margins over 12% of net revenues. However, SO also generates higher shareholder income than its peers, and by a long mile over EIX.
As their Kemper and Vogtle projects are completed, capital expenditures should show a reduction, from and anticipated $5.7 billion in this year to $3.9 billion in 2017. This year appears to be the peak in capital expenditures and a peak in the spread between 1) operating cash flow and 2) cap ex plus the dividend. While still negative in 2017, the estimated gap shrinks from $3.08 billion this year to a more manageable $0.85 billion. Below is a table of estimated operating cash flow, cap ex, dividends, and the spread:
| | | | | | |
| --- | --- | --- | --- | --- | --- |
| In Billions $ | 2013 | 2014E | 2015E | 2016E | 2017E |
| Operating Cash Flow | 6.01 | 4.42 | 4.75 | 4.93 | 5.15 |
| Cap Ex | 5.40 | 5.70 | 5.10 | 4.10 | 3.90 |
| Dividend | 1.70 | 1.80 | 1.90 | 2.00 | 2.10 |
| OCF Minus Cap Ex Minus Dividend | (1.09) | (3.08) | (2.25) | (1.17) | (0.85) |
Source: Credit Suisse, MyInvestmentNavigator.com
Historically, Southern Company has generated one of the best and consistent returns on invested capital ROIC in the industry. However, recent and persistent cost over-runs in its construction budgets have nipped reported earnings, reflected in a substantial decline in ROIC. From 2000 to 2012, management generated ROIC in the 7% range, which is above the industry average of around 3% to 5%. However, with the over-runs, fastgraph.com calculates ROIC has dropped to 4.01% for the 1st qtr. of 2014. Morningstar calculates a 2013 ROIC of 5.3%, vs 4.8% for fastgraph.com, and a trailing twelve months of 5.9%. Below is the 15-yr graph of SO's ROIC, per fastgraph.com: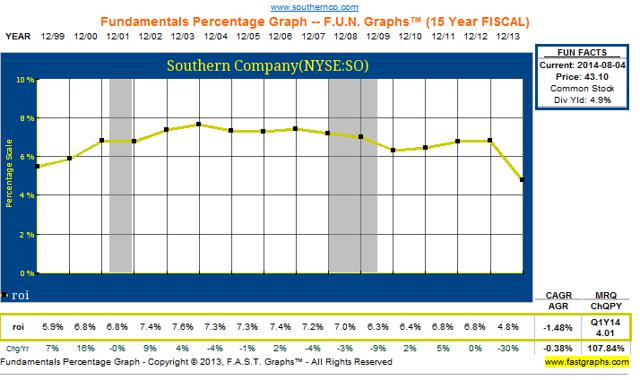 A review of FAST graphs also indicates a currently fairly valued share price at its normal PE ratio of 16.1%.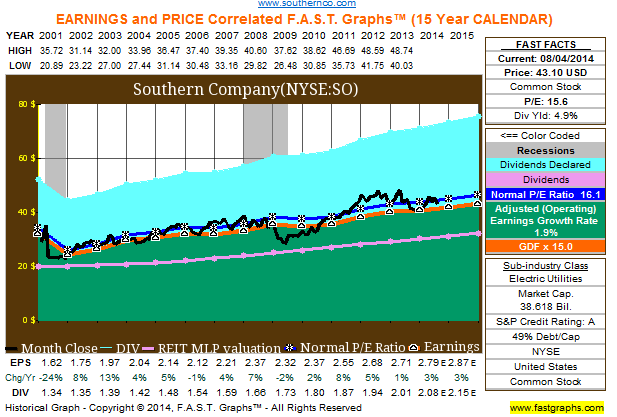 For the previous nine years, management has raised the dividend by 4% annually. Investors should expect this string should continue over the next few years.
Southern Company service territory encompasses portions of the states of Mississippi, Alabama, Georgia and the panhandle of Florida, and has 4.4 million customers.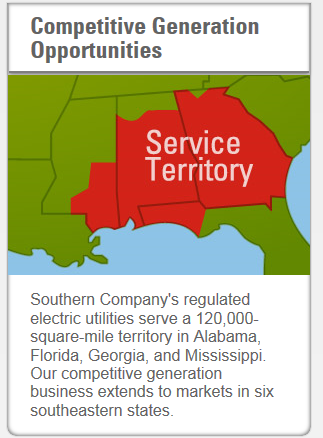 As is often stated, SO has created a cooperative relationship with the state utility regulated commissions. As part of their Credit Rating evaluation, S&P evaluates the regulatory environment. S&P recently altered its rating system and has reduced the effective number of regulatory environment categories listed from five to three. SO services 1.8 million customers in states rated the highest at "Strong" - Florida and Alabama; 2.3 million customers in states rated as "Strong/Adequate" - Georgia; and 300,000 in states rated as "Adequate". About half of SO customers reside in states with the highest regulatory environment assessment.
As a side note, I find S&P's new assessment rating system to be a bit less informative with only three categories. Only nine states are in the "Strong" category, two in the "Adequate" and the balance in the "Strong/Adequate" category. While becoming a bit less useful, S&P offers the only easily accessible opinion on regulatory friendliness. More information can be found at in a pdf presentation found here.
Many investors are planning for the eventuality of rising interest rates and it can be useful to review how SO performed during previous periods. The most recent periods are from June 2004 to June 2007, Aug 1993 to Nov 2000 and Nov 1986 to May 1989. Using buyupside.com historic data, below is a review of total return performance, number of trading days between the beginning and end of rate hikes, and the value of $10,000 invested at the beginning of rate hikes:
June 2004 to June 2007
Total annual return + 12.2%, invested for 756 days, $10,000 -> $14,119
Aug 1993 to Nov 2000
Total annual return + 10.7%, invested for 1,833 days, $10,000 -> $20,850
Nov 1986 to May 1989
Total annual return + 5.6%, invested for 630 days, $10,000 -> $11,464
As shown, investments in SO may not have lit the world on fire, but it provided positive total returns during previous periods of rising rates.
Over the previous 10 years, Morningstar's performance graph shows Southern Company (blue line) total return to be a hair better than the S&P 500 (green), but underperforming regulated electric utilities. Below is a comparison of $10,000 invested in each since 2004: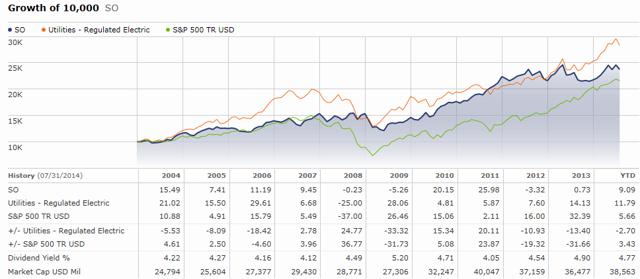 With an above average current yield and the potential for a tapering of capital expenses budgets over the next three years, SO stock price should respond favorably. There are more positives to owning SO than negatives, with the most important being the sustainability and growth of its dividend. If earnings and dividends continue to grow at a 3% to 4% rate, by 2017 the dividend could increase to $2.31 a share, offering current buyers a 5.3% yield on cost.
Author's Note: Please review important disclaimer in author's profile.
Disclosure: The author is long SO, AEP, EXC. The author wrote this article themselves, and it expresses their own opinions. The author is not receiving compensation for it (other than from Seeking Alpha). The author has no business relationship with any company whose stock is mentioned in this article.