Defense contractor Northrop Grumman Corporation (NYSE:NOC) received a $480 million contract to construct the fourth National Security Cutter (NSC) – WMSL 753, for the U.S. Coast Guard. Northrop will complete the construction work at its Pascagoula facility.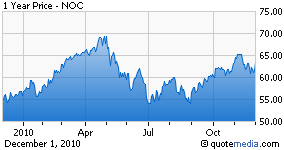 The National Security Cutters that comprise the Coast Guard's Legend class are the flagships of the Coast Guard fleet, designed to replace the 378-foot Hamilton class High Endurance Cutters, which entered service during the 1960s. These ships are a significant part of the Coast Guard's recapitalization program.
The U.S. Cost Guard already has two similar ships, USCGC Bertholf (WMSL 750) and USCGC Waesche (WMSL 751), in operation at the Coast Guard missions. The third ship in the class, Stratton (WMSL 752), is under construction and is expected to be completed next year.
The fourth ship in the series, to be constructed by Northrop's Shipbuilding division, will be 418-feet long with a top speed of 28 knots, a range of 12,000 nautical miles, an endurance of 60 days and a crew capacity of roughly 110. The NSC has a launch and recovery area for two rigid hull inflatable boats and a flight deck for helicopters.
The Coast Guard's contract for the fourth ship of this type reflects its confidence in NSC's design capabilities and demonstrated performance.
The Legend-class NSC is capable of meeting a wide variety of maritime security mission needs. It is the largest and technologically the most advanced class among multi-mission cutters in the U.S. Coast Guard, with robust capabilities for maritime homeland security, law enforcement, marine safety, environmental protection and national defense missions. This class of cutters plays an important role enhancing the Coast Guard's operational readiness, capacity and effectiveness.
Los Angeles-based Northrop Grumman is one of the world's leading shipbuilders and the second largest defense contractor in the U.S. The company supplies a broad array of products and services to the U.S. Department of Defense, including electronic systems, information technology, submarines and surface ships, aircraft, space technology and systems integration services.
Northrop Grumman mainly competes with Empresa Brasileira de Aeron (NYSE:ERJ) and Lockheed Martin Corporation (NYSE:LMT). We currently have a Neutral recommendation on the Zacks #3 Rank stock.