Shares of MGM Resorts International (NYSE:MGM) are up sharply over the past year and have outperformed rivals Las Vegas Sands (NYSE:LVS), Wynn Resorts (NASDAQ:WYNN), and Caesars Entertainment (NASDAQ:CZR). MGM has outperformed in part due to its strong results coming from its Las Vegas based properties. At the same time, MGM has reported somewhat disappointing results for its China segment. The broader trend of strength in Las Vegas and weakness in Macau has helped MGM outperform its rivals such as Las Vegas Sands who rely more heavily on Macau than Vegas.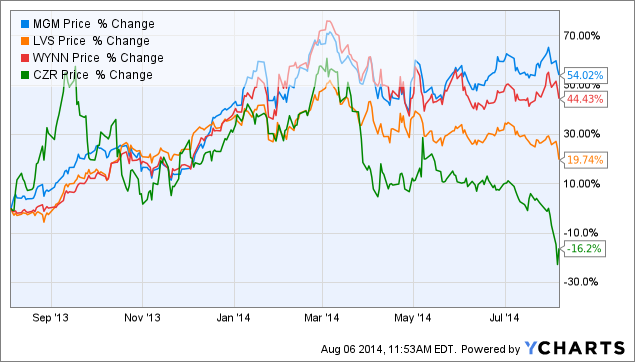 MGM data by YCharts
Debt Load
The biggest headwind that MGM is facing is its debt load. Currently, MGM has just shy of $13 billion in debt. MGM equity has a market cap of $12.5 billion. While MGM has undergone a number of restructurings, the company continues to maintain a massive amount of debt. While MGM's debt level is no where near as extreme as Caesars, it is still significantly larger than Las Vagas Sands of Wynn. Right now, MGM's business is very strong and the company is earning significant profits. However, eventually, the economic cycle will turn and MGM will have a difficult time maintaining profits. While leverage is great during the boom times, it can be deadly during bad times. I believe leverage is especially dangerous in the casino business because earnings tend to be quite volatile depending on the economic environment. Companies in industries that produce steady earnings such as supermarkets, dollar stores, or utilities can easily carry a significant amount of leverage because operating cash flow is predictable. Comparably, a company such as MGM should not be carrying significant debt because of earnings variability. MGM will have a very difficult time riding out the next downturn.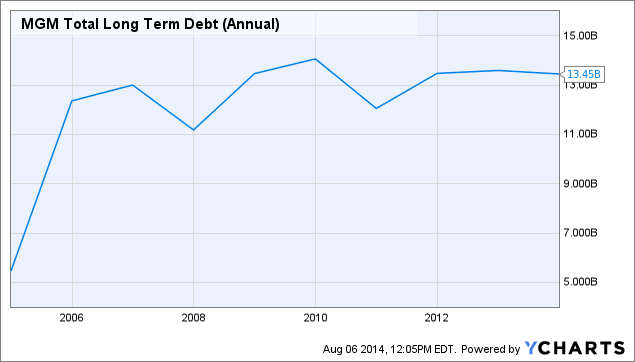 MGM Total Long Term Debt (Annual) data by YCharts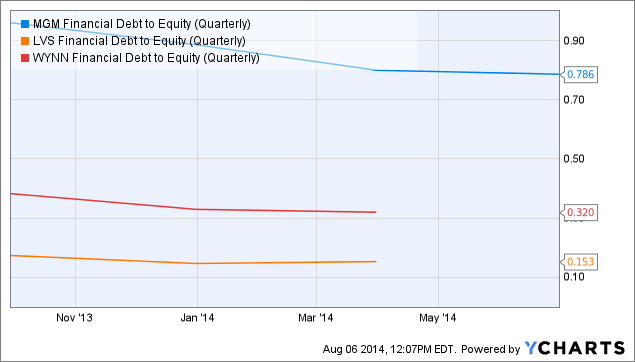 MGM Financial Debt to Equity (Quarterly) data by YCharts
MGM Should Move To Reduce Debt
I believe MGM should move aggressively to reduce debt as soon as possible. MGM could reduce debt via a number of different maneuvers including a debt for equity swap, issuance of equity to buyback debt over time, or the sale of assets with the proceeds going to debt reduction. The current macro environment is favorable and MGM should take advantage of the times to make changes than can help the company survive future industry downturns.
Alternative Investment Ideas
While, as shown by the charts below, MGM currently trades at a discount to its peers based on price to book value and price to cash from operations, I do not believe long-term investors should consider MGM due to its debt load. Instead, investors looking to make a bet on the house should consider casino companies where the odds are actually in their favor. Both Las Vegas Sands and Wynn Resorts carry significantly lower debt loads than MGM and are thus, in my view, better long-term investments.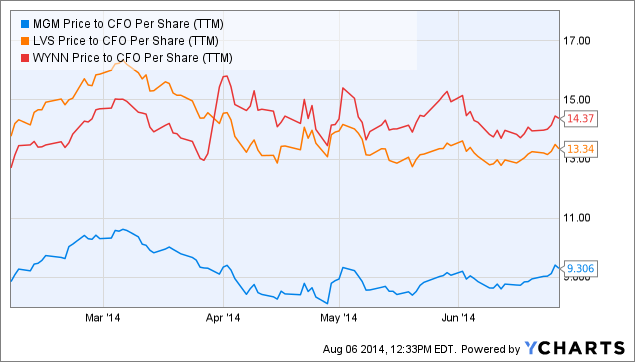 MGM Price to CFO Per Share (NYSE:TTM) data by YCharts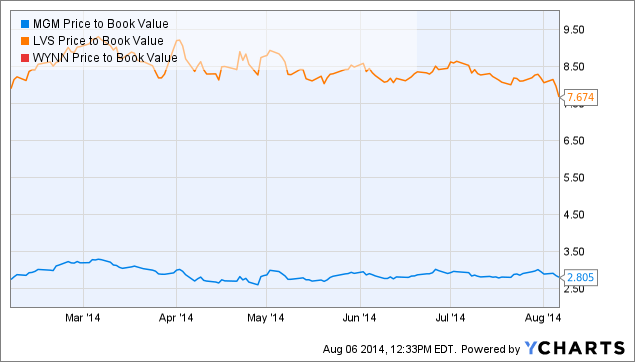 MGM Price to Book Value data by YCharts
Conclusion
Despite having outperformed over the past year, I am not bullish on MGM. Odds are that business will not continue to be strong forever and a downturn will occur at some point over the next few years. MGM may or may not be able to ride out the next storm, but I do not want to own the stock to find out. Las Vegas Sands and Wynn Resorts are better positioned to ride out volatility in the casino business and are thus my preferred investments in the sector. Like any gambler going up against the odds, MGM can continue to be a winner over the short term, especially if Vegas continues to be strong, but I do not believe MGM works as a multi-year investment due to the company's debt load.
Disclosure: The author has no positions in any stocks mentioned, and no plans to initiate any positions within the next 72 hours. The author wrote this article themselves, and it expresses their own opinions. The author is not receiving compensation for it (other than from Seeking Alpha). The author has no business relationship with any company whose stock is mentioned in this article.