Overview:
The Gabelli Healthcare & Wellness Trust (NYSE:GRX) is an equity closed end fund that invests in the health care and consumer sectors. Specifically, the fund is invested to benefit from two long-term demographic trends: the aging of the population and consumers' focus on their own health. GRX trades at a wide discount to NAV but increasing distributions and strong NAV performance could be catalysts to close that discount.
Key Investment Highlights:
Strong Secular Tailwinds: GRX is invested to benefit from two key secular tailwinds. First, the aging of the baby boomer generation, which is expected to drive demand for health care products and services. This should drive growth and profitability for companies in the health care sector. Second, consumers are taking more responsibility for their own health. GRX is investing in companies that will benefit from this focus on wellness and healthy living.
Reinstated and Growing Distribution: GRX reinstated its distribution in 2012 after suspending it in 2008. GRX recently announced a 20% increase in its distribution rate. There is potential for further increases in the distribution due to large embedded capital gains in the portfolio.
Strong Performance: GRX has shown strong performance under the Gabelli management team. As of 3/31/2014, the portfolio had outperformed its blended benchmark for the 1 year, 3 year, 5 year, and since inception time periods.
Discount to NAV: GRX closed 8/5/2014 trading at a 10.92% discount to NAV. Strong performance, reinstated distribution, and continued distribution increases could provide catalysts to narrow the discount.
Recession Resistant Sector Allocation: GRX is primarily invested in the consumer staples and health care sectors. Historically, these sectors have shown lower volatility than the market and have recession resistant characteristics.
Key Investment Risks:
Leverage Increases Volatility: GRX has a leveraged portfolio. Leverage amplifies the portfolio investment decisions. This could lead to an increase in volatility.
Increasing Competition: Recent company earnings reports have highlighted increasing competition in the wellness market place. This increased competition could lead to lower margins and slower than expected growth. This could drive companies to miss earnings expectations hurting stock performance. One example of this is Whole Foods Markets (NASDAQ:WFM), which missed analyst estimates and was punished by the market. WFM highlighted increasing competition in the health food and organic market as a key driver of the earnings miss.
Could Trail in Strong Markets: As mentioned above, the health care and staples sectors have shown low relative volatility. This low volatility could cause the fund to trail in strong equity markets.
Rights Offerings: Gabelli funds have a history of making rights offerings to grow the asset base. These offerings can be profitable for shareholders that participate but they can also lead to larger discounts as investors shy away from funds that have frequent offerings. Also, the offerings are dilutive to investors that do not participate.
Key Portfolio Metrics:
Market Capitalization: $148 Million
Average Daily Volume (Shares): 55,000
Number of Holdings: 129
Annual Turnover: 52.1%
Premium/Discount: -10.92%
Z-Score: -0.42
Current Quarterly Distribution: $0.12
Market Distribution Rate: 4.86%
NAV Distribution Rate: 4.33%
Effective Leverage: 15.04%
Performance:
Using ETFs with similar investment objectives gives a good comparison to allow for evaluation of the fund management's performance. GRX invests primarily in the Health Care and Consumer Staples Sectors. There isn't an ETF that specifically invests in the trends that GRX is focused on but similar sector exposure is available. For exposure to health care the Health Care Select Sector SPDR (NYSEARCA:XLV) provides a good proxy. The Consumer Staples Select Sector SPDR (NYSEARCA:XLP) is a good proxy for consumer staples exposure. GRX's long-term returns are attractive. Over the trailing 5 years GRX outperformed XLP and is close to XLV on a NAV and has beaten both on a price basis. Recent results have been mixed. Recent underperformance could be partially due to GRX's light exposure to biotechnology stocks. Biotechnology was one of the top performing industries in the market over the past year. Results could also be impacted by how Morningstar adjusts for rights offerings.

Data as of 7/31/2014 Source: Morningstar

Data as of 7/31/2014 Source: Morningstar
Gabelli also shows their performance relative to a 50/50 benchmark of S&P 500 Health Care Index and S&P 500 Consumer Staples Index. GRX has shown strong performance relative to both this blended benchmark as well as the S&P 500 Index. There are also differences between returns calculated by Morningstar and Gabelli Funds due to different accounting for rights offerings.

Source: Gabelli Funds
Premium/Discount: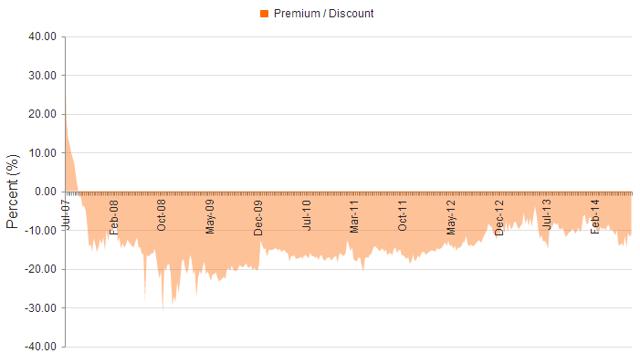 Source: CEFConnect
The fund closed 8/5/2014 at a 10.92% discount to the NAV, or underlying value of the portfolio. This is below the 52-week average discount of 10.19%. GRX has traded with a persistent discount since just after its IPO. This persistent discount is a little surprising in light of the fund's strong performance. Quarterly distributions were reinstated in 2012 and distributions have been growing which could be a catalyst to narrow the discount.
Expense Ratio:
The annual expense ratio for GRX as of 12/31/2013 was 1.41% according to Morningstar.
Distribution:
Distributions were reinstated in 2012 after being stopped in 2008. GRX pays a quarterly managed distribution. The distribution was increased 20% to $0.12 from $0.10 on 2/27/2014. This equates to an annual distribution yield of 4.86% based on current market prices.
Leverage:
GRX employs leverage through $30,000,000 of 5.76% Series A Cumulative Preferred Shares (GRX.A). The preferred shares are publicly traded and currently change hands at $26.34. The fund is able to buy back the preferred shares if they trade below their $25 par price. The preferred shares are callable on 8/20/2015. The fund's leverage is pretty expensive in the current interest rate environment but could prove attractive in the long run if rates move higher. Current portfolio leverage is 15.04%. The use of leverage can increase the volatility of the portfolio.
Liquidity:
GRX is small CEF with $173 million in net assets. Trading volume is light with only 55,000 shares traded on an average day. Trading volume represents $562 thousand in daily volume at current prices. This is pretty thin liquidity, but individual investors should be able to get their orders filled. It is always wise to use limit orders to purchase or sell shares of closed-end funds, as the bid/ask spread can be wide.
Management:
GRX is managed by Gabelli Funds, LLC. Gabelli Funds is a well-known equity shop with significant experience in mutual funds and closed end funds. The widely respected Mario Gabelli is on the fund's portfolio management team.
Portfolio:
Asset Allocation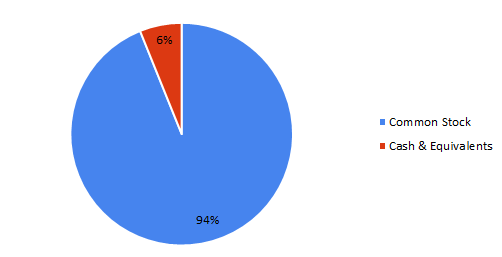 Source: Gabelli Funds
This portfolio is invested almost entirely in common stock with a small allocation to cash for trading liquidity.
Geographic Allocation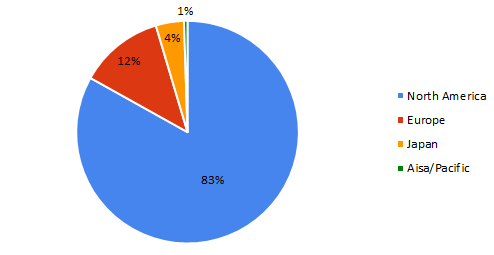 Source: Gabelli Funds
The majority of the portfolio is invested in North American companies with light exposure to international holdings. However, many of the holdings have a global footprint, which should benefit from both domestic as well as international health care and wellness trends.
Industry Allocation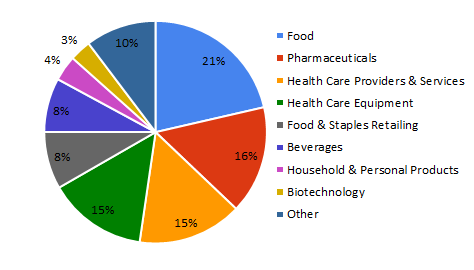 Source: Gabelli Funds
GRX covers many of the industries within the health care and consumer staples sectors. The fund's largest exposure is to Food and Pharmaceuticals industries, which offer a relatively low beta. Biotechnology, one of the best performing industries over the past year has a relatively low exposure. This could explain some of the recent weakness in performance.
Top Holdings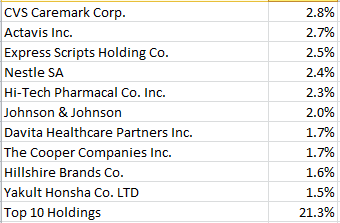 Source: Gabelli Funds
GRX has a large number of holdings for a fund investing behind two primary trends. GRX has 129 positions and only 21.3% of the fund in the top ten holdings. The fund has shown a moderate amount of turnover with 52.1% turnover in 2013. Over the past several years the fund's turnover has been hovering around the 50% rate.
Strategy:
GRX's primary investment objective is long-term growth of capital. Under normal market conditions the fund will invest at least 80% of its assets in equities and income producing securities of companies in the healthcare and wellness industries. The fund may use derivatives to attempt to increase income or for hedging purposes.
Tax Issues:
As of December 31, 2013, the fund had $55,157,847 of undistributed long-term capital gains and unrealized gains in the portfolio. The fund does not have any tax loss carry forwards to offset these gains. This means investors could see capital gains distributions from the fund as assets held at a gain are sold. Embedded capital gains represent roughly 33% of the fund's net assets.
Conclusion:
GRX is an attractive play on demographic trends. The aging baby boomers and consumer preference for healthier foods should be strong tailwinds for the fund's holdings. The current 10.92% discount to NAV offers an interesting entry point. Increasing distributions and strong performance could be catalysts to narrow the discount. Finally, the large exposure to health care and staples sectors should provide downside protection if the market moves lower.
Disclosure: The author is long GRX. The author wrote this article themselves, and it expresses their own opinions. The author is not receiving compensation for it (other than from Seeking Alpha). The author has no business relationship with any company whose stock is mentioned in this article.