Medidata (NASDAQ:MDSO) and other growth, centrally-hosted licensed software (aka SaaS aka Cloud) companies typically have little to no net income and typically trade on revenue multiples. Around the time the general markets heated up, the company went from a trading range of about 1.75x - 3.00x Enterprise Value / Trailing Twelve Month Revenue in 2011, to peaking around 12.50x in early 2014, then retreating to ~8x in August.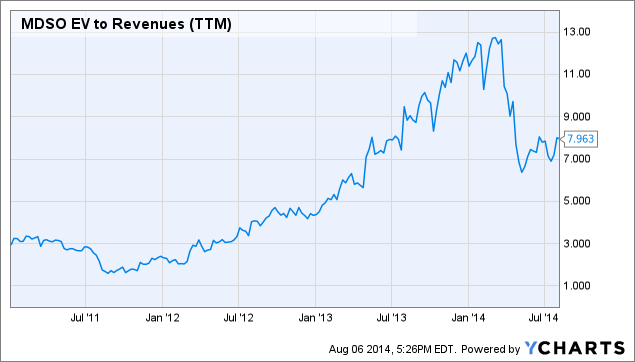 MDSO EV to Revenues (TTM) data by YCharts
What does this mean for the stock gains of 330% from three years ago to today? This means using EV/TTM Revenue, one can almost entirely attribute Medidata's stock gains to multiple expansion on the revenue base.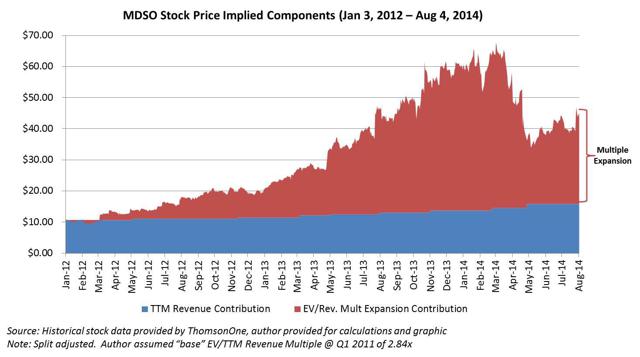 Before reaching a conclusion, I will explore a few company specifics.
Pitfalls of Medidata's Cloud Software and Professional Services Business Revenue Model
Medidata is a compelling growth story. Medidata's pharmaceutical customers are certainly interested in getting more drugs to market, faster, at a lower cost. In addition, Medidata has grown revenues at 20-27% QoQ for two years. However, in my view, the situation is not this straight forward.
To note, 80%-plus of Medidata's revenues are from customers using its cloud software. A cloud license sale is a great product offering, but carries several business and accounting issues. On the accounting side, subscription license sales are required to carry recognition over contract life. This translates to a sales effort that must obtain significant new bookings quickly, because the company can never plug revenue in one huge sale with "drop-down" accounting treatment. Meaning for each sale, Medidata must recognize revenue over the contract life, which is typically a year or more. Secondly, customers have lower switching costs with cloud solutions as the customer did not commit millions to one-time software purchases. There also will be unit sale pressure over time as Medidata has already made its easier sales and signed larger pharma customers. Per company filings, Medidata already has 20 of the top 25 global pharmaceutical companies measured by revenue. In addition, Medidata's top 5 customers account for 30% of Medidata's revenue, indicating each incremental sale to middle-market pharma companies adds little to the top line. While I assume there is runway to add additional middle market customers plus the remaining 5 largest global pharma companies not using Medidata, costs might increase for each marginal sale with less seats per deal. These are all problems of cloud software companies and these points cast doubt in my mind of the continuation of 20%-27% QoQ top-line growth enjoyed by Medidata for the last two years.
Their second revenue stream, Professional Services, is more attractive from a revenue recognition standpoint as companies can recognize revenue on a completed basis rather than annual contractual recognition for their cloud-based software licenses. The aim for all companies that sell software and PS would be to increase attach rates of PS with new license sales and sell go-back (optimization) work for existing software clients. However, the growth of TTM Subscription and Professional Service Revenues from three years ago to the last quarter is 70% and 60%, respectively. In addition, PS revenue as a percent of total revenue has shrunk to 16-17% in the last few quarters, down from 22-23% in mid-2011. This means PS sales are not pacing with subscription growth. Without knowing the typical sales cycle, this could be indicative of lower attach rates and an inability to increasing sell amounts of go-back optimization work.
At some point, the growth curve slows for Medidata. The company's ability to sell in more services to existing clients and add clients will drop, leaving shareholders with a recurring revenue stream valued at 8x trailing revenue with additional sales achieved through lower margins.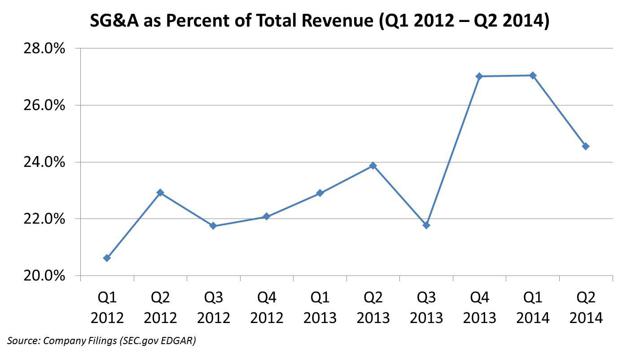 M&A Multiples, Revenue Growth and Valuation Conclusion:
So where does Medidata line up in the scheme of revenue multiple valuations?
I will examine M&A multiples for public application software companies. This grouping would represent high stock premiums paid by the largest buyers such as Oracle or SAP. I did not intend this list to be exhaustive and I cut out Kenexa, Omniture and Hostopia as low multiple outliers.
On the vertical axis, the chart shows Transaction Value (Enterprise Value) / TTM revenue multiples for each acquisition. I plotted each revenue multiple to the TTM revenue growth rate of each acquired company at the time of its acquisition. Please note the TTM revenue period used is approximate for the time the deal closed.
If one buys into my comparable transaction set and the trend line, the takeaway might be the higher the revenue growth, the higher the acquisition premium.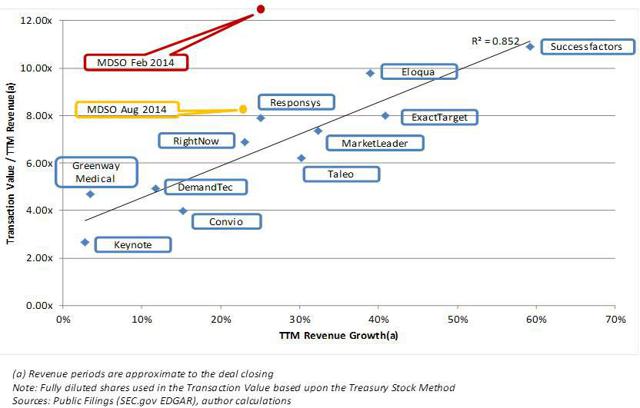 Based upon this logic, the red box indicates the magnitude of how overvalued Medidata was in February 2014. The orange box is where Medidata trades today, which shows a closer mark to my trend line. Medidata, in this context, simply does not have high enough revenue growth to justify its place among these transactions.
What's more troubling is each closed acquisition dot contains a purchase price premium, which means a higher value to motivate shareholders to sell. Medidata should not trade with such a premium because it has announced no such deal.
Its current valuation is richer than Responsys, Taleo and ExactTarget, all of which had much higher revenue growth rates at the time they were acquired.
Therefore, I would fully value Medidata today at around 6.50x - 7.50x TTM revenue with an acquisition premium. However given Medidata should not have a full acquisition premium on the price, I will cut this down to 5.00x - 6.00x. Using the midpoint of this range, my analysis implies a current stock price of $30.94 or a discount of 30% from the closing price on August 6th.
The key risk to this valuation analysis is a potential acquiror that assumes much higher growth for Medidata and therefore a higher purchase price than today. Additionally, a potential acquiror could simply overpay for unpredictable strategic reasons.
Additional Musings: From SaaS to Cloud and a Dubious Stock Split
Filed in early 2011, its 2010 annual report's front page is in green letters with a plain white background "Optimizing Clinical Trials: Concept to Conclusion." On page 11 of the document, the first line of the company description is "We are a leading global provider of software-as-a-service, or SaaS, based clinical technology solutions that enhance the efficiency of our customers' clinical development processes from concept to conclusion, optimizing their research and development investments."
Yawn.
Where is the word "cloud?" What does "optimizing research and development investments" mean?
Not to worry, because by early 2012, Medidata made noticeable changes to its investor material. On its 2011 annual report the entire front page is a picture of a cloud. The title has also changed to "The Clinical Cloud." By its next 10-Q filings in May 2012, the company changed the description to be shorter and sweeter: "(Medidata) provides cloud-based clinical technology solutions that enhance the efficiency of its customers' clinical development processes." By the 10-K filing in March 2013, it added "… a leading global provider of cloud-based solutions…"
Whew, I am glad to know I am actually investing in a cloud company that is a leading global provider. However, I would rather invest in THE leading provider.
Medidata relieved all fears by updating the company description in February 2014 to say (emphasis mine) "We are the leading global provider of cloud-based solutions for clinical research in life sciences, designed to transform clinical development and increase the value of our customers' research investments."
Sarcasm aside, companies have the right to update their marketing materials or arguably better describe what they do as a business. However, my point for all of these wording changes is the recent company description says less about what they do, and more like what an investment banker would say trying to market the stock. In other words, all we need to know today is they offer the leading cloud stuff that transforms clinical development and increases value of investments.
As a side note, Medidata even adds colors to the font in the SEC filed 10-K. Who else does that?
In addition to an Investor Relations overhaul, the Board of Directors also gave the stock an overhaul in December 2013 with a 2 for 1 split.
At the time of announcement, the stock was trading around an unadjusted $110 per share (or $55 post-split). A stock split is nothing more than an accounting adjustment. In this case, double the shares outstanding and cut the price by half.
Why would any company split their stock? One reason might be if the nominal share price gets too high, small retail investors might have trouble buying even one share. Other reasons might be to increase trading volume or set a nominal share price around other stocks in the industry.
Why did Medidata split their stock? I am left guessing, but around $100 per share trading several hundred thousand shares a day prior to the split looked healthy to me. I will speculate the split might have been a dubious attempt to create a buzz, improve sentiment, or some way to play into investor psychology. To reiterate though, strictly speaking, a stock split does not change underlying value of a company.
Disclosure: The author has no positions in any stocks mentioned, and no plans to initiate any positions within the next 72 hours. The author wrote this article themselves, and it expresses their own opinions. The author is not receiving compensation for it (other than from Seeking Alpha). The author has no business relationship with any company whose stock is mentioned in this article.