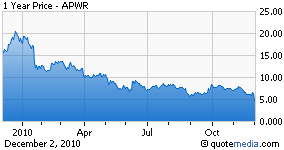 In the "you can't trust the management of a China-based company department" - and there are an increasingly large number of these lately - A-Power Energy (NASDAQ:APWR) finally reveals that indeed the company is far from a leader in the China wind energy space and is struggling in its other business as well. To make matters worse, the big Texas wind project (Spinning Star) is on life support and likely will never happen if additional financing doesn't take place by Dec. 31. Given the history of APWR management, it would be insane to lend this company money. The CEO acknowledged that getting financing was a long shot.
Here are the ugly results (more in press release). Analysts expected the company to report a profit of .29/share, but the company managed only .02/share profit on an adjusted basis. The company reported less than half of the revenues analysts expected at just $57 million (analysts expected $144 million). It's no surprise that the company had to lower guidance for the year and now sees revenues of $310 million and net income of $50 million.

CEO Jinxiang Lu, who may be out of a job soon, commented: "A-Power's results in the third quarter were less than we hoped we would achieve. The shortfall was due mainly to lower revenues in our distributed power generation segment because of the timing of work under contracts, and to less-than-planned sales in our wind power segment. Although wind power achieved revenues of $15.5 million in the third quarter, we had assumed we would be able to book revenues from a major customer, Spinning Star LLC. However, to date, Spinning Star has been unable to secure the expected construction financing for its wind farm project in Texas." (Additional comments made as mentioned above indicate they will likely never see revenue from Spinning Star).
The company did acknowledge that it was "in discussions" with several different wind energy project developers in the U.S. but that no binding contracts have been signed.
The bottom line is that APWR has very little credibility left and this is perhaps one of the biggest earnings misses I have covered in the two years I've been covering green stocks earnings reports. If you're looking for a play on China wind energy, which is a struggling industry now but could provide big profits in a few years, then it's time to focus on China Wind Systems (NYSEARCA:CWS) and China Ming Yang Wind (NYSE:MY).