Time Warner Inc. (NYSE:TWX) rejected a bid from 21st Century Fox (NASDAQ:FOX) last week on the grounds that any offer Fox makes is not as good as the standalone plan that Time Warner has to grow its business.
However, it remains to be seen how long CEO Jeff Bewkes can keep the owners of TV networks CNN and HBO, as well as the Warner Bros movie studio, independent. He is not keen on selling the company and potential acquirers such as AT&T Inc. (NYSE:T) and Comcast Corp (NASDAQ:CMCSA) are chasing other deals.
But it's clear that Time Warner is now in play. Could a large telecom company such as Verizon Communications (NYSE:VZ), or even a large Internet player, be interested? Though Time Warner would clearly prefer a few years to execute its stand-alone plan to see how much it can grow its share price alone, it looks like it could be the latest victim in the telecom and cable M&A frenzy.
The Fox offer
Fox offered $32.42 in cash and 1.531 non-voting common shares for each Time Warner share, placing a value on the company of around $90 billion. Time Warner thinks the offer isn't in the best interest of shareholders. It also said that it wouldn't pursue negotiations with Fox. Then, just a couple weeks later, Fox withdrew its offer to buy Time Warner. Fox's Murdoch noted that Time Warner was not open to exploring a deal.
Other options for Time Warner
According to insiders, Time Warner CEO Bewkes would prefer to sell the company after Comcast, AT&T and Verizon have completed the large transactions on hand and are in a position to bid. Their presence would set the stage for a more transparent auction and possibly a higher price. It would also give the company the chance to get an idea on how regulators regard the pay TV deals that are currently under review.
Comcast and AT&T are waiting for regulatory approval to buy Time Warner Cable (TWC) and DirecTV (DTV), respectively, and Verizon is still integrating its mammoth $ 130 billion acquisition of the 45% of Verizon Wireless that it did not own.
There's also the other major entrainment company, CBS (NYSE:CBS), which could be looking for a merger partner. The deal would give the merged company a large presence in TV production, while also allowing for synergies between CBS' broadcast networks and Time Warners' TV news/entertainment networks.
The Time Warner push into the web
Time Warner is also looking at the Internet to drive growth at HBO. This is one of Time Warner's most valuable assets and a big part of its growth strategy going forward. It has its HBO Go app that it plans to start marketing more aggressively to better compete with the likes of Netflix (NASDAQ:NFLX).
But Time Warner has a catch 22 situation, in that it must diffuse its HBO Go app in such a way as to not force current pay-TV customers to abandon the pav-TV service. It might have a difficult job convincing its major pay-TV distributors that expanded access to HBO will benefit everyone involved.
Meanwhile, along the lines of it push to the Internet, there's the potential that a an Internet company could emerge as a buyer. Major tech/Internet companies are flush with cash and solid balance sheets, which would allow them to offer even higher prices for Time Warner.
Bottom line
If the Fox bid is any indication, then Time Warner could attract more interest from other buyers. Buyers that can afford to pay a higher price. Before the Fox bid, analysts had an average fair value estimate of $74 per share for Time Warner, that number has since moved up to $83 a share. But following the announcement that Fox was abandoning its bid, the stock price has moved from $85 to $75.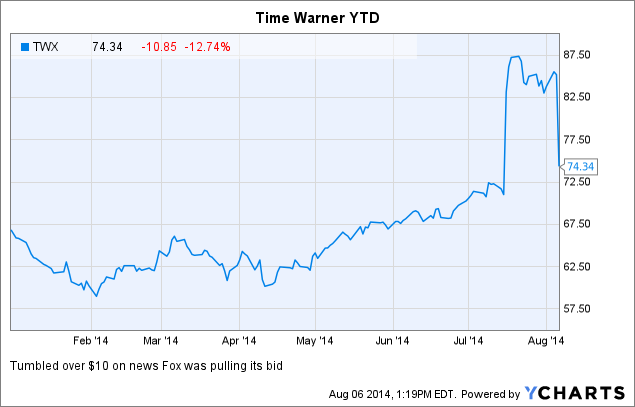 There's some analysts that put the breakup value of Time Warner as high as $93 a share, while others believe Time Warner could attract between $90 to $100 a share in a buyout. Regardless, shares trade at an attractive 16x forward P/E, and its free cash flow yield is pushing 20%. Either alone, or as a buyout candidate, shares of Time Warner look attractive.
Disclosure: The author has no positions in any stocks mentioned, and no plans to initiate any positions within the next 72 hours. The author wrote this article themselves, and it expresses their own opinions. The author is not receiving compensation for it (other than from Seeking Alpha). The author has no business relationship with any company whose stock is mentioned in this article.