By Mike Yamamoto
Suncor (NYSE:SUN) has gapped higher two days in a row, but a large put purchase is dominating option activity in the energy name today.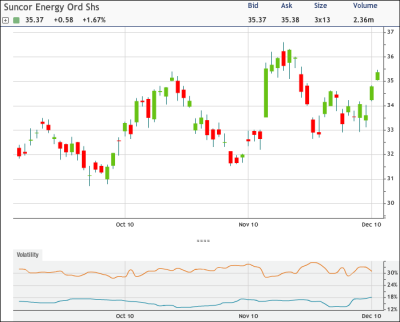 optionMONSTER's Depth Charge system detected the purchase of 5,000 June 33 puts in a single print for $2.59, dwarfing the open interest of just 382 contracts. The average daily call volume at that strike has been a grand total of 1 a day for the last month.
There were some large stock purchases around the time of the option activity, so these puts could have been bought as downside protection on a long share position. If they were bought naked, the trade would be a bearish bet that SUN would drop at least 14 percent by expiration in six months.
SUN is up 1.67 percent to $35.37 this morning as shares trade near the highs of the session so far. Despite this week's gains, however, the stock has faced stubborn resistance around the $36 level going back to mid-January.
The company's next earnings announcement is Feb. 2.
Disclosure: No position