Q2 Earnings Results
Berkshire Hathaway (NYSE:BRK.B) announced record quarterly profits of over 41% on a year-over-year basis for the second quarter, driven by gains in investments and derivatives, insurance investment income and energy and other businesses.
Berkshire (NYSE:BRK.A) reported a net profit for the second quarter of $6.4 billion, compared to $4.54 billion in the same period last year. Operating income beat the street's estimate by over 6%. Quarterly revenue rose by 11% to $49.8 billion from $44.7 billion.
Of the nearly $2 billion in investment gains, about half ($1.1 billion) of the gains are related to Graham Holdings Co. (NYSE:GHC) for BRK shares, cash, and a Miami TV Station swap. This is similar to a share exchange that BRK did with Phillips 66 (NYSE:PSX), where BRK acquired full ownership of PSX's pipeline services business late in 2013.
Increased Revenue From Subsidiaries
Overall, revenue for the conglomerate's 70 operating subsidiaries continued to grow, with some exceptions. The railroad and energy operations posted revenue of $9.85 billion, up from $8.4 billion the previous year. Insurance premiums increased to $9 billion from $8.8 billion, with revenue from the insurance and other segment increasing a total of 11% to $38.1 billion, compared to $34.3 billion in the same period last year. Offsetting these revenue gains was lower revenue in finance and financial products, which had a revenue decline of 11% to $1.8 billion from $2 billion the previous year.
The growth in revenue was partially offset by higher expenses, but at lower growth rates, except for the railroads, utilities and energy segment, which had higher operating expenses of more than 18% ($7.2 billion versus $6.1 billion the previous year). This compares to revenue growth within the segment of about 17%. This is an area that Mr. Buffett has been focusing on recently, and may be the result of a various risk management initiatives that allow the railroads to capture upside, while minimizing downside risk.
Additional Boost From a Recovering Economy
The results reflect the benefits of an economic recovery that occurred in the second quarter, after an abysmal first quarter caused by bad weather throughout the country. Growth in revenue compared with incrementally smaller increases in expenses, along with the closing of the Graham Holdings deal helped BRK beat earnings estimates for the quarter.
The company has continued to grow its cash hoard, and has about $50 billion in cash for additional acquisitions.
Market Reaction
The market appeared pleased with the results, with the stock increasing over 2.5% from Friday to Monday's close. BRK Class A shares have risen a total of about 6% YTD (see chart below).
As BRK continues to perform, there is still latent uneasiness regarding Mr. Buffett's eventual retirement given his age. Although he has not stated when he will retire, he has appointed potential successors to manage small bits of BRK's portfolio.
Risks Of Retirement
Mr. Buffett's succession planning has been a key topic for many years, and after its eventual announcement, there is the chance shares could dip temporarily.
The fundamental investment principles of the company are still sound and well-managed, however, and there is little to worry that the company would lose its footing.
If anything, a dip could pose an excellent buying opportunity for long-term investors.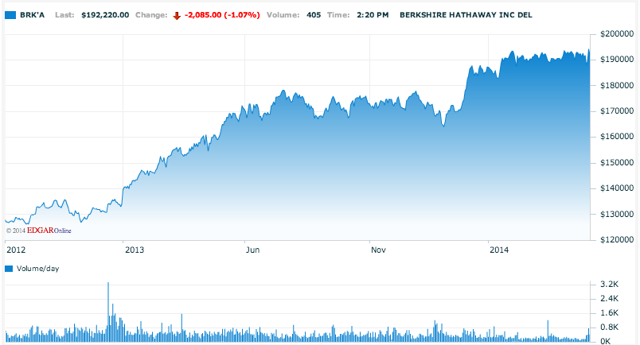 (Nasdaq.com)
We invite readers wishing to join the discussion on Berkshire Hathaway to click the +FOLLOW button above the title of this article -- and those looking for the latest developments to click +Get real-time alerts.
Disclosure: The author has no positions in any stocks mentioned, and no plans to initiate any positions within the next 72 hours. The author wrote this article themselves, and it expresses their own opinions. The author is not receiving compensation for it (other than from Seeking Alpha). The author has no business relationship with any company whose stock is mentioned in this article.