By David Russell
Concho Resources (NYSE:CXO) has been on an explosive run, and the bulls aren't done yet.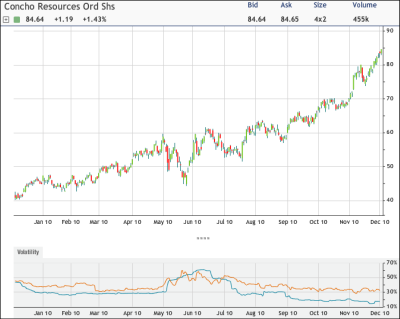 optionMONSTER's Heat Seeker tracking program detected the purchase of almost 2,600 January 90 calls, most of which priced for $1.50 to $1.60. Volume in the strike was 9 times greater than open interest.
CXO is up 1.43 percent to $84.64 in midday trading and is up 87 percent so far this year. Earlier in the session it hit an all-time high of $84.07.
The oil and natural-gas company has been climbing as it increases production and grows its book value. Its last earnings release on Nov. 3 beat forecasts by a wide margin.
The stock must climb by at least another 9 percent by expiration for the calls to turn a profit. Some 3,442 contracts have changed hands versus the 397 daily average, with calls accounting for a bullish 97 percent of the total.

Disclosure: No position