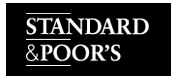 The year 2011 could be one of diverging fortunes for credit quality in Europe, in our opinion. On the one hand, we expect that most corporate sectors will benefit from stabilizing and even improving business outlooks, while on the other, we believe governments, parts of the banking sector, and to a lesser degree insurance companies could see their credit quality come under pressure given the persisting overhang from the recent financial turmoil.
We envisage that as of December 2011 the corporate speculative-grade default rate could fall modestly to 3.8%. This would translate into 27 defaults in Western Europe (covering the EU-27 countries plus Norway, Switzerland, and Iceland) over the course of 2011.
Looking further ahead, we believe that market sentiment could be clouded by the prospect of sizable funding requirements of close to €16 trillion between 2011 and 2015 across all sectors, resulting in continuing volatile risk premiums and fluctuating investor demand. Furthermore, we anticipate that ongoing structural changes in European debt capital markets will have a long-lasting impact on participants' behavior. These include the introduction of new prudential regulations known as Basel III for banks and Solvency II for insurance companies, as well as the emergence of a sizable European high-yield market, which in our view is part of a structural shift away from the traditional heavy reliance on bank financing.
Standard & Poor's Ratings Services believes that further improvements in corporate credit quality could result in corporate rating upgrades outnumbering downgrades in 2011, and the corporate speculative-grade default rate, which we derive from our private credit estimate database combined with publicly rated entities, edging down from 5.9% at the end of September 2010. This would likely take the trailing 12-month European default rate below its longer term 4.3% average for the first time since the onset of the financial turmoil in fourth-quarter 2008.
For details, see Credit Quality Among European Corporates Is On A Positive Track For 2011, Less So For Banks.