Last week, my ETF Pullback model (see Appendix below for explanation and performance data) showed a developing-world orientation with particular emphasis on China. This week, I'm seeing the same sort of theme -- except amplified, perhaps, by the phrase "more so."
Here is this week's ETF list:
These are the ETFs the model produced last week:
This week's list is again focused entirely on the developing world. But by now, we're really at the stage where the label "developing world" may be too broad. There's the more developed part of the developing world, and that was the focus last week; there's also the less developed part, or as it's sometimes referred to, the frontier markets. That's where we're leaning now.
The delineation between frontier and plain-vanilla developing is not always clear. Speaking for myself, I'd probably describe Chile as being part of the latter; it seems ahead of the game compared to so many other emerging nations, given that it was relatively early to embrace market economics. During the Pinochet era, that was more a matter of force than of choice. But when dictatorship yielded to democracy in the 1990s, market-oriented economic policies and fiscal prudence were legitimately embraced.
Despite that, Chile is the biggest regional concentration in the Guggenheim Frontier ETF. Other highly-weighted areas include Eastern Europe, Egypt and Nigeria. Within Eastern Europe, the fund has a stake of about 4% in Poland. We add to that here with a Poland-specific ETF. That could be especially interesting. The country actually posted economic growth in 2009 -- not an easy accomplishment -- and is right now in the midst of a massive infrastructure upgrade (supported by EU funding), which could really help the economy get going in the years ahead.
The 40% concentration moves this week from "developed-developing" China to "frontier-developing" Indonesia. GDP growth in the latter is expected to come in at around 6% this year, paced by strong natural resource exports. Domestic demand is healthy too, but perhaps too much so. It may be running ahead of domestic supply, which is being hampered by poor infrastructure, and leading to some inflationary pressure. The country could also use a Poland-style infrastructure effort.
Anyway, it's been a while since the model has pointed toward plain-vanilla U.S. equity ETFs. So far, though, the jumping around has been a modest plus, as demonstrated by Figure 1, a screen shot from my account showing my performance with this strategy at FolioInvesting.com.
Figure 1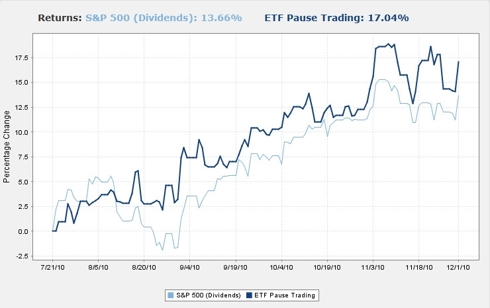 By the way, with turnover of 100% on many weeks, including this one, I need a firm like Folio Investing (one that allows me to subscribe to a commission-free window trading protocol) to implement the strategy.
Looking ahead, I would really like to see a bit less thematic jumpiness than has been the case lately. High turnover is normal for this model. But there's a difference between turnover within the context of an overall theme, such as sector rotation within the U.S., and turnover as we go from fixed income one week to precious metals another week to emerging markets the next week, etc. This is the second consecutive week featuring an all-emerging-market portfolio, so perhaps this is the start of a period of increased thematic stability. We'll see. I won't be holding my breath, though, as long as we veer from panic over Ireland, et. al. one week to "Ireland, et. al. are just fine" the next.
Appendix
To create this model, I started with a very broad-based ETF screen I created in StockScreen123.com.
Eliminate ETFs for which volume averaged less than 10,000 shares over the past five trading days.

Eliminate HOLDRs (I don't want to be bothered with the need to trade in multiples of 100 shares).

Eliminate leveraged and short ETFs (I think of these as hedging tools rather than standard ETF investments of even trading vehicles).
Then I sorted the results and selected the top 5 ETFs based on the StockScreen123 "ETF Rotation - Basic" ranking system, which is based on the following factors:
120-day share price percent change - higher is better (15%).

1-Year Sharpe Ratio - higher is better (15%).

5-day share price percent change - lower is better (70%).
The idea of using weakness as a bullish indicator is certainly not new. But often it's an add-on to other factors that, on the whole, emphasize strength. Here the weakness factor is dominant, with a 70% weighting.
This model is designed to be re-run every week with the list being refreshed accordingly. I trade through FolioInvesting.com, where I pay a flat annual fee rather than a per-trade commission, so I don't care about the fact that turnover form week to week is often 80-100 percent. If you want to follow an approach like this but do have to worry about commissions, the strategy tests reasonably well with three ETFs, or even with one. (Cutting the number of ETFs is far preferable to extending the holding period.)
Figure 2 shows the result of a StockScreen123 backtest of the strategy from 3/31/01 through 10/7/10.
Figure 2
Figure 3 covers the past five years, a very challenging market environment that witnessed the fizzling of many strategies that had succeeded for a long time.
Figure 3