By Anatolii Fesiuk
Company Description
Career Education Corporation (NASDAQ:CECO) includes the colleges, schools and universities that are part of its family. Career Education Corporation offers education to a diverse student population of over 116,000 students worldwide in a range of career-oriented disciplines. Approximately 90 campuses that serve these students are located throughout the United States, France, Italy and the United Kingdom, and offer doctoral, master's, bachelors and associate degrees and diploma and certificate programs. Nearly 40% of its students attend the Web-based virtual campuses of American InterContinental University, Colorado Technical University, International Academy of Design & Technology and Le Cordon Bleu College of Culinary Arts. The Company is organized in six segments: university, culinary arts, health education, art and design, international and transitional schools. In April 2010, the
c
ompany acquired the International University of Monaco (
IUM
), an international business university.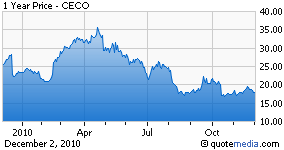 * Career Education Corporation uses little debt in its capital structure. The debt-to-capital ratio is 0.23%. It is a good sign of stability and gives us more reasons to classify this stock as low risk investment.
*35% of the company's assets are intangible assets and goodwill. This is normal for educational companies and gives additional cash flow because of depreciation.
Let's look at the firm's free cash flow:
In the first 3 quarters of 2010, free cash flow per share was $1.67. At this rate, if the company continues to perform well until the end of the year, its FCF will reach $2.23 per share.
30Y US bonds now can give nearly 4.3% return on investment. To avoid risk of bonds yield fluctuation let's assume that the percentage is larger and equals 6%.
According to the classical stock valuation model, CECO is valuated at = $2.23/0.06 = $37.17
That means if the company continues to generate cash flow, on this level the real value of this stock equals $37.17 which is nearly two times the current price.
We estimated CECO is valued at a price of $37.17 per share. Logically this method of stock price estimation must work with data from the past. Let's analyze this:
| | | | | |
| --- | --- | --- | --- | --- |
| | | | | |
| | | | | |
| | | | | |
| Estimated stock price for (year) | | | | |
| | | | | |
| Max. stock price for that period | | | | |
In this table we take cash flow and interest rates for each period and then estimate the stock price for the next period. We then compare estimations with the actual stock price. Our estimate was wrong only for 2008, in all other years the estimated price is less than the max price achieved for period, implying we had a chance to sell the stock at the desired price. Based on this information , we can assume that price will likely reach the $37.17 level.
The short ratio for CECO is 5. It means that all shorts can be closed in 5 days on average volume. I think this is an additional argument to buy for two reasons:
·
The short ratio is not very high, indicating bears are not dominating this stock.
·
If "short sellers" start closing their positions, the stock will experience several days of significant buying activity, which can push it up.
There are a million reasons for insiders to sell stocks and only one reason to buy. A lot of directors of the company are buying this stock now. The last and largest purchase was made by Chookaszian Dennis, he bought 7000 shares at $17.50, that means he spent $122,500 on that trade. I don't think anybody will spend that sum of money without a good reason for it. Currently, the price is $18.05, not much higher than $17.50, so everybody still has a good chance to buy. I have more good news for you, on a daily chart CECO formed multiple bottoms near the $17 level, so if the stock will decline it will likely bounce off the $17 again.
(Click chart to enlarge)
This buy recommendation is also supported by

Super Stock Screener's Ranking System

, which rates the stock as a Strong Buy. Interestingly, the criteria used by the Ranking System to make buy and sell decisions are a set of primarily fundamental factors not cited above.

Disclosure: No positions