When government currency printing presses go into full swing worldwide, many investors typically look to diversify their assets via collectibles such as coins, stamps, and memorabilia. Another historically proven trend is that micro-cap stocks tend to do well in post-recession eras. One way to play both of these trends is to buy one of the strongest micro-cap dividend-paying stocks available, Collectors Universe (NASDAQ:CLCT).
With its approximately 9% dividend yield, CLCT sits atop our High Dividend Stocks by Sector Tables in the Consumer Discretionary sector of our site.
CLCT also has some of the strongest financial metrics in the universe of micro-cap stocks: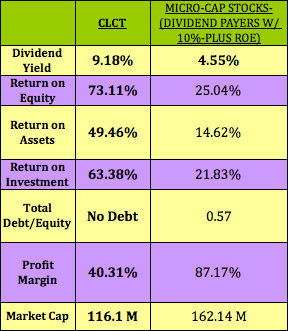 CLCT also has a reasonable 62% dividend payout ratio. It recently increased its quarterly dividend to $.325/share, from $0.30/share, which equals a 9.18% dividend yield at its current price of $14.16/share. Its next ex-dividend date should be around the first week of February. The 52-week price range is $7.59-$16.95.
CEO Michael McConnell stated recently, "We have chosen to invest prudently in sales and marketing expense to drive future growth and are specifically encouraged by the early results in Europe through our Paris office. Your Board remains committed to a strong and stable dividend policy, while maintaining sufficient corporate financial flexibility."
CLCT's Valuations look favorable vs. other Micro-Caps: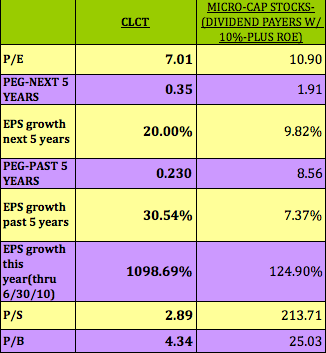 While CLCT looks pretty good there, how does it fare against its industry group?
It looks very good vs. the broad Business Services industry: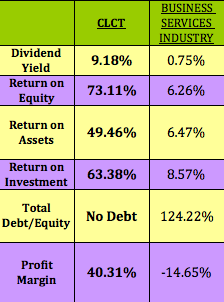 Unfortunately, CLCT's closest competitors -- Beckett Media, H.R. Harmer, and Krause Publications -- are all privately held, so their financial info isn't as readily available as Collectors Universe's.
In its first fiscal quarter 2011, (ending 9/30/2010), CLCT's normalized net income before special tax items was $1.86/share, vs. $1.84 a year earlier. (The results for the first quarter of fiscal 2011 reflect a tax provision of $0.7 million as a result of the release of valuation allowances against deferred tax assets at June 30, 2010, which represented an increase of $0.6 million, as compared to the tax provision in last year's first quarter. Cash taxes paid remain minimal.)
There are no covered calls or cash secured put options available for CLCT.
Disclosure: Long CLCT shares