By Brian Sozzi
Detailed below are insights on the specialty apparel and discount retail sectors following the November same-store sales. Wall Street Strategies is included as part of the Thomson Reuters and Bloomberg consensus financial estimates, and has the best equity research team in the business.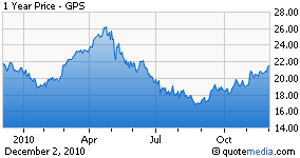 Gap Inc. (NYSE:GPS)
Sector: Specialty Retail
Rating: Buy
Price Target: $25.00
I am pleased as to how the holiday season has begun for Gap. In my view, the positives outweighed the negatives in November for Gap. Those positives included:
1. Positive price at Gap, Old Navy, and Banana Republic.
2. Key items that received an extra inventory investment (black pants, khakis) performed well.
3. After six months of negative comps, the Gap division has turned in two impressive months of comps on more difficult two-year comparisons.
The lone disappointment, once again, was Banana Republic which has been caught in a comp range of -2% to +2% since the spring. I don't think the soft comp trend is merchandise related, rather it's tied to a lack of traffic driving promotions in a still deal oriented accessible luxury environment.
In the context of valuation, the stock is cheap at a 28% discount to the five-year mean P/E multiple, when formulating a long-term perceptive on the company. That long-term view revolves around a continued pruning of the U.S. store fleet to reduce the leverage point of the business, efforts underway to speed up product flows, a more efficient management of marketing dollars, and the well thought out international approach. I think Gap division product is finally headed in the proper direction (modern), and this is vital for the company to improve sales per square foot.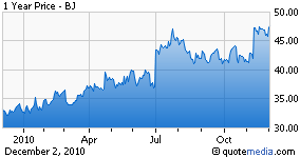 BJ's Wholesale Club Inc. (NYSE:BJ)
Sector: Discount
Rating: Buy
Price Target: $53.00
I believe BJ's Wholesale had a very solid November as two-year comparisons on food and transaction value were not particularly easy. The company benefited from some inflation in certain food categories, but the +3% comp in general merchandise suggests customers responded to Black Friday promotions. In fact, on a relative basis, it appears that BJ's Wholesale performed quite well in general merchandise compared to Costco (NASDAQ:COST) and many re-merchandised Sam's Clubs.
The stock trades at an aggressive 16.2x P/E multiple on my FY11 estimate (WMT: 12.3x; TGT: 13.3x; COST: 18.3x) as the market awaits news on a buyout. While BJ's shares stand to lose considerable value if a deal is not struck, I believe the fundamental story is vastly improved relative to earlier in the year and as a result, there is further upside potential (potential takeover plus stronger fundamentals).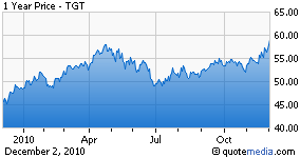 Target Corp. (NYSE:TGT)
Sector: Discount
Rating: Hold
Price Target: $58.00
Target (TGT) shares are hovering around the 52-week high achieved in late April. The fact that a much better than expected November comp has not decisively pushed the stock beyond that point is interesting. I think the focus is increasingly turning to Target's sales mix, which is increasingly becoming food dominant. Are consumers utilizing the new 5% reward program to stock up on groceries? The November data suggests that may be happening.
Target's November comp was +5.5%, above the +2% to +4% called out for the quarter on the 3Q10 earnings webcast (and maintained momentum from strong start to the month). Grocery comps increased by a robust mid-teens percentage on Thanksgiving related buying, but comps elsewhere were more muted (Health & Beauty +mid-single digit percentage; Hardline +low-single digit percentage; Home down slightly). Apparel had a nice month with a high-single digit positive comp as seasonal weather arrived. December comp guidance was set at an increase of a low-single digit to mid-single digit percentage.
That said, I am hesitant to issue an upgrade to my stock recommendation. Target will enter FY11 with an ambitious remodel/new store opening plan, inflation in key categories, a shift in margin structure, and heightened sell-side EPS forecasts. I would like to see Target deliver greater month to month sales consistency, among other factors, before returning to a Buy rating on the stock.
American Eagle Outfitters. (NYSE:AEO)
Sector: Specialty Retail
Rating: Buy
Price Target: $19.00
A sell the news moment ensued on American Eagle's (AEO) same-store sales day. I believe the market is thinking along the following lines: (1) flat November comp versus consensus of +1.5%, underperformed key competitors (online also lagged peer group); and (2) weakness in early November suggests weakness in early December, bringing an increased promotional stance to end the holiday season. While this is an understandable rationale pertaining to a stock bid up on hopes of a PE buyout and improving fundamentals, I think the sell-off creates an opportunity.
To me, American Eagle's November continued the key themes underlying the call on the stock, which is lower promotional activity through tighter inventory management. Moreover, American Eagle's AUR increased by a low-single digit percentage, important in that sales did not fall off the map and considering competitors are out their driving lower AUR to stimulate traffic. The strength in denim was also encouraging as competitors voiced softness in the category.
I have tweaked my 4Q10 EPS estimate to $0.46 from $0.48, or the top end of guidance provided today. The special dividend announcement of $0.50 per share seems to have gone overlooked (same goes for the expanded repo plan), but the stock should trade higher going into the ex. dividend date provided the inventory management/AUR story remains intact in December and January.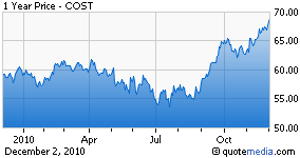 Costco Wholesale Club Inc. (COST)
Sector: Discount
Rating: Buy
Price Target: $72.00
Throughout November, my channel checks on Costco (COST) were quite favorable. I noted strong interest by club members in the apparel and fresh food departments, which are important margin driving parts of the store. In this regard, I am not surprised by Costco's better than expected November comp, with strong comp growth reported in Food & Sundries (+high-single digit percentage), Softline (+low-double digit percentage; Costco getting some nice buys in apparel), and Fresh Food (+high-single digit percentage). Hardline remained a challenging category on television price deflation, but unit volume perked up from October. Consistent to October, Costco's comps were aided by modest inflation in areas such as milk, meats, deli, and product.
Key implications in my Buy rating include (1) weak dollar benefit to sales and net earnings; (2) increased rate of new club openings and productivity mindset by management; (3) Mexico consolidation into the P&L should be a boost (gross margin of business comparable to U.S., SG&A rate lower); and (4) further penetration of Kirkland Signature brand. Wildcard: potential membership fee increase (membership fee income represented 81.4% of FY10 operating income).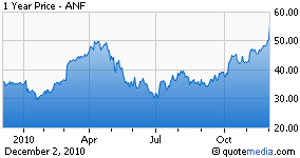 Abercrombie & Fitch Co. (NYSE:ANF)
Sector: Specialty Retail
Rating: Hold
Price Target: $56.00
Nowhere were flashes of 2006/2007 spending trends more prevalent on Black Friday than Abercrombie & Fitch (ANF), my top pick for the holiday season (pre downgrade), which printed a stellar +22% November comp that was broad-based by division. My Black Friday comments on the company dated November 29:
"30% off at Hollister and a spend $100 get a $50 gift card at Abercrombie & Fitch (up until noon) ignited frantic traffic on Black Friday. I personally had flashbacks to 2006/2007, watching lines extend out into the mall at both divisions. Both divisions had nice presentations in coats, denim, and fashion tops (specifically for girls).
I reiterate my Buy rating and $53.00 price target, and have taken my 4Q10 sales and EPS modeling higher."
Abercrombie & Fitch had a sexy month, no doubt about it. The month was another indication that consumers are responding to the lower AUR in peak shopping periods such as back to school and Black Friday. Abercrombie's AUR declined by 3% for the month, off the pace of double-digit percentage declines earlier in the year. I continue to believe Abercrombie is on track to have the best holiday season from the teen apparel sector, a combination of a rebounding domestic business (stores full a higher quality, key items and a greater sense of fashion) and further acceptance of the namesake brand and Hollister internationally.
That said, and acknowledging I may be early with this call, I downgraded my recommendation on the stock to Hold from Buy today. The stock is now trading at a P/E multiple of 21.2x my FY11 EPS estimate, handily above the five-year mean P/E multiple of 14.0x. As Abercrombie stops reporting monthly comps in FY11 and tougher sales comparisons ensue, I think a higher multiple will be difficult to support.
Disclosure: No positions