Company Profile
Akamai Technologies, Inc. (NASDAQ:AKAM) is a leading provider of cloud-based internet content and delivery infrastructure. Its devotion to providing a near-instant web experience continues to fuel growth. Consistent capital spending signals management's desire to continue to deliver strong returns for investors beyond the next earnings release.
Industry Conditions
The Nasdaq has outperformed the major indices for a majority of the recovery (Exhibit 1). Indicated by its widening spread with the Dow, the market continues to value tech over traditional investments. This suggests an overall risk-on allocation strategy. However, recent global issues as well as modest earnings reports have sent the major indices significantly lower over the past few days. Additionally, it seems further declines are in store on a short-term horizon.
Exhibit 1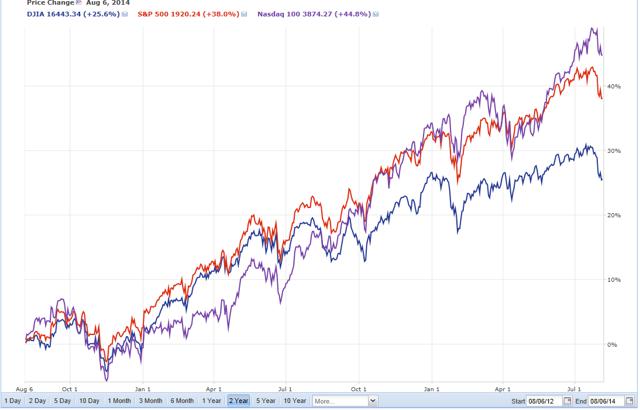 Source: Stock Rover
The Internet content and Information industry has displayed exceptional growth compared to the major indices and is expected to remain strong for the near future (Exhibit 2). However, it has recently experienced substantial volatility, generating significant investor concerns over future gains. Additionally, if a prolonged decline in economic growth were to occur, this sector would most likely see larger declines in sales and share value compared to other industries due to corporate infrastructure spending cuts and delays in technological improvements.
Exhibit 2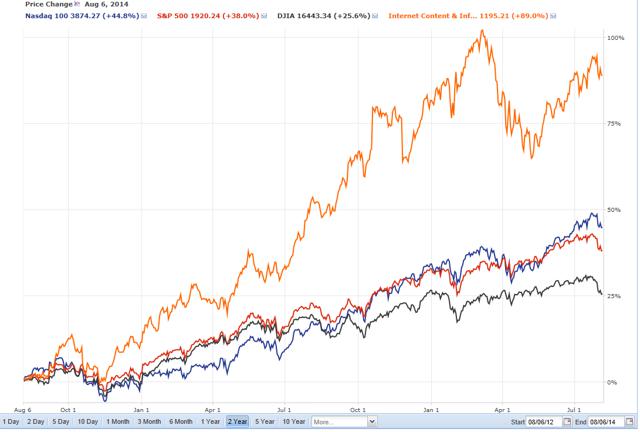 Source: Stock Rover
AKAM
Regarding AKAM specifically, it has consistently outperformed the major indices and straddles the two industries for which it is included, albeit with significantly more volatility (Exhibit 3 and 4).
Exhibit 3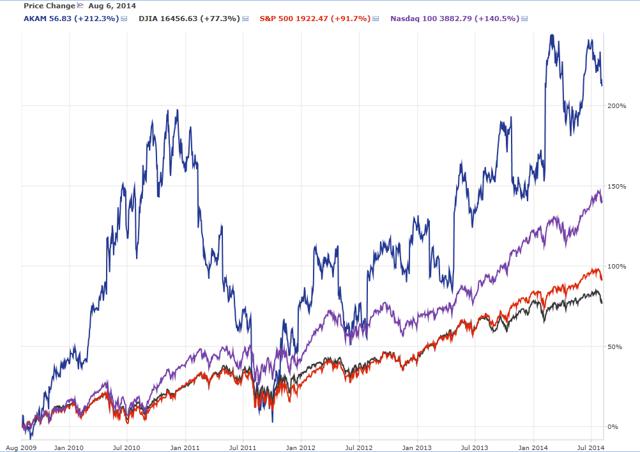 Source: Stock Rover
Exhibit 4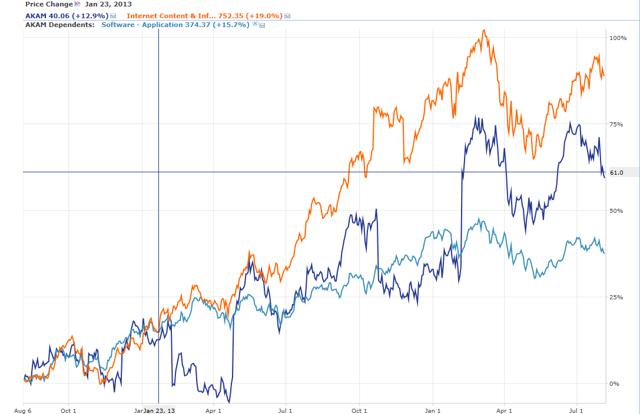 Source: Stock Rover
Operating margins remain strong and near the upper end of the five-year range (Exhibit 5).
Exhibit 5

Source: Stock Rover
While not entirely concerning at these levels, free cash flow in regards to sales continues to decline, indicating the current spending policy may not be sustainable (Exhibit 6 and 7). The company recently experienced an 18% decline in ROIC causing concerns over the effectiveness of current investment spending.
Exhibit 6

Source: Stock Rover
Exhibit 7

Source: Stock Rover
AKAM Valuation
Price to earnings remain relatively stable, just coming off the highs while Price to Sales is steadily climbing since the lows in 2011 (Exhibit 8 and 9). These indicate appropriate valuation based on historical multiples.
Exhibit 8

Source: Stock Rover
Exhibit 9

Source: Stock Rover
Industry analysts have been increasing their opinions on the equity with 18 EPS upward revisions this year and 13 for next year with an average target price of $68.06.
Our in-house comparable company valuation analysis puts the estimated equity value at 69.82 and our DCF valuation is $68.75 per share. Additionally in respect to its industry, AKAM is undervalued according to P/E by 16% and undervalued according to EV/EBITDA by 43%.
Challenges and Opportunities
Akamai continues to invest in research and development which has proven to return substantial value to shareholders. This is shown by a 27% annual growth rate in research spending and 40% annual growth in capital expenditures fueling 18% annual returns in share price over the past 10 years. However, the company's equity experienced substantial selling pressure after its most recent earnings release, signaling potential wavering in investor sentiment toward owning shares at current prices as well as raising questions as to how much benefit can be expected from each additional unit of investment. Moreover, as other companies reach for lofty margins in the industry, competition will increase substantially, threatening profit margins and growth opportunities.
Conclusion
Akamai Technologies, Inc. has a robust business model, solid fundamentals and compelling valuation metrics. Strong demand in cloud infrastructure solutions, security and a focus on mobile will be tailwinds for the company. Intense competition challenges future growth but is being met with effective investment spending. With a close eye on capital efficiency trends, buying shares within the $50-$60 range will position an investor for future growth benefits from strong investment spending and stable margins.
Disclaimer: Michael Lee is an investment strategist at Long Street Capital Management, LLC ("LSCM"). This article is prepared by Mr. Lee as an outside business activity. As such, LSCM does not review or approve materials presented herein. The opinions and any recommendations expressed in this article are those of the author and do not reflect the opinions or recommendations of LSCM
None of the information or opinions expressed in this article constitutes a solicitation for the purchase or sale of any security or other instrument. Nothing in this article constitutes investment advice and any recommendations that may be contained herein have not been based upon a consideration of the investment objectives, financial situation or particular needs of any specific recipient. Any purchase or sale activity in any securities or other instrument should be based upon your own analysis and conclusions. Past performance is not indicative of future results. Either LSCM or Mr. Lee may hold or control long or short positions in the securities or instruments mentioned.
Disclosure: The author has no positions in any stocks mentioned, but may initiate a long position in AKAM over the next 72 hours. The author wrote this article themselves, and it expresses their own opinions. The author is not receiving compensation for it (other than from Seeking Alpha). The author has no business relationship with any company whose stock is mentioned in this article.