By Ido Cohen
This is the third in a four-part series examining dynamic and durable growth themes that affect the U.S. economy and present opportunities for investors. The first post explored the biotech revolution, and the second looked at the enormous implications of shale energy. The final post will examine the coming mobile advertising boom.
We believe it's an incredible time to invest in mobile data and infrastructure and the companies associated with the industry.
While about 70% of the global population has a mobile phone, only about 20% has a smartphone,1 which essentially doubles as an Internet device. This year, we will likely see smartphones priced at just $25 to $35. With such low prices and growing wireless data capacity, we believe smartphone penetration globally will grow to more than 50% in three years and to 70% in five years.1
To understand the enormity of this trend, consider that at the end of 2013, less than 30% of households had a fixed broadband-connected personal computer in their homes.2 That low number primarily reflects the higher price point of PCs and the lack of fixed-line broadband infrastructure in the emerging world versus the developed world.
Improving wireless data networks, combined with affordable smartphones, represent the promise of the information age - the power for all to access collective knowledge, join in one-to-many communications, and participate in a global market. We believe the global productivity benefits of these factors are ahead of us over the next three to five years.
We're Approaching an Inflection in Connectivity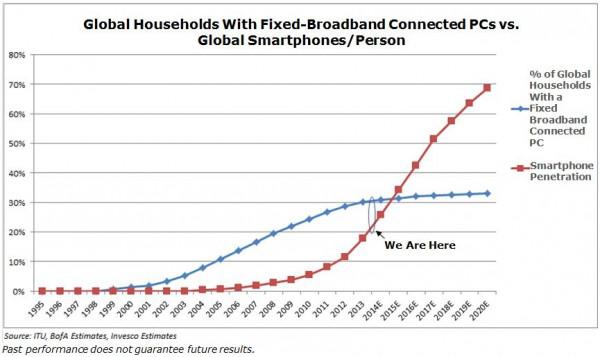 Network infrastructure challenges remain
With the coming wave of smartphone users, there is still infrastructure that needs to be deployed, particularly in the emerging markets, which need to focus on coverage. Developed markets, such as the U.S. and Europe, need additional network capacity to contend with the changing way we are using our wireless devices.
To support the growth of smartphones, companies and governments need to make the networks denser, with more towers and cell sites, more fiber to towers and more wireless spectrum.
In the old world of phone calls and texting, data went roughly equally upstream and downstream. With phones now doubling as multimedia devices, the downstream traffic from the tower to the device is growing tremendously. Since there is a limited supply of usable downstream spectrum, its value is increasing rapidly. We believe that the companies with unused downstream spectrum are well positioned for this developing mobile data environment.
New technologies and evolving behavior are bringing many changes to the mobile industry, and we think a lot about who will be the big winners and the big losers.
To find out more, watch this video on the mobile boom from the Invesco U.S. Growth team.
Sources
Bank of America and Invesco estimates, Ericsson Mobility Report, November 2013
ITU Manual for Measuring ICT Access and Use by Households and Individuals, 2014
Important information
Investments focused in a particular industry or sector, such as mobile data and infrastructure industries, are subject to greater risk, and are more greatly impacted by market volatility, than more diversified investments.
| | | |
| --- | --- | --- |
| NOT FDIC INSURED | MAY LOSE VALUE | NO BANK GUARANTEE |
Disclaimer: The information provided is for educational purposes only and does not constitute a recommendation of the suitability of any investment strategy for a particular investor. The opinions expressed are those of the author(s), are based on current market conditions and are subject to change without notice. These opinions may differ from those of other Invesco investment professionals.
All data provided by Invesco unless otherwise noted.
Invesco Distributors, Inc. is a U.S. distributor for retail mutual funds, exchange-traded funds, institutional money market funds and unit investment trusts.
Invesco unit investment trusts are distributed by the sponsor, Invesco Capital Markets, Inc. and broker dealers including Invesco Distributors, Inc. These Invesco entities are indirect, wholly owned subsidiaries of Invesco Ltd.
©2014 Invesco Ltd. All rights reserved