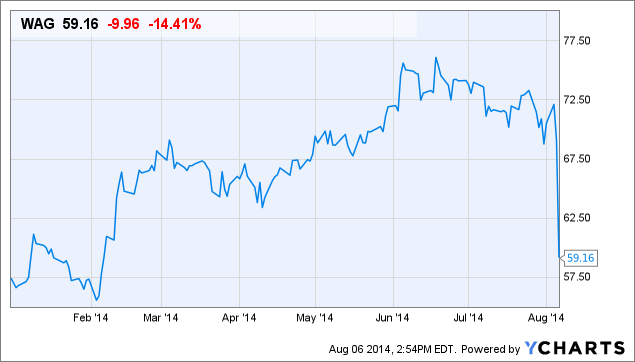 Walgreen (WAG) declined more than 12% on news the remaining acquisition of Alliance Boots will not include the anticipated tax inversion many analysts were expecting. Walgreens acquired 45% of Alliance Boots back in June 2012 and decided on 8/6/14 to exercise their option to acquire the remaining 55% for around $15 billion in cash and stock. A new holding company will be formed with the deal named, Walgreens Boots Alliance, Inc., which will include 4 divisions; Walgreens Co. (the largest drugstore chain in the US), Boots (the U.K. and Republic of Ireland leading pharmacy-led health and beauty retailer), Pharmaceutical Wholesale and International Retail (Europe's largest pharmaceutical wholesaler), and Global Brands. Combined the 2 companies will have 350,000 employees, around 11,000 stores, 370 distribution centers, 180,000 global pharmacy distribution points and over 100 million active loyalty members. Management has laid out ambitious goals in FY 2016 to generate $126-$130 billion in revenue, $4.25-$4.60 adjusted EPS and save $1 billion in cost synergies. With a current trailing twelve-month revenue of $75.3 billion, Walgreens expects to increase revenue 67%-72% by FY2016 with this acquisition. However, the company previously expected the total adjusted earnings between $9 and $9.5 billion in FY 2016, but guided this down to around $7.2 billion due to global pharmacy reimbursement pressures. In particular, the company expects lower reimbursement for its Medicare prescription business in the U.S. The deal is expected to be completed during the first quarter of 2015 and an official combination of the 2 companies isn't expected until FY 2016.
Long-term Opportunity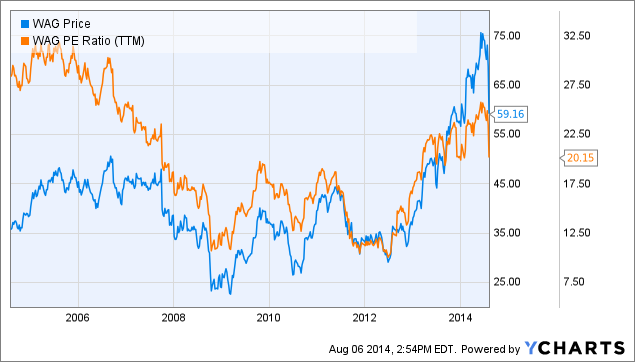 It's rare for a company the size of Walgreens with a clear revenue growth structure in place to decline 12% in one day. The news today effectively wiped out over $6 billion in market cap and created a tremendous long-term entry point for investors. Walgreens is the kind of company investors can hold for the next 10-15 years and know they have a quality, well-run company that will benefit from the changing demographics. An aging population is increasingly turning to local pharmacies, such as Walgreens, to fill prescriptions. Prescription sales account for nearly 65% of company sales and increased quarterly prescription sales by 8.4% (+6.3% comparable same store sales). In the third quarter ended June 30, 2014, Walgreens filled 218 million prescriptions and increased its retail prescription market share to 19%. In addition, the company generated $1.0 billion in free cash flow during the third quarter.
9 months ended May 31,

($ millions)

2014

2013

Y/Y % change

Sales

$ 57,335

$ 54,276

5.6%

Cost of Sales

$ 41,093

$ 38,348

7.2%

Gross Profit

$ 16,242

$ 15,928

2.0%

Operating Income

$ 3,225

$ 2,911

10.8%

Net Income

$ 2,171

$ 1,793

21.1%

EPS (diluted)

$ 2.25

$ 1.88

19.7%

Dividends declared

$ 0.945

$ 0.825

14.5%
Source: Walgreens earning release
Cost Savings Potential
In the first 9 months of FY 2014, combined synergies for Walgreens and Alliance Boots were approximately $367 million and the company expects to deliver second year combined synergies of $400-$450 million. This is up from the first year partnership combined synergies of $154 million. With the remaining 55% acquisition, Walgreens has announced a goal to exceed $1 billion in combined synergies. There is a good article on Forbes, where author, Leo King, says the $1 billion in synergies will come from its operating costs and in particular IT. Costs will be slashed and efficiencies will be found across a number of major areas, including procurement, supply chain, store planning, loyalty schemes and e-commerce. The combined companies will have over 100 million loyalty card members that it can utilize useful data to improve costs and increase sales.
Un-American to be American?
Wall Street is effectively punishing Walgreens for not moving its headquarters overseas and undergoing a tax inversion to avoid high U.S. corporate taxes. Walgreens came out and said it was not confident the inversion deal would stand up to the scrutiny of the IRS. Walgreens prides itself as being an iconic American retailer and management was mindful of public reaction and the fact that a major portion of revenues are derived from government-funded reimbursement programs. As a result, Walgreens chose to remain an American company and keep its headquarters in Deerfield, IL. While Walgreens could have saved millions with a potential tax inversion, management was under political pressure to remain an American business and keep profits in the country. Illinois Senator, Dick Durbin, sent a letter to Walgreens CEO, Greg Wasson, warning that the company may find its customers are "deeply patriotic and will not support Walgreen's decision to turn its back on the United States." Now that Walgreens decided to remain an American company, Wall Street rewarded them by sending the stock down 12%. It remains to be determined if customers will reward the company's decision with added loyalty.
Take Away
Walgreens is a well-established pharmacy retailer that has seen a market overreaction by not deciding to move the company overseas through a tax inversion. The company has successfully operated as an American since 1901 and this latest hiccup should be a non-story a year from now. The acquisition of Alliance Boots will further establish Walgreens as a dominant global player in the pharmacy retailing industry. Investors won't get many opportunities (aside from a severe market correction) to establish a position in Walgreens at a better price over the next several years. 12% one day declines don't happen often for stocks of this quality, so long-term investors should take advantage of the opportunity.
Disclosure: The author has no positions in any stocks mentioned, but may initiate a long position in WAG over the next 72 hours. The author wrote this article themselves, and it expresses their own opinions. The author is not receiving compensation for it (other than from Seeking Alpha). The author has no business relationship with any company whose stock is mentioned in this article.