The following is a list of high growth stocks, as defined by past sales growth and projected EPS growth. All of these stocks have seen significant institutional inflows over the last three months.

To create the list we started with a universe of over 100 stocks with the following characteristics:
Market cap > $300M
Sales growth over last 5 years > 20%
Projected EPS growth over next five years > 20%

We then looked at institutional flows and ranked these stocks according to the highest percentage increase in institutional ownership over the past three months.

Short float, past sales data and EPS growth projections sourced from Finviz. Institutional trading data sourced from Reuters.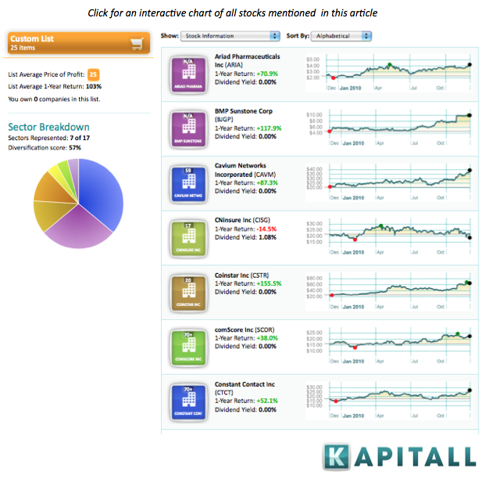 1. Entropic Communications, Inc. (NASDAQ:ENTR): Semiconductor Industry. Market cap of $792.5M. Sales have grown by 217.94% over the last five years, with EPS growth projected at 20.66% over the next five years. Institutional investors currently own 87,891,636 vs. 58,568,052 shares held three months ago (+50.07% change). Short float at 17.85%, which implies a short ratio of 5.03 days. The stock has gained 205.18% over the last year.

2. Eagle Rock Energy Partners, L.P. (NASDAQ:EROC): Oil & Gas Refining & Marketing Industry. Market cap of $688.73M. Sales have grown by 124.79% over the last five years, with EPS growth projected at 30.0% over the next five years. Institutional investors currently own 42,443,336 vs. 30,600,409 shares held three months ago (+38.7% change). Short float at 1.43%, which implies a short ratio of 3.82 days. The stock has gained 70.65% over the last year.

3. KIT digital, Inc. (OTC:KITD): Entertainment Industry. Market cap of $334.68M. Sales have grown by 64.40% over the last five years, with EPS growth projected at 31.13% over the next five years. Institutional investors currently own 17,419,202 vs. 13,733,238 shares held three months ago (+26.84% change). Short float at 24.72%, which implies a short ratio of 18.81 days. The stock has gained 44.12% over the last year.

4. Cninsure Inc. (CISG): Insurance Brokers Industry. Market cap of $1.01B. Sales have grown by 102.44% over the last five years, with EPS growth projected at 27.45% over the next five years. Institutional investors currently own 26,633,663 vs. 21,118,742 shares held three months ago (+26.11% change). Short float at 9.27%, which implies a short ratio of 6.31 days. The stock has gained 4.14% over the last year.

5. Tata Motors Ltd. (NYSE:TTM): Auto Manufacturers Industry. Market cap of $17.69B. Sales have grown by 36.10% over the last five years, with EPS growth projected at 35.0% over the next five years. Institutional investors currently own 49,208,049 vs. 41,425,906 shares held three months ago (+18.79% change). Short float at 4.28%, which implies a short ratio of 6.37 days. The stock has gained 98.21% over the last year.

6. Terremark Worldwide, Inc. (NASDAQ:TMRK): Telecom Services Industry. Market cap of $810.36M. Sales have grown by 43.44% over the last five years, with EPS growth projected at 21.25% over the next five years. Institutional investors currently own 42,460,140 vs. 36,420,394 shares held three months ago (+16.58% change). Short float at 17.07%, which implies a short ratio of 12.46 days. The stock has gained 93.21% over the last year.

7. SIRIUS XM Radio Inc. (NASDAQ:SIRI): Broadcasting Industry. Market cap of $5.46B. Sales have grown by 105.88% over the last five years, with EPS growth projected at 30.0% over the next five years. Institutional investors currently own 1,157,973,622 vs. 997,420,144 shares held three months ago (+16.1% change). Short float at 5.45%, which implies a short ratio of 3.42 days. The stock has gained 117.19% over the last year.

8. SuccessFactors, Inc. (NYSE:SFSF): Business Software & Services Industry. Market cap of $2.33B. Sales have grown by 71.83% over the last five years, with EPS growth projected at 27.50% over the next five years. Institutional investors currently own 88,967,711 vs. 77,492,583 shares held three months ago (+14.81% change). Short float at 15.71%, which implies a short ratio of 10.27 days. The stock has gained 99.74% over the last year.

9. LogMeIn, Inc. (NASDAQ:LOGM): Information Technology Services Industry. Market cap of $1.08B. Sales have grown by 95.98% over the last five years, with EPS growth projected at 21.0% over the next five years. Institutional investors currently own 26,437,037 vs. 23,096,869 shares held three months ago (+14.46% change). Short float at 15.5%, which implies a short ratio of 9.23 days. The stock has gained 156.18% over the last year.

10. Cavium Networks, Inc. (NASDAQ:CAVM): Semiconductor Industry. Market cap of $1.73B. Sales have grown by 68.68% over the last five years, with EPS growth projected at 20.22% over the next five years. Institutional investors currently own 53,894,582 vs. 47,092,539 shares held three months ago (+14.44% change). Short float at 22.75%, which implies a short ratio of 7.35 days. The stock has gained 85.34% over the last year.

11. PDL BioPharma, Inc. (NASDAQ:PDLI): Biotechnology Industry. Market cap of $817.13M. Sales have grown by 30.36% over the last five years, with EPS growth projected at 26.0% over the next five years. Institutional investors currently own 109,874,563 vs. 96,556,654 shares held three months ago (+13.79% change). Short float at 6.23%, which implies a short ratio of 4.04 days. The stock has gained 2.63% over the last year.

12. Coinstar Inc. (NASDAQ:CSTR): Business Equipment Industry. Market cap of $2.01B. Sales have grown by 30.10% over the last five years, with EPS growth projected at 25.69% over the next five years. Institutional investors currently own 42,689,120 vs. 37,749,586 shares held three months ago (+13.09% change). Short float at 27.44%, which implies a short ratio of 5.5 days. The stock has gained 143.69% over the last year.

13. NetSuite Inc. (NYSE:N): Business Software & Services Industry. Market cap of $1.63B. Sales have grown by 56.60% over the last five years, with EPS growth projected at 27.40% over the next five years. Institutional investors currently own 20,184,081 vs. 18,070,183 shares held three months ago (+11.7% change). Short float at 19.3%, which implies a short ratio of 10.48 days. The stock has gained 72.73% over the last year.

14. comScore, Inc. (NASDAQ:SCOR): Business Services Industry. Market cap of $695.64M. Sales have grown by 29.63% over the last five years, with EPS growth projected at 37.16% over the next five years. Institutional investors currently own 20,761,186 vs. 18,660,346 shares held three months ago (+11.26% change). Short float at 5.39%, which implies a short ratio of 8.54 days. The stock has gained 35.25% over the last year.

15. Rex Energy Corporation (NASDAQ:REXX): Oil & Gas Drilling & Exploration Industry. Market cap of $538.99M. Sales have grown by 31.21% over the last five years, with EPS growth projected at 45.0% over the next five years. Institutional investors currently own 32,697,353 vs. 29,406,262 shares held three months ago (+11.19% change). Short float at 19.62%, which implies a short ratio of 13.09 days. The stock has gained 30.85% over the last year.

16. Isilon Systems, Inc. (ISLN): Data Storage Devices Industry. Market cap of $2.24B. Sales have grown by 74.52% over the last five years, with EPS growth projected at 24.38% over the next five years. Institutional investors currently own 67,325,864 vs. 60,786,116 shares held three months ago (+10.76% change). Short float at 5.38%, which implies a short ratio of 1.39 days. The stock has gained 468.07% over the last year.

17. Dr. Reddy's Laboratories Ltd. (NYSE:RDY): Drug Manufacturers Industry. Market cap of $6.64B. Sales have grown by 29.20% over the last five years, with EPS growth projected at 25.0% over the next five years. Institutional investors currently own 29,863,533 vs. 27,056,763 shares held three months ago (+10.37% change). Short float at 6.93%, which implies a short ratio of 25.91 days. The stock has gained 58.65% over the last year.

18. Questcor Pharmaceuticals, Inc. (QCOR): Biotechnology Industry. Market cap of $890.27M. Sales have grown by 36.85% over the last five years, with EPS growth projected at 28.0% over the next five years. Institutional investors currently own 55,674,236 vs. 50,552,970 shares held three months ago (+10.13% change). Short float at 14.93%, which implies a short ratio of 10.31 days. The stock has gained 236.94% over the last year.

19. BMP Sunstone Corporation (BJGP): Drug Related Products Industry. Market cap of $422.27M. Sales have grown by 270.98% over the last five years, with EPS growth projected at 37.0% over the next five years. Institutional investors currently own 14,694,358 vs. 13,458,029 shares held three months ago (+9.19% change). Short float at 4.76%, which implies a short ratio of 1.98 days. The stock has gained 114.78% over the last year.

20. Under Armour, Inc. (NYSE:UA): Textile Industry. Market cap of $2.95B. Sales have grown by 33.08% over the last five years, with EPS growth projected at 21.17% over the next five years. Institutional investors currently own 31,680,210 vs. 29,132,891 shares held three months ago (+8.74% change). Short float at 14.29%, which implies a short ratio of 6.67 days. The stock has gained 121.41% over the last year.

21. Nxstage Medical, Inc. (NASDAQ:NXTM): Medical Appliances & Equipment Industry. Market cap of $1.1B. Sales have grown by 139.54% over the last five years, with EPS growth projected at 25.0% over the next five years. Institutional investors currently own 49,917,927 vs. 46,116,281 shares held three months ago (+8.24% change). Short float at 4.93%, which implies a short ratio of 4.79 days. The stock has gained 230.63% over the last year.

22. Trina Solar Ltd. (NYSE:TSL): Semiconductor Industry. Market cap of $1.56B. Sales have grown by 359.18% over the last five years, with EPS growth projected at 21.66% over the next five years. Institutional investors currently own 51,046,819 vs. 47,204,180 shares held three months ago (+8.14% change). Short float at 10.82%, which implies a short ratio of 1.97 days. The stock has lost -5.61% over the last year.

23. IPC The Hospitalist Company, Inc. (NASDAQ:IPCM): Specialized Health Services Industry. Market cap of $554.79M. Sales have grown by 27.64% over the last five years, with EPS growth projected at 22.50% over the next five years. Institutional investors currently own 17,357,828 vs. 16,063,967 shares held three months ago (+8.05% change). Short float at 9.38%, which implies a short ratio of 12.99 days. The stock has gained 6.26% over the last year.

24. Constant Contact, Inc. (NASDAQ:CTCT): Marketing Services Industry. Market cap of $766.92M. Sales have grown by 74.09% over the last five years, with EPS growth projected at 33.33% over the next five years. Institutional investors currently own 35,475,981 vs. 32,852,353 shares held three months ago (+7.99% change). Short float at 39.3%, which implies a short ratio of 35.96 days. The stock has gained 46.99% over the last year.

25. Ariad Pharmaceuticals Inc. (NASDAQ:ARIA): Biotechnology Industry. Market cap of $532.9M. Sales have grown by 62.09% over the last five years, with EPS growth projected at 25.0% over the next five years. Institutional investors currently own 60,301,366 vs. 56,449,957 shares held three months ago (+6.82% change). Short float at 8.23%, which implies a short ratio of 7.58 days. The stock has gained 82.61% over the last year.

Disclosure: No positions