Mobileye (NYSE:MBLY) is an Israeli company that went public last week and raised about $200M. Mobileye is in the business of making and selling advanced driver assistance systems (ADAS).
In this article, I will introduce you to Mobileye, a company that has a very exciting future but a post-IPO valuation that seems far too high, which even a fast grower like Mobileye can't justify.
Mobileye was founded in 1999 by the two founders: Professor Amnon Shashua, who is the company's CTO and chairman, and Ziv Amiram, who is the company's president. The company was incorporated in the Netherlands, but its main operations are in Israel.
Technology
The company's main product is a device called the Mobileye. The product consists of: a monocular camera, an audio buzzer, and a display. The 'heart' of the solution is the EyeQ system-on-a-chip (SoC), which runs proprietary algorithms.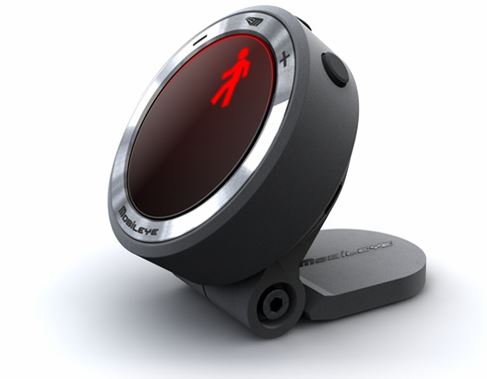 The Mobileye. Source: Mobileye.com
The Mobileye solution performs multiple important features:
Daylight Pedestrian Collision Warning
Forward Collision Warning
Lane Departure Warning
Headway Monitoring and Warning
Intelligent High Beam Control
Speed Limit Indication
To have a sense of what all of those features actually do, you are invited to watch this short, 4-minute video.
The EyeQ system uses the input of the camera to analyze what it sees, and is actually a breakthrough in the field of machine vision.
Building on top of its advanced technological advantage, Mobileye will be the first supplier to provide the underlying technology to enable commercially viable semi-autonomous driving.
Semi-autonomous driving is hands-free driving. Imagine driving on a long highway and pushing a hands-free button on your steering wheel. You sit back, relax, and let your car drive itself to the next exit. Mobileye expects to launch products for automated driving in 2016.
I believe that Mobileye is positioned to be the #1 supplier of the ADAS systems used in autonomous driving. The trend of autonomous driving will start with hands-free driving in highways, then country roads, and finally city driving.
Great Success with Car Makers
Mobileye's business model has two parts:
Car Makers
Mobileye works with 20 of the leading global car makers. The complete list is:
| | | | |
| --- | --- | --- | --- |
| Opel | Ford/Lincoln | MAN | Scania |
| Audi | GM (Buick, Cadillac, Chevrolet, GMC) | Mitsubishi | Tesla |
| BMW/Rolls Royce | Honda | Nissan/Infinity | Volvo |
| Chrysler/Dodge/Jeep | Hyundai/Kia | Peugeot/Citroen | Yulon |
| Fiat | Jaguar/Land Rover | Renault | IVECO |
Source: Mobileye Prospectus
Over its existence, Mobileye has won more than 80% of the serial production for which it was requested to provide a quotation.
Mobileye supplies the parts to the 20 car makers through a tier of car parts suppliers, called Tier 1 companies. These are automotive system integrators.
In early 2010, the Mobileye was available in 36 car models from 6 car makers. By the end of 2014, the system will be available on 160 models from 18 car makers. The company already has contracts to be in 237 models from 20 car makers by 2016.
The long-term validation cycle usually required by car makers (5-7 years) has given Mobileye a first mover advantage in the ADAS industry.
It also provides great visibility into its future growth. By accounting for future models already won by Mobileye, its future revenue stream confidence level is very high.
Of Mobileye's revenues, 78% came from car makers in Q1-2014.
Aftermarket
Mobileye is also eyeing (no pun intended) the car aftermarket. That means targeting customers who have bought a car that didn't come pre-equipped with a Mobileye system.
To date, the system has been installed in 120,000 cars by commercial/government fleets, telematics providers and insurance companies.
Of Mobileye's revenues, 22% came from aftermarket sales in Q1-2014.
The Underlying Trends
Mobileye is riding two of the main trends in the automobile industry.
The first trend is safety regulation. By 2015, Mobileye believes that in order to attain a 4-star/5-star safety rating, a vehicle will need to be equipped with a camera-based ADAS.
That requirement pushes car makers to adopt, as standard equipment, ADAS technology.
In addition, by May 2018, each new car under 10,000 pounds will have to be equipped with rear visibility technology.
Mobileye is working on a 360-degree surround-view solution, which will further push a car maker to decide to include a Mobileye system, which will provide added value as well as comply with the new rule.
Mobileye is now working with one OEM to include a surround view solution in one of its future models. The rear view camera in that case will not be used solely for display but for autonomous parking.
I believe that in the next several years most new models will include an ADAS system. Mobileye is positioned to win most of that market.
The second trend is autonomous driving. As I wrote above, the first adoption of autonomous driving will be for highway driving. That innovation will be available faster than you might think. Mobileye has already won two design wins to include hands-free driving for models launching in 2016.
One of the OEMs appears to be Tesla (NASDAQ:TSLA). Reuters had reported Tesla is working on such a feature to be available in 2016. I believe that Tesla is one of the OEMs to incorporate the hands-free feature in 2016.
As the autonomous driving market grows, I expect many makers to adopt Mobileye's solution.
Google Competition
Google (NASDAQ:GOOG) (NASDAQ:GOOGL) and its highly covered self-driving car could pose some competition to Mobileye but I don't believe it will. Google may turn in two different approaches. One will be to partner up with a car manufacturer to make a branded "Google Car".
In this case, Google will have a very limited effect on Mobileye, as other car makers will rush to offer competing features to the Google Car and come knocking on Mobileye's door.
Another approach will be selling the complete autonomous driving system to car makers the same way Mobileye markets their system.
In this case, competition will be higher than the first option although there is no reason to believe Google won't have to go through the 5-7 years validation period such as Mobileye went through.
I believe that in both cases, Mobileye is very well positioned to face the competition. Mobileye's system is cheaper to embed in a car, and has the first-mover advantage, which can support a very high market share in the future.
It is worth noting that Google can swallow Mobileye if it wishes, although I believe Mobileye's shareholders will oppose that, as the company has plenty of resources to go on and unlock the very high potential in its market.
Crunching Numbers
Having seen how Mobileye is positioned to ride these upcoming trends, let's crunch some numbers to see the size of the opportunity.
According to Mobileye's prospectus, it shipped 1.3M EyeQ chips in 2013. Those 1.3M units generated $81.245M in revenues. That gives us an ASP of $61.49/unit.
In the OEM segment, 2013 revenues were $63.29M and sales in the aftermarket (AM) segment were $17.955M.
The AM selling price is higher than the OEM selling price; 22% of sales were related to the AM segment.
I assume 5% of shipments were to the AM, which means 65,000 units. That results in an ASP of $276/unit in the AM segment.
Given the above, the remaining 1.235M units were sold for an ASP of $51/unit.
Now that we have established an ASP, let's take a look at Mobileye's car model design win ramp as of today: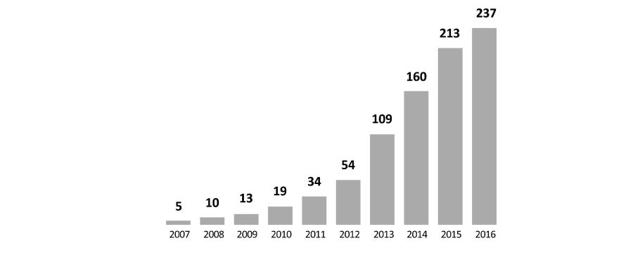 Click to enlarge
Source: Mobileye Prospectus
In 2013, Mobileye was in 109 models. On average, each model consumed ~11,330 units. Of course, there are significantly bigger production runs in certain models, but given that Mobileye's customer list includes a good mix of big/small makers, I believe using the average is safe.
Now, in 2013, the company raised its OEM segment ASP by 18% given the higher number of features provided by the system. Basically, each OEM decides what features it wants to use and the ASP is determined accordingly.
I'll assume that given Mobileye's intense R&D work, more features will be included in future generations and the ASP will rise by about 10%/year.
As for the AM segment, I'll assume a stagnant ASP and a 40% volume average growth (compared to 53% year-on-year growth reported in Q1-2014).
Mobileye's business model is highly profitable and yielded about 20% of net margin in 2013. I expect this net margin to increase as the company revenue increases and the operational leverage kicks in.
Accounting for all of the assumptions, we get to the following:
| | | | | | |
| --- | --- | --- | --- | --- | --- |
| Year | 2014 | 2015 | 2016 | 2017 | 2018 |
| OEM Segment | $101.4M | $179.7 | $304.4M | $478.8M | $695.3M |
| Aftermarket Segment | $28.2M | $43M | $63.3M | $89.6M | $122M |
| Total Revenue | $129.6 | $222.7M | $367.6M | $568.5 | $817.7M |
| Revenue Growth Rate | | 71% | 65% | 54% | 43% |
| Net Margin | 20% | 23% | 25% | 25% | 25% |
| Net Profit | $28.3M | $51.2 | $91.9M | $142.1M | $204.4M |
| Net Profit Growth Rate | | 79.5% | 79.4% | 54% | 43% |
Opportunity Size
According to IHS Automotive, 82.84M cars were shipped in 2013. Assuming a 3% annual increase in car shipments:
| | | | | | |
| --- | --- | --- | --- | --- | --- |
| Year | 2014 | 2015 | 2016 | 2017 | 2018 |
| Car Shipments | 82.84M | 85.3M | 87.8M | 90.5M | 93.2M |
Slapping Mobileye's ASP into those numbers yields the following potential market size:
| | | | | | |
| --- | --- | --- | --- | --- | --- |
| Year | 2014 | 2015 | 2016 | 2017 | 2018 |
| Market Size | $4.6B | $5.2B | $5.9B | $6.7B | $7.6B |
Given the above, Mobileye will just scratch 2.7% of the potential market by 2014, and will reach about 10% of the market by 2018.
Valuation and Conclusion
Sometimes you encounter investment ideas that seem like a long idea, but turn out to be a short idea. When I researched Mobileye, I discovered a great company, a bright future, but an $8B price tag that can't be justified. A fascinating combo.
Mobileye has a very bright future, but I'm afraid that the company's valuation shot up way too fast.
Giving the company a forward PE of 40 to represent its very high growth rate should still result in a valuation of $2B in respect to 2015 earnings, a valuation of $3.6B in respect to 2016 earnings, a valuation of $5.6B in respect to 2017 earnings, and $8.1B in respect to 2018 earnings.
Given the above, I believe that after the IPO-hype will settle down, the market will offer us a more reasonable valuation, which will enable long-term investors to participate in the exciting future of Mobileye.
After the market corrects its valuation of Mobileye, and the risk/reward profile changes for the best, we could re-consider investment in Mobileye.
Up until then, I see a significant short-term downside to Mobileye's valuation.
Disclosure: The author has no positions in any stocks mentioned, and no plans to initiate any positions within the next 72 hours. The author wrote this article themselves, and it expresses their own opinions. The author is not receiving compensation for it (other than from Seeking Alpha). The author has no business relationship with any company whose stock is mentioned in this article.