Chegg's (NYSE:CHGG) history as a publicly-traded company has been categorized by extensive volatility. The company's 52-week range is quite vast, trading as low as $4.82 and as high as $11.25. Concerns about Amazon (NASDAQ:AMZN) undercutting Chegg and taking away its market share has created anxiety among investors. However, Chegg's management has recognized the risk in competing with Amazon and has begun several initiatives that have the ability to create a competitive advantage for Chegg and mitigate the risk associated with being in one of Amazon's industries.
CEO Daniel Rosensweig:
"In the last four years, we've systematically transformed Chegg from textbook rental company to connected learning platform to address a bigger and more attractive market."
Source: Q2 Earnings Conference Call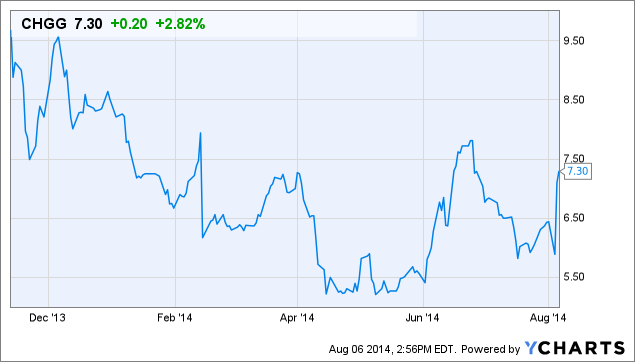 Quarterly Report
Chegg reported better than expected earnings earlier this week. Analysts were expecting a loss of $0.02 per share on revenue of $64 million. However, Chegg reported EPS of $0.00 on revenue of $64.5 million. During the release, Chegg also gave Q3 guidance within the range analysts were expecting. Chegg guided for $75-$80 million in revenue compared to expectations of $78 million.
During the quarter, total revenue increased 15%, largely driven by digital business growth. In fact, digital revenue grew a staggering 54% to $18.7 million, expanding to 29% of total revenue, up from 22% in the same period last year. The improvement in digital revenue was the result of strong digital subscriber growth of 62% y/y. With digital gross margins at 72%, this trend toward digital is certainly positive for Chegg. Also worth mentioning is that Chegg ended the quarter with cash of $79 million and zero debt on the balance sheet.
Although the earnings release beat expectations, the crux of the reason for Chegg rising was the announcement of a strategic alliance and an acquisition. Chegg announced a strategic alliance with Ingram Content Group Inc., the world's largest distributor of books, and the acquisition of InstaEDU, a leading online, on-demand tutoring marketplace.
Ingram Content Group Partnership
Chegg formed a strategic alliance with the world's largest book distributor to efficiently distribute textbooks to Chegg students. Under the terms of the deal, Ingram will be responsible for the sourcing, warehousing, fulfilment, shipping and rental returns of their inventory and Chegg will receive a commission for textbooks rented or sold through its web and mobile sites.
This alliance represents a seminal change for Chegg. CEO Dan Rosensweig discussed the positive implications for Chegg:
"By leveraging Ingram's world-class logistical capabilities, this alliance allows Chegg to maintain all of the advantages of brand, customer acquisition, marketing and data from the print textbook business, while freeing up significant cash."
Source: Q2 Earnings Conference Call
The most significant implication of this change is the mitigation of risk that comes with this alteration. Chegg will no longer have the risk of holding onto books that are outdated and writing them down as losses. An ancillary effect of the change will be that the company will operate with much less cash. Therefore, Chegg will be able to fund new ventures and acquisitions to improve and grow its digital business. Chegg will also be able to invest more into marketing with the freed cash and bolster the growth of all of its services, such as its newly-acquired tutoring service. Further, Chegg will improve as it expands its offerings to students. The number of textbooks in its catalogue is set to increase after this partnership.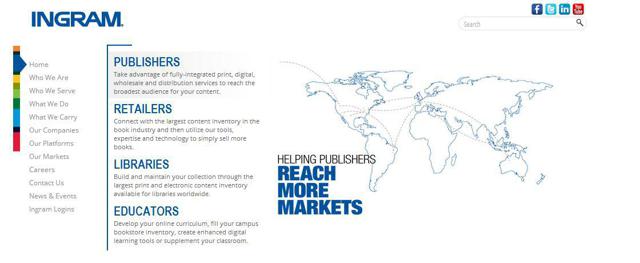 Source: Ingram Website
InstaEDU Acquisition
InstaEDU offers on-demand, high quality, online tutoring at the fraction of the cost of conventional tutoring services. Students chose real time video, voice or text based tutoring in numerous languages anytime, anywhere from any device for as little as $0.40. The scale of the service is quite large for only being two-years-old. InstaEDU already has over 70,000 qualified tutors covering over 2,500 subjects. Moreover, the engagement level, based on tutoring time, for this service is skyrocketing, increasing 240% y/y.
With Chegg's brand bolstering the credibility of the service, InstaEDU has a real chance of thriving. Since it added Chegg's branding to the site, it saw over a 15% improvement in conversion to sign up from visiting the site. That degree of improvement speaks volumes to the brand awareness Chegg has cultivated among college students. Further, coupling this service with Chegg's massive 13 million student user base will create a significant network effect. Being the first mover in the industry and having a network effect can be a powerful combination of competitive advantages that will thwart entrants and entrench a moat around this burgeoning industry.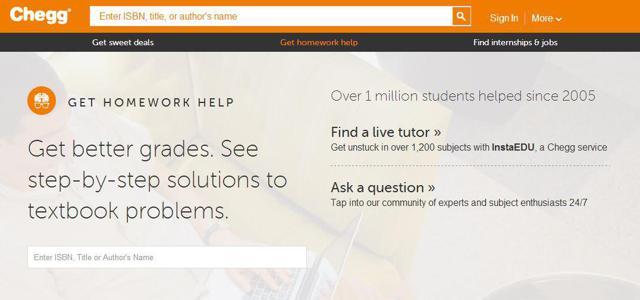 Source: Chegg Website
Deeper-Dive Into Terms of The Deal
To truly understand the positive implication of the alliance, it is imperative to look further into the details of the deal. Over the next six months, Ingram will purchase $25 million of textbooks, some directly from Chegg, while others will be in the marketplace. Chegg will continue to own branding and the customer experience, but Ingram will be responsible for all of the back-end logistics including sourcing, warehousing and shipping.
Chegg will derive revenue through commissions. For each order Ingram fulfils, Chegg will receive a commission of approximately 20% of the sale price. That hefty commission seems very beneficial for Chegg, as it assumes none of the risk with inventory or logistics. As a result of the new operating model, management expects overall gross margins to improve to 45%-55%, which is a substantial increase from the first half levels of 12%.
Chegg Career Services
Chegg also started another low-risk, high upside venture in the form of a career services segment. Chegg will leverage its user base and brand awareness to attempt to encroach on Linkedin (NYSE:LNKD). This opportunity has the ability to expand Chegg's offerings and generate significant revenue by matching employers with potential employees. With a market capitalization of only $600 million, LNKD may look to purchase CHGG if this venture begins to gain traction.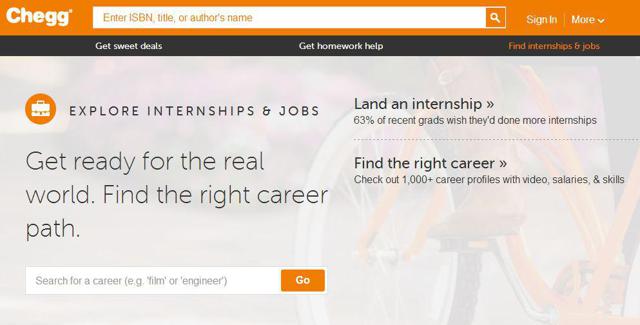 Source: Chegg Website
Chegg Campus Deals
In April of this year, Chegg acquired The Campus Special, LLC and The Campus Seical Food LLC, a company offering local campus deals, serving students at over 500 universities nationwide. Chegg paid approximately $14 million in cash and $1.6 million in common stock for the acquisition. Management plans to rebrand this company as Chegg Campus Deals. Using this deal feature will allow Chegg to leverage its brand and cross-sell to its large user base. During the conference call, management discussed the cross-selling opportunity, citing that 70% of active members in the first half of 2014 used its services for something other than print textbooks.
Risks Associated With An Investment
Although I have outlined several possible positive catalysts for Chegg, there are certain risks evident that could disrupt my bull thesis from panning out.
First, and foremost, Chegg faces a risk of losing its market share to Amazon with respect to textbooks. Since nearly all of Chegg's revenue is currently generated through this avenue, this would prove to be a huge blow. However, with the improved logistics through the Ingram partnership, Chegg has become more competitive.
Second, Chegg's initiatives such as the tutoring and career service may never gain traction. However, the downside to these initiatives is limited, as the costs associated with them are just for the technology required to launch them. Further, the losses associated with the campus deal acquisition are limited to the purchase price to $15.6 million.
Third, Chegg's business is highly seasonal and its reliance on a concentration of activity at the beginning of each academic term is risky. Therefore, if the business receives setbacks, be it technical, or due to other factors during this time, Chegg's business will be negatively affected to a substantial degree.
Finally, Chegg faces exceptionally high customer turnover. Due to the high rate of turnover of customers primarily due to graduation, Chegg is dependent on the acquisition of new students. If Chegg cannot replace these students effectively, its business will suffer. However, with the cash freed up from the Ingram deal, Chegg will have more funds to use for marketing.
Valuation
At Chegg's current trading level, it provides an exceptional risk/reward opportunity. CHGG is still in rapid growth mode, but trades at a reasonable price to sales of 2.36x and price to book value of .595x. Further, with no debt on the balance sheet and a market capitalization of only around $600 million, it could be a takeover candidate. Chegg has launched several new services that, if successful, could certainly compel a company to offer a bid for the company.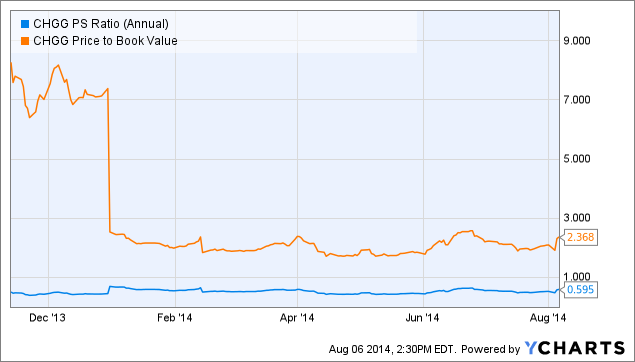 CHGG PS Ratio (Annual) data by YCharts
Concluding Remarks
Chegg's management has prudently altered its business model to mitigate risk and provide for high upside opportunities. The Ingram partnership, InstaEdu acquisition, and launch of Career Services and Campus Deals are catalysts that could propel this company to new heights. With a certain margin of safety, as Chegg trades at reasonable valuation metrics, CHGG is a clear asymmetric risk/reward opportunity. The market doesn't often misprice securities, but in this case, I am confident CHGG should trade at a much higher level.
Disclosure: The author has no positions in any stocks mentioned, but may initiate a long position in CHGG over the next 72 hours. The author wrote this article themselves, and it expresses their own opinions. The author is not receiving compensation for it (other than from Seeking Alpha). The author has no business relationship with any company whose stock is mentioned in this article.