Dear Capitalist Comrades,
Well-stocked with artillery, tanks, helicopters, vodka and bravado, Russian troops once again threaten Ukraine, peace as we know it, and in my view, fiat currency. The Russian military presence has been restored at the border with Ukraine, so much so that NATO has raised concern that Russia may invade. This reinforces my call to buy all things golden, including the SPDR Gold Trust (NYSEARCA:GLD) as a hedge against global disorder originating by this Russian aggression.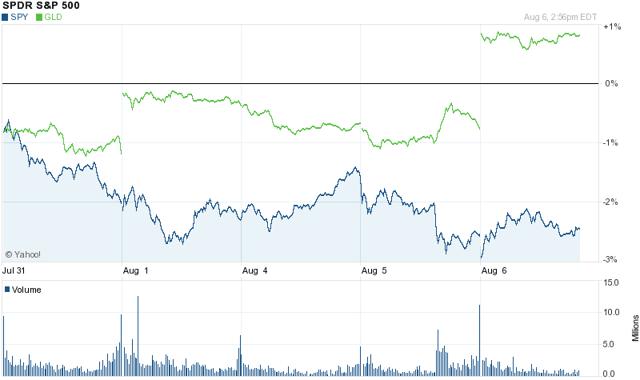 Russia's Dilemma
As Ukrainian national forces close in on Russian separatists in Donetsk, Russia will be forced to make a decision. Either Russia will have to abandon the group that it has pledged to defend, or it will choose to invade the sovereign territory of Ukraine in order to defend ethnic Russians in Eastern Ukraine. In other words, in my view, it will annex Eastern Ukraine.
In my view, that action would be momentous enough to shock investors into a new world order reality, or at least a temporary craving for mankind's default currency - gold. Based on this geopolitical threat, I've issued a warning for stocks, but gold should run higher as a result, and so will golden securities in my view. On Thursday, the SPDR Gold Trust gained another 0.4%, but on the 6th, when NATO warned about Russia, it soared 1.5%.
| | | | |
| --- | --- | --- | --- |
| Security | 8-6-14 | YTD | TTM |
| SPDR Gold Trust | +1.5% | +8.7% | +1.6% |
| Sprott Physical Gold Trust (NYSEARCA:PHYS) | +1.6% | +8.9% | +1.6% |
| Market Vectors Gold Miners (NYSEARCA:GDX) | +2.4% | +26.6% | +11.8% |
| Direxion Daily Gold Miners Bull 3X (NYSEARCA:NUGT) | +7.0% | +69.9% | -8.3% |
| iShares Silver Trust (NYSEARCA:SLV) | +1.0% | +2.5% | +1.8% |
Gold has a heavy weight against it ahead due to rising interest rates and a strengthening dollar. However, I just warned that the premise for a recently recorded temporary dip (prior to this latest rise) in gold and gold relative securities was falsely based. I said that dollar strength was questionable, despite the expected rise in interest rates. So, I said that there would be a paradoxical rise in gold prices alongside dollar strength. That is solely because of this Russian issue.
Russia appears to be ready to wage economic war against the West (and the euro and the dollar). Obviously, it's the result of Western sanctions against Russia due to its interference in Ukraine, or the very real developments to date. I recently discussed how the changing relationship between the West (especially Europe) and Russia would support gold. Not too long prior, I showed how Russia seemed to be waging or preparing to wage a war on the dollar.
Russia's recent economic responses to the invocation of European sanctions against it, along with intensified U.S. sanctions, have been numerous. It continues to add to its list of responses, and it weighs other options that will cost Western companies and economies, and thus fiat currency. Russia has so far targeted imports of certain goods from nations, which can be harmed by such efforts. But Russia is also weighing things like restricting European aircraft from flying over Russian territory. And it has just signed a $20 billion energy deal with Iran that will be consummated in currency other than the dollar; this follows a similar deal signed with China. So, as time progresses, Russia only separates further from the West, and perhaps prepares for a second cold war.
In the days ahead, I expect Ukraine intends to blockade rebels in Donetsk. Russia has already publicly warned of a humanitarian catastrophe developing in Donetsk. In my view, it is thereby setting up reason for its eventual intervention, which I expect will not be long in coming given the current intensity of the situation.
The volatility of this situation and ongoing economic warfare between east and west will undermine fiat currency and support gold. It's obviously the reason behind recent stubbornness of the gold price despite the pressure of a strengthening dollar. Furthermore, it is clearly the cause of the latest gains in gold relative ETFs over the last week or so. Given my geopolitical expectations moving forward, I expect the factor to only solidify its position driving gold. Thus, I loudly reiterate my long view for gold and relative securities.
Disclosure: The author has no positions in any stocks mentioned, and no plans to initiate any positions within the next 72 hours. The author wrote this article themselves, and it expresses their own opinions. The author is not receiving compensation for it (other than from Seeking Alpha). The author has no business relationship with any company whose stock is mentioned in this article.