By Simon Lack
Overseas Shipholding Group (NYSE:OSG) is one of the largest bulk shipping companies in the world. They have leading positions in the transportation of crude oil, liquid natural gas and related fuels. Their major routes include the Arabian Gulf to Asia/Europe, and West Africa/Caribbean to the U.S. Gulf of Mexico and East Coast.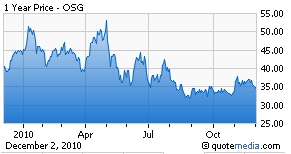 Thematically, we like shipping because of the tangible assets (ships) combined with exposure to global growth. OSG owns and operates 112 ships (11.5 million deadweight tons) with another 13 on order. Shipping rates are highly sensitive to shifts in economic activity, and shipping rates across most markets are currently depressed with additional capacity ordered prior to the Credit Crisis likely to come online over the next several years. As a result, some shipping companies are valued at substantial discounts to the secondary market value of their fleets. OSG is better run than most; having managed a conservative balance sheet through the downturn, they have Debt:Equity of 0.8, and their assets are almost all ships and cash.
Over the past five years, they've earned a 15.7% return on equity, ahead of the industry's 12.7%. Because of the weak pricing environment, OSG trades at 0.6 of tangible book value although they are still generating positive cashflow from operations. At its current valuation OSG's fleet of ships can be acquired at one third off carrying value, even though they have one of the youngest fleets in the industry. As recently as 2008 they earned $305MM, around 28% of today's market cap. OSG also has an attractive dividend yield of 4.7%, which management was able to maintain through the downturn due to their conservative financial management.
We believe current pricing provides a margin of safety to invest at less than intrinsic value, and provides substantial operating leverage to a firming of shipping rates, which are showing some signs of firming, as well as increased Chinese refining capacity. OSG expects overall time charter equivalent rates to be 4% higher than a year ago on a ton/mile basis (although 3Q10 pricing was down on the prior quarter). 75% of their revenues come from the spot market, where prices are most sensitive to shifts in supply/demand. Their strong balance sheet allows them the flexibility to avoid locking in too much of their fleet at today's still depressed long term rates. I recently met with some members of OSG's senior management and I continue to feel comfortable being invested.
Disclosure: Long OSG