I recommend Cheesecake Factory (NASDAQ:CAKE) for purchase, with a target price of $42. Since the start of 2010, same store sales growth has turned solidly positive, supporting more favorable pricing dynamics, further operating leverage and a long-awaited return to store expansion. With a balance sheet that's net cash positive, its huge free cash flows will be disproportionately aimed at further reducing the share count in 2011, before tilting more toward unit expansion thereafter.
Comparable sales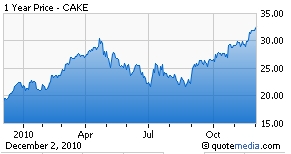 I expect a nearly 4% increase in comparable sales in 2011, driven mostly by higher traffic levels. The current quarter should mark CAKE's fourth straight of traffic averaging nearly 2.5% above 2009 comparable levels, as traffic should account for most of the comp sales gain I forecast into next year.
Customer counts have the most ground to make up. Since early 2006, traffic has fallen by three to four percentage points. Over this same five-year span, menu price increases have totaled nearly 10%, but have been mostly eroded by "menu management," or trading down.
An ongoing return to consistently higher traffic levels, helped by broader signs of a more buoyant consumer, lends support for more broadly accepted price hikes to come. Thus, I expect only modest friction in the 1% menu price increase I anticipate at the spring menu changeover in late Q1. By late next summer, at which time much of the lost traffic will likely have been regained, a similar 1% menu hike should easily pass.
Comparable Sales

11E

10E

09

08

07

06

3.8%

2.6%

-2.5%

-4.0%

0.6%

-0.9%
Unit Growth
I assume the company adds eight new restaurants in 2011, the upper end of management's recently guided range (of six to nine units). This forecasted increase, of nearly 5% in 2011, will all be Cheesecake Factory units, save for one Grand Lux Café.
Many of the new openings should be from landlords who had difficulty obtaining financing since 2008, and thus the new 2011 units will underscore a relatively cautious approach. Nearly all will be in established markets, with proximity to existing units such that advertising and other cost synergies would offset any potential sales cannibalization. The lone Grand Lux addition, the first since 2007, will be on a smaller box (8,300 square foot), as the company tries to revive growth in the concept.
Operating margins
I expect CAKE's operating margin to approach 8% in 2011, a 50 bp jump from my forecast for the current year. The majority of next year's expected margin gain should result from sales leverage, mostly in G&A, helped by average unit volumes that are approaching past levels. Still, structural cost improvements, in labor and food that began in 2009, will more than offset the up-tick in pre-opening expenses.
EBIT Margins

11E

10E

09

08

07

06

8.0%

7.5%

6.3%

5.4%

7.3%

8.1%
Uses of free cash
By the end of 2010, free cash flow will have reduced the share count by 5% for the year, and brought debt close to zero. Of the additional $135 million in estimated discretionary cash I expect for 2011, CAKE could comfortably buy back two to three million more shares, while bolstering its net cash position by up to $40 million.
Valuation
I use a combination of valuation measures to arrive at a target price of $42 for CAKE. The P/E and EV/EBITDA valuations of 23X and 11X I ascribe to forecasts of $1.86/sh and $230 million, are slightly above the midpoint of past levels – but below peak valuations – noting that these forecasts and implied long term growth rates are also below peak. A five-year discounted cash flow model confirms this $42 target. Primary components of my DCF include a 14% growth rate over the period, cost of capital of 9%, and a terminal value multiple of 14X.
EV/EBITDA

P/E

11E

10E

09

08

07

11E

10E

09

08

07

(NASDAQ:BWLD)

6.7x

8.3x

9.0x

7.3x

8.3x

17x

21x

24x

19x

21x

(CAKE)

8.6x

10.2x

7.8x

6.6x

13.6x

19x

23x

19x

12x

24x

(NYSE:CMG)

17.9x

21.6x

9.6x

10.8x

29.9x

36x

45x

22x

26x

67x

(NASDAQ:CBRL)

7.3x

8.0x

7.6x

6.1x

7.9x

13x

15x

13x

7x

14x

(NYSE:MCD)

9.7x

10.6x

9.7x

10.4x

15.5x

15x

17x

15x

17x

30x

(NASDAQ:PNRA)

10.3x

11.6x

8.9x

8.7x

7.1x

25x

29x

25x

24x

20x

(NASDAQ:PZZA)

6.9x

7.0x

6.1x

6.5x

9.6x

13x

14x

12x

14x

21x

(NASDAQ:RRGB)

4.9x

5.1x

4.9x

5.0x

7.1x

19x

19x

16x

10x

18x

(NASDAQ:SONC)

9.3x

8.9x

7.1x

7.6x

11.9x

24x

23x

11x

12x

24x

(NASDAQ:SBUX)

10.7x

11.9x

12.7x

6.2x

11.1x

22x

26x

36x

22x

22x

(THI)

8.7x

9.8x

10.4x

13.4x

16.1x

17x

20x

19x

22x

25x

(NYSE:YUM)

11.1x

11.7x

9.1x

8.9x

12.2x

19x

20x

16x

16x

23x
In conclusion, there are two X-factors that I haven't accounted for, either of which would make this base case scenario overly conservative. The first is menu price increases, which in most normal, or inflationary, environments have been fully absorbed, and at higher levels than today's run rate of 1.5%. Since its restaurants are nearly always filled to capacity, only modestly higher demand levels could trigger much better effective pricing (along with corresponding operating leverage).
Second, notwithstanding its unique positioning, CAKE's roughly 165 system-wide restaurants is a low count, given the company's long term success. Again, assuming a normalized consumer demand profile, previously shelved in-market penetration and new market expansion could lead to unit growth rates that approximate pre-crisis levels.
Disclosure: None