OREX's obesity drug candidate Contrave heads to its FDA advisory panel next Tuesday, December 7, wrapping up this year's trifecta of obesity drug candidates at the FDA. Contrave has shown solid efficacy relative to both of two FDA benchmarks. We are looking to the FDA's web site this morning for the briefing documents.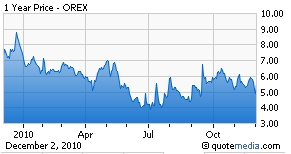 Although Contrave is a long shot, don't count it out yet. According to Bloomberg, OREX calls increased 139% last month to a record 59,340, twice as fast as open interest for puts. Apparently, there are optimists with strong stomachs for volatility, making the calculation that at levels between $5.00 and $6.00, OREX's upside (perhaps $10.00 per share) outweighs its downside (it has about $2 per share in cash).
No question about it, safety concerns will be the big hurdle to get over. Safety surprises in panel decisions earlier this year sent rival obesity drugs Qnexa, from VVUS, and Lorquess, nee Lorcaserin, from ARNA, back to the drawing board.
ARNA had conducted two years of rigorous cardiovascular safety studies on Lorquess, including monitoring by an external board, only to trip over data from its early animal studies suggesting possible cancer risks that emerged at the eleventh hour, as it were, in the panel discussion.
OREX, on the other hand, should benefit from having an idea what's coming and time to prepare. CEO Michael Narachi has assured investors that his team has studied the experience of VVUS and ARNA. Also, Contrave is a combination of two well-known drugs, naltrexone and bupropion, approved for other indications. While OREX will not have a study of long-term use specific to Contrave, plenty of data is available about the two components. So OREX's position is somewhat stronger.
Of course, if overweight patients die from diabetes or heart disease, no one will blame the FDA; but if Contrave is approved and becomes linked to, say, seizures, everyone will blame the FDA -- even if obesity-associated health problems also drop. SA contributor Rockford Cascio discusses some possible Contrave safety issues in more detail here.
The $2 per share value, in case of a thumbs-down, assumes no value for Empatic, OREX's other intellectual property, or the Takeda partnership. In that scenario, $2 could be a re-entry point.
After indications for several years that the FDA is working with developers of novel obesity drugs to address preventative cardiovascular and metabolic diseases, you would think that the agency would eventually approve at least one of these drugs. We will see on OREX's actual FDA decision date for Contrave, January 31, 2011.
Disclosure: No positions