In the spring of 2011, Southwest Airlines (NYSE:LUV) will offer a total of twenty-six daily nonstop flights from the New York-New Jersey area. The low-cost carrier currently serves Chicago Midway and Baltimore/Washington from LaGuardia Airport, and is scheduled to begin service from Newark Liberty International Airport in March. To date, Southwest has announced service to Chicago Midway and St. Louis from Newark. Southwest is expected to be an important competitor in the New York-New Jersey market, and cause a considerable fall in ticket prices.
There are two ways by which Southwest may influence ticket prices in the New York-New Jersey area. Southwest may (1) serve the route in question, or (2) serve an adjacent route which air travelers regard as a reasonable substitute to the route in question. For instance, by operating the route Hub H1 to Airport A, Southwest influences airfares on the routes H1–B and H2–B (see Figure 1). Empirical studies indicate that Southwest's presence causes significantly lower airfares (see Table 1).
click to enlarge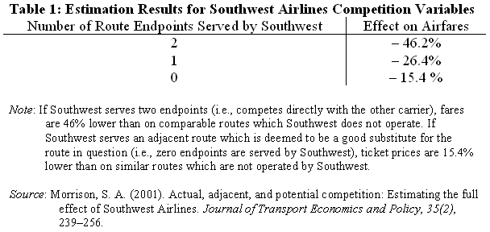 Empirical research also indicates that incumbent airlines respond somewhat passively to the entry of a low-cost competitor. The median incumbent response is to lower the average ticket price by 15.1% (see Figure 2). Given that it is a full-service carrier, the incumbent may maintain higher airfares, and simply offer a portion of its seat inventory at the entrant's prices. Moreover, the incumbent is unlikely to raise ticket prices on routes without competition from low-cost carriers.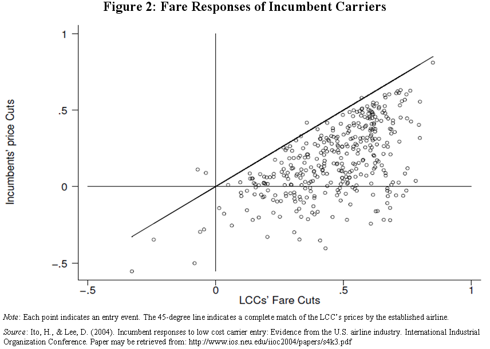 It has been suggested that an established airline raises airfares on less competitive routes so as to offset the fall in ticket prices on more competitive routes. It is put forward that the balancing is necessary to cover the costs associated with the operation of a hub-and-spoke network. However, a study of the entry of ValuJet at Delta (NYSE:DAL) dominated Atlanta suggests that an airline maximizes profit on a route-by-route basis, and the established airline does not raise prices on non-competitive routes (see Figure 3).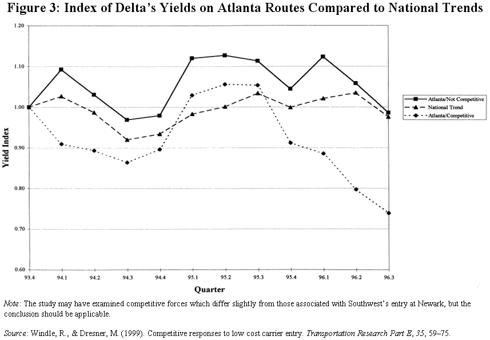 Ultimately, there are three reasons why Southwest may not significantly lower airfares. LaGuardia, Newark, and JFK may be separate air travel markets. Secondly, given that LaGuardia and Newark are slot-constrained airports, it is possible that the reduction in ticket prices is minor as the number of flights is limited. Moreover, to the extent that JetBlue (NASDAQ:JBLU) flights from JFK Airport are considered to be reasonable substitutes for similar flights from LaGuardia and Newark, airfares in the New York-New Jersey domestic air travel market may already be competitive.
Disclosure: No positions