On July 31, 2014, Oracle (NASDAQ:ORCL) announced that it signed an agreement to acquire TOA Technologies (TOA), adding the Field Service SaaS to Oracle Service Cloud and Oracle ERP cloud solutions. The transaction is expected to close in 2014. The deal was made for an undisclosed sum.
Investors looking at ClickSoftware (NASDAQ:CKSW) should be happy about these news. TOA's prime competitor is ClickSoftware. Mobile work force management (WFM) is a hot industry, which some software giants are looking at closely with the intention of finding a way to expand and improve their product portfolio and customer base. TOA's acquisition could and should cause one of these giants to realize it needs to buy ClickSoftware, and soon.
ClickSoftware Technologies provides software products and solutions for workforce management and optimization (demand forecasting, workforce planning and shift scheduling, customer interaction management, business intelligence, analytics and more). ClickSoftware sells its products in a licensing model as well as a cloud (SaaS) model. In addition, the company provides consulting and maintenance services for its clients. ClickSoftware employs around 725 people worldwide.
Early in 2014 Click acquired Xora, a SaaS mobile workforce management provider for small and medium businesses (SMBs). The acquisition gave ClickSoftware a bigger footprint in the small wireless operators industry. Xora considerably broadens ClickSoftware's distribution channels via major carriers (such as Verizon, AT&T, and Sprint), strengthens its SMBs offering, and extends ClickSoftware's leadership in cloud-based solutions for mobile workers.
ClickSoftware is the leader of the workforce management industry. According to Gartner, ClickSoftware is the largest global independent software vendor that offers field service optimization solutions. ClickSoftware was positioned as a leader in the Gartner Magic Quadrant for Field Service Management for three consecutive years. It should be noted that alongside with ClickSoftware, TOA was also positioned as a leader in Gartner's report. I believe that ClickSoftware is a better prospect than TOA since Click's products and solutions target a larger customer base and ClickSoftware's technology can integrate with more platforms. In addition, ClickSoftware has the largest number of customers in the WFM industry and the broadest portfolio of solutions. These clients include some of the world's largest service providers and Fortune 500 companies.
Among the most compelling features of ClickSoftware's solutions are fast deployment times with limited impact on IT, the Click Appstore and a BYOD (bring your own device) approach. This enables enterprises to choose only the features they need, from Click's wide product portfolio, and implement them easily without being required to make investments in hardware. All of the above have lead ClickSoftware to present consistent annual revenue growth.
Data Source: ClickSoftware's annual reports.
ClickSoftware has strong partnerships with Salesforce (NYSE:CRM) and SAP (NYSE:SAP). Therefore it is reasonable for Oracle to acquire a competitor, due to the intensive competition between both Salesforce and SAP.
The Market
According to Gartner, in 2012 workforce management applications yielded revenues that are estimated at $1.2 billion with a CAGR of 12.7%. Research by VDC implies that in 2016 software solutions for mobile field services are estimated to reach $2.8 billion in revenue.
Why Is ClickSoftware an Acquisition Target?
Many investors and tech analysts believe that Oracle bought TOA in order to better compete with Salesforce. In order to keep up with the completion, Salesforce or SAP (which is Oracle's biggest competitor) should acquire the leader of the mobile work force management industry -- ClickSoftware. ClickSoftware is already working in integration with the Salesforce and SAP platforms, therefore this acquisition will result in an easy and fast integration, which means a higher ROI for the acquirer.
ClickSoftware probably offers the most advanced technological solution in the WFM field; Click's products have the strongest technical specifications and the largest amount of features, compared to its competitors. ClickSoftware's solution for mobile devices is the most robust in the industry, and it is compatible with virtually all smart devices (due to the Click Appstore and the HTML5 based applications). ClickSoftware offers a wide spectrum of cloud based WFM solutions that suit companies of every size, from multinational conglomerates to small local businesses.
Click's cloud offering is the best-in-class solution for SMBs in terms of ease of use and value for money. SMBs don't need to invest in hardware or licenses, or make changes to their IT layout. Click's cloud offering is a plug-and-play SaaS solution. Due to their existing partnerships, both Salesforce and SAP could integrate ClickSoftware into their platforms practically overnight and capitalize on the strong synergy between their "regular" activity and Click's WFM.
SAP acquired Syclo, an enterprise mobile services firm (specializing in utilities, oil and gas) in April 2012 for an undisclosed amount. Buying ClickSoftware would be a game changer for SAP in its efforts to be the leader not only in ERP, but also in WFM. In addition, SAP and Salesforce know ClickSoftware very well as a result of the existing partnerships. Salesforce and SAP understand best the advantages of Click and its business.
ClickSoftware Is a Bargain
ClickSoftware's market cap is $257 million, with net cash and investments amounting to $44.5 million, which leads to an EV of ~$213 million -- only 1.64X expected 2014 revenue (!). I believe that $213 million for an industry leader with an expected revenue of $130 million (TTM revenue of $115.5 million) is a bargain for any investor, but especially for Salesforce, SAP or even Microsoft and IBM, that could stand to benefit from a strong synergy with ClickSoftware.
Q2 2014 Reports
ClickSoftware's 2014 Q2 report was bullish. Click reported record revenue of $32.1 million, 30% growth year over year. Cloud subscription revenues increased to $5.4 million, 17% of total quarterly revenues. Most importantly, annual recurring revenues ((ARR")) from cloud subscriptions are expected to grow to $26-$30 million by the end of 2014. Management increased revenue guidance to $128-$133 million (from a Q1 2014 guidance of $126-$132 million). Net loss narrowed to $2.2 million or $0.07 per share, from $2.9 million or $0.09 per share for the same period last year.
Over the last few quarters ClickSoftware experienced substantial growth in its cloud subscription revenues (mostly due to the Xora acquisition). This information is extremely important because it shows that companies' results follow Click's strategy to move from mostly license- and consulting-based revenues toward SaaS-based revenues. A $26-$30 million ARR means that the company believes it could generate about 22% of 2014 expected revenues without a significant sales effort. That means that the company could focus on sales to new cloud customers that would generate larger ARR.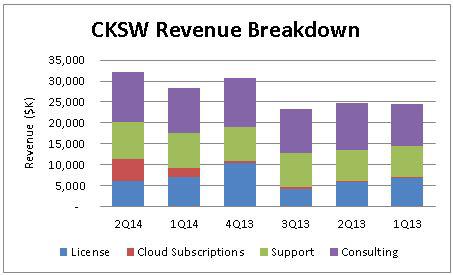 Data Source: ClickSoftware's quarterly reports.
| | | | | | | |
| --- | --- | --- | --- | --- | --- | --- |
| ($, thousands) | 2Q14 | 1Q14 | 4Q13 | 3Q13 | 2Q13 | 1Q13 |
| License | 5,984 | 7,014 | 10,408 | 4,199 | 5,738 | 6,738 |
| Cloud Subscriptions | 5,413 | 2,290 | 506 | 451 | 338 | 301 |
| Support | 8,782 | 8,336 | 8,118 | 8,039 | 7,534 | 7,349 |
| Consulting | 11,930 | 10,740 | 11,661 | 10,599 | 11,050 | 10,152 |
| Total Revenue | 32,109 | 28,380 | 30,693 | 23,288 | 24,660 | 24,540 |
Data Source: ClickSoftware's Q2 2014 report.
The company also reported that the Xora integration is going smoothly and according to plan. Although this report is very bullish, ClickSoftware's stock dropped 6.5% on Q2 results. It seems like Wall Street analysts didn't like the Q2 2014 report because Click missed on net loss (analysts expected per share net loss of $0.01), despite Click beating expectations on revenue (Street expected revenues of $31.03 million). It seems to us that Street analysts do not focus on the fundamentals and miss ClickSoftware's strong growth story (due to increasing cloud subscriptions). Click reported very good news, and the decline in price after these good news would only make the CKSW acquisition more profitable for Salesforce or SAP.
Conclusion
Software giants are eyeing the WFM industry. ClickSoftware is this industry's leader and is offering the most advanced and broad product portfolio. Click's leadership resulted in a growing list of cloud customers that generate recurring revenues. ClickSoftware has strong partnerships with both Salesforce and SAP, and could be integrated with these platforms very quickly and efficiently.
I believe Salesforce or SAP should buy ClickSoftware in order to keep up with the competition, improve their product portfolio and dominate the WFM industry. In my view, ClickSoftware is currently undervalued by the market and the potential ROI of its acquisition is likely to be very high.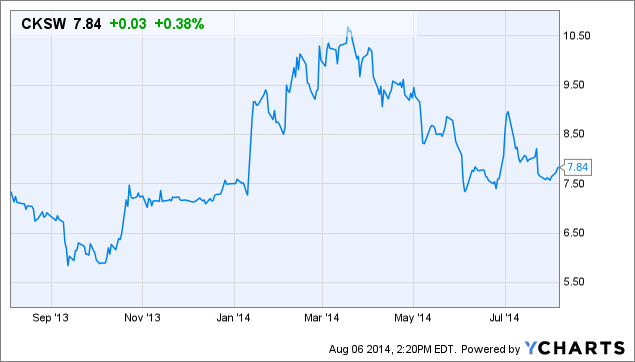 Disclosure: The author is long CKSW. The author wrote this article themselves, and it expresses their own opinions. The author is not receiving compensation for it (other than from Seeking Alpha). The author has no business relationship with any company whose stock is mentioned in this article.