Favorable weather conditions and record harvest outlook led U.S. corn futures to decline to their lowest levels in years. It seems that rain and milder weather in the most recent months are creating ideal growing conditions, and that's causing prices to fall fast. The first thing I will look at is the supply and demand side of the story, which will determine prices long term -- looking past the current events.
So if the selloff is based on these current events and there is no intrinsic change in production costs or demand (as I will present later in this article), I would advocate a long-term buy opportunity in the Teucrium Corn Fund (NYSEARCA:CORN). Weather is probably the most unreliable factor that you can imagine as an input in order to predict the future supply, and on the other side we have a steady and growing demand. I imagine that all the price fluctuation is coming from traders and speculators, and in the process that's creating an opportunity for the long-term investor.
Most Recent Developments
According to an article in The Wall Street Journal, "American farm incomes are expected to plunge by 27% to the lowest level since 2010, federal forecasters said Tuesday, as a sharp drop in crop prices erases some of the gains from years of strong growth in rural economies. Prices for corn and soybeans, the country's two biggest crops, dropped sharply over the past year as U.S. growers harvested large crops, including the biggest U.S. corn crop in history."
"There will not be enough storage space for all the extra bushels this fall," said Roy Huckabay, an executive vice president at The Linn Group in Chicago. The researcher has predicted that the crop would increase 4.3% to 14.518 billion bushels, with yields at 172.8 bushels an acre. Crop conditions are the best in a decade for this time of year, government data show, with 75% rated good or excellent as of July 27. The USDA probably will boost its production estimate in its monthly crop report on Aug. 12, said The Linn Group, a broker and adviser. The U.S. is the world's largest grower and exporter.
Supply and Demand
The United States produces 40% of the world's harvest of corn. Other top producing countries include China, Brazil, Mexico, Indonesia, and India. Livestock feed and ethanol production are the two biggest sectors by demand. In the last 10-plus years, most of the increase in demand is coming from ethanol production. That is expected to grow over the next several years, since the Energy Independence and Security Act of 2007 required 36 billion U.S. gallons of renewable fuel use by 2022.
As per Jeff Wilson of Bloomberg: "U.S. production of ethanol, made from corn, increased to 29.04 million barrels in May, up 6.8 percent from the same month in 2013 and the highest since December, U.S. Department of Energy data shows." In 2013, the U.S. used 4.7 billion bushels of corn (40% of the harvest) to produce over 13 billion gallons of ethanol fuel (source: YES! Magazine). As per James Conca of Forbes: "In 2000, over 90% of the U.S. corn crop went to feed people and livestock, many in undeveloped countries, with less than 5% used to produce ethanol. In 2013, however, 40% went to produce ethanol, 45% was used to feed livestock, and only 15% was used for food and beverage."
As we can see in the charts below, ethanol usage is in a steady state with no major decreases. I would use this as one of the most important factors to support the price, especially if the supply falls short. All the current developments indicate the oversupply hitting the market.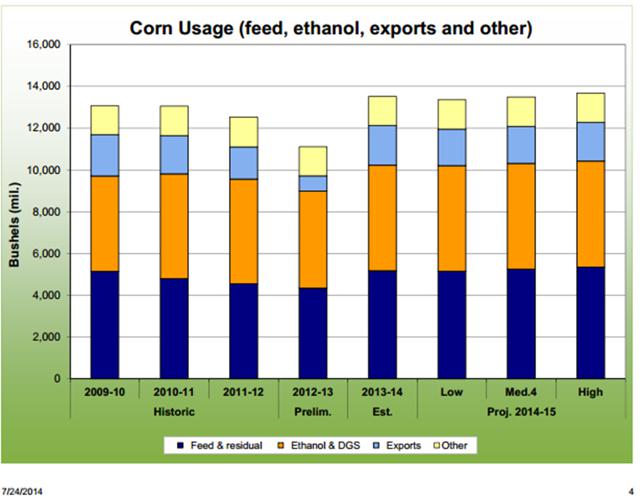 Click to enlarge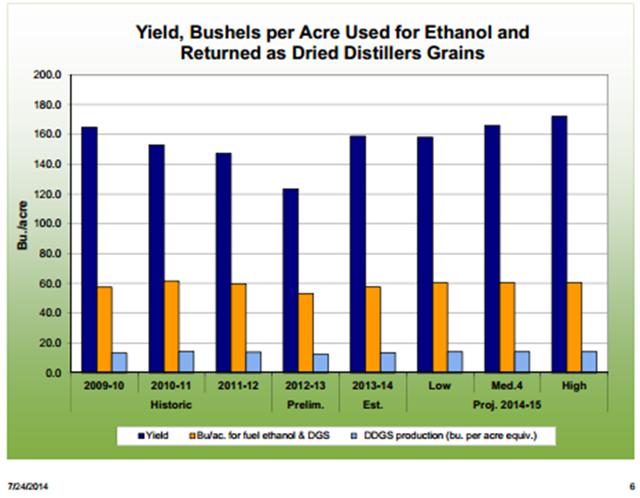 Click to enlarge
Source: iastate.
Pricing
Just by checking the 2005, 2006, 2009, and 2014 prices in the chart below and comparing those to the same years on the market price chart, we can see that a purchase at each one of those times would yield exceptional returns in coming years. Keep in mind that past results certainly don't guarantee future performance, but I would take this as indication of a likely undervalued level.
In the chart below, I will try and use the ratio between production costs and market price to compare different levels overtime and determine a good entry point. I will use the average production costs in Iowa as the largest producer of corn in the U.S. Production costs are based on the average costs between the corn following corn and corn following soybeans. Market price is calculated as the average using the high and the low of the year.
| | | | | | | | | | | |
| --- | --- | --- | --- | --- | --- | --- | --- | --- | --- | --- |
| Year | 2005 | 2006 | 2007 | 2008 | 2009 | 2010 | 2011 | 2012 | 2013 | 2014 |
| Production costs $ Iowa | 3.03 | 3.11 | 3.245 | 3.825 | 4.71 | 3.645 | 4.185 | 4.585 | 4.67 | 4.63 |
| Market average price $ | 2.25 | 2.30 | 3.50 | 5.50 | 3.75 | 4.75 | 6.90 | 7.00 | 5.65 | 3.60 |
| Costs/mkt.price | 1.347 | 1.352 | 0.927 | 0.695 | 1.256 | 0.767 | 0.607 | 0.655 | 0.827 | 1.286 |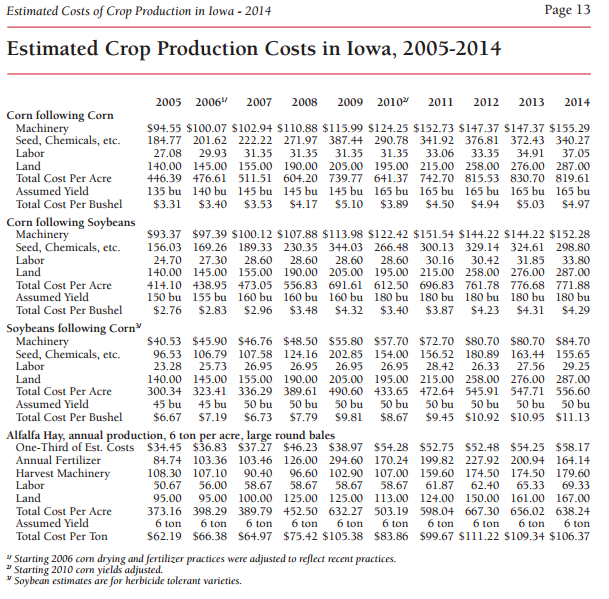 Source: iastate.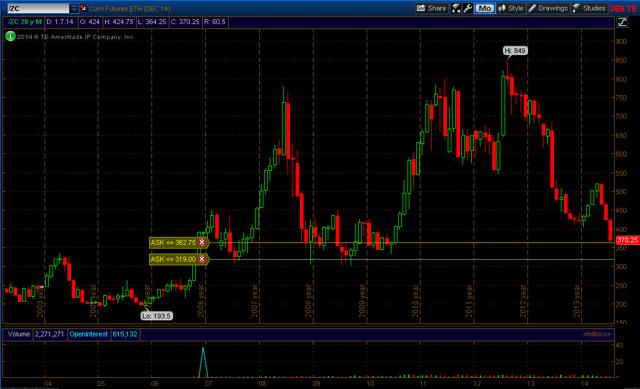 Click to enlarge
After accounting for all the production cost increases from 2005 to 2014 year over year, the increase in yield falls far below, which makes me believe that today's prices are more reflective of the current optimism based on favorable weather conditions than any other factor. On the other side, demand is stable and increasing. So as the market price approaches 2007/2009 levels with the demand side of the equation stable and increasing, and when we account for the production cost increases over the past years, I would consider this a buying opportunity. So we have a bet on unpredictable weather patterns that can easily fall out of the current close to a perfect range and push the price up.
Conclusion
Being that I'm no expert on agriculture, what I consider as the most important notion for my approach is the logical conclusion after analyzing all the given information. I am betting that there's higher-probability weather and growing conditions will get screwed up over the long term (oscillations in temperature or precipitation and so on). Too many things need to converge for perfect conditions and there's a lot that can go wrong. Adding to that the fact that there's limited downside for a commodity, I think this tips the odds in favor of the long-term investor willing to wait. I would consider buying Teucrium Corn Fund around $26 for an initial position, and add in if it starts falling closer to $20 for a strong buy.
Disclosure: The author is long CORN. The author wrote this article themselves, and it expresses their own opinions. The author is not receiving compensation for it (other than from Seeking Alpha). The author has no business relationship with any company whose stock is mentioned in this article.