By Brad Zigler
Gold made across-the-board gains against the world's reserve currencies this week, setting record highs against the euro, sterling and yen. For the week ending Thursday, bullion rose 3.4 percent against the eurozone common currency, 2.4 percent vs. the pound and 1.6 percent in yen. While gold rose 1.7 percent against the Swiss franc, its June high remains intact.
In this week's dollar-denominated action:
London morning gold fixes averaged $1,377 and finished the week 1.7 percent higher at $1,390; COMEX spot settled at $1,389 Thursday, ending a week in which the metal's price averaged $1,378; average daily COMEX volume continued to fall, slipping 1.2 percent this week to 252,618 contracts; open interest also fell 13,020 contracts to 594,644; gold inventories were trimmed by 35,020 ounces (1.1 tonnes) ending up at 11.49 million ounces; warehouse stocks now cover 19.3 percent of COMEX open interest; immediate demand for gold deliveries doesn't exceed 434,400 ounces, though there's 3.1 million ounces in a deliverable position.
The decline in London gold lease rates continued as one-year contracts slipped from an average 15 basis points (0.15 percent) to 7 bps.
Vault assets of the SPDR Gold Shares Trust (NYSEARCA:GLD) climbed 13.4 tonnes (430,595 ounces) to 1,298.5.
The cost of GLD puts spiked 36.3 percent higher this week as the CBOE Gold Volatility Index (GVZ) jumped 5.8 percent higher to 21.7 percent.
Gold stock investors embraced more risk this week, propelling the price of the Market Vectors Junior Gold Miners ETF (NYSEARCA:GDXJ) 7.6 percent higher, while the larger-cap producers proxied by the Market Vectors Gold Miners ETF (NYSEARCA:GDX) rose only 4.4 percent; the GDXJ portfolio's price is now 68.3 percent of the senior ETF's; when the GDXJ fund was launched a year ago, its share price was roughly half the then-current cost of GDX.
The S&P 500 Composite's links to gold and gold stocks loosened this week; the blue-chip benchmark gained 2.7 percent, but saw its correlation to bullion fall by 14 points to 37 percent; the index's correlation to gold producers slipped 6 points lower to 68 percent.
WTI crude oil rallied 5.1 percent to $88.00, basis the January NYMEX contract; the gold/oil multiple ratcheted from 16.6x to 16.1x.
One-year TED spreads widened to 51 bps this week as Libor moved up at a faster pace than Treasury yields.
Finance rates implied in the COMEX gold futures curve continued to predict higher Treasury rates, though the premium to one-year Treasurys narrowed this week; the one-year gold contango was trimmed 6 percent to $12.50 an ounce.
Long bond yields pulled back 4 bps to 4.20 percent, while three-month bill yields rose 3 bps; the yield curve flattened, as a result, to 404 bps.
The U.S. dollar kept rising against the euro this week; the Continental currency shed 2.1 percent to finish the week at $1.3057; during the week, cross rates averaged $1.3181.
Daily indications of the one-year monetary inflation rate fell to -3.5 percent from -1.7 percent over the week; at today's rate, the real return on three-month Treasury bills is 222 bps.
Three-Month T-Bill Yields Adjusted for Monetary Inflation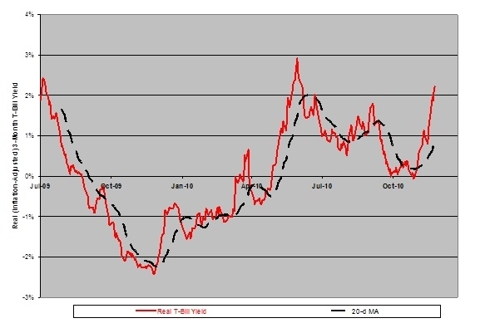 (Click to enlarge)
Disclosure: No position