Husky Energy (OTC:HUSKF) is one of Canada's largest integrated energy companies. It is headquartered in Calgary, Alberta, and is publicly traded on the Toronto Stock Exchange under the symbols HSE and HSE.PR.A. The company operates worldwide with Upstream and Downstream business segments.
Husky's balanced growth strategy focuses on consistent execution, disciplined financial management and safe and reliable operations. Husky's historical foundation lies in Heavy Oil and Western Canada. For heavy oil, Husky has an increased focus on thermal technologies and horizontal wells to tap into the significant resources in place. In Western Canada, the company is pursuing oil and liquids-rich gas resource plays to further unlock value from its extensive land position of more than two million acres.
In addition, Husky also operates a downstream segment focused on heavy oil, bitumen and light oil production. It offers a retail distribution network as well as three major growth pillars for future expansion and growth: 1) Asia Pacific - Liwan Gas Project, 2) Oil Sands and 3) Atlantic Region.
Why Husky Energy?
Husky Energy is one of my top picks for the long term due to the value it can bring in various areas such as:
Healthy Dividend Yield and potential for additional growth
Future cash flows signify undervalued [Net Asset Value (O&G DCF) Analysis]
Undervalued compared to its immediate competition [Comparable Companies Analysis]
Large drivers for potential growth in the long-term horizon
Stability and diversification opportunity
Healthy Dividend Payout Structure
In terms of Canadian companies, especially in the oil and gas sectors, Husky Energy gives investors a very stable dividend that could see potential growth as Husky continues to expand with its three primary growth pillars in the future. As of February 2009, Husky Energy's Board of Directors has approved a dividend policy that continues to pay investors a quarterly dividend of $0.30 per common share or $1.2 per year.
As of 08/04/2014, Husky Energy is ranked 18th on the list of top dividend yield Canadian companies. It sits at a whopping 3.66%, ahead of other energy related competitors such as Cenovus Energy (NYSE:CVE), Talisman Energy (NYSE:TLM), Canadian Natural Resources Limited (NYSE:CNQ) and Imperial Oil (NYSEMKT:IMO), but falls short of Canadian Oil Sands (COS).
Historically, the dividend has increased up to a maximum of $0.50 when the share price crossed the $40 threshold, potentially providing a dividend yield of 5.0%. This historical dividend structure provides potential for Husky to increase dividend payouts once the share price hits a certain mark, which I believe it will in the future.
Valuation & Summary of Husky Energy Inc.
NOTE: I have based this valuation on the common methodology used in the oil and gas industry to evaluate integrated O&G companies. Assumptions have been made to simplify the model and allowed me to derive an implied price per share, given the appropriate information.
Summary:
I have evaluated Husky Energy on two basis: 1) NAV Model and 2) Comparable Companies
Using the NAV Model, Husky Energy is projected to give us a 28.67% upside from its current share price of 32.73 as of 08/05/2014 with an implied share price of $42.11. This is on the basis of its large annual production on both its oil, natural gas liquids and Natural Gas alongside its other business segments.
Using the Comparable Companies metric, Husky Energy seems to be undervalued given its EV/Proved Reserves and EV/Daily Production. Most importantly, although 2013 year-end's EV/EBITDAX is in-line with its competitors, an analysis of the EV/TTM (EV/Trailing Twelve Months) shows that Husky Energy is slightly undervalued with respect to that regard.
Valuation Metric 1 - Net Asset Value Calculation
A Net Asset Value Model is an alternative DCF that gives more accurate results for oil and gas companies, especially for those that focus on upstream or are exploration and production focused (focus on finding and producing energy rather than refining and marketing it).
Basically, this model states that a company stops operating once reserves are depleted -- how much profit can it generate between now and then, assuming no future re-investment to acquire new reserves?
The two key differences are that:1) NAV model assumes company never increases its existing reserves, so no additional CAPEX and 2) NAV Model run at the asset value, not a corporate level.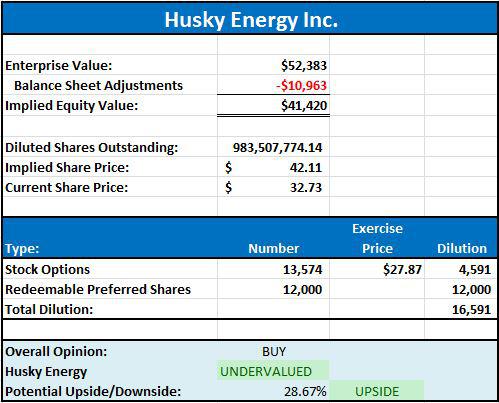 According to my valuation and accounting for all balance sheet adjustments and share dilution, I believe that Husky Energy is worth around $42.11 per share currently, giving it an 28.67% potential upside.
Method of Calculation - NAV Model:
Critical Assumptions: The following tables demonstrate some key assumptions and data that have been to guide the development of the NAV and subsequently the implied value per share.
Husky Energy - Reserve Report (As of 12/31/014)

Husky Energy - Future Development Costs & Years

Long-Term Production Design:
Based on a very conservative estimate, I have assumed that the crude oil and natural gas liquids, as well as natural gas will all decrease in production by 5% every year. However, the production of Husky Energy of both oil and natural gas is assumed to increase by an amount in the first 5 years (Natural Gas = 10% for 3 years, 8% for 2 and Oil, 6.287% for 5 years) then start decreasing.

Prices of Gas, Oil and Natural Gas Liquids from last 4 quarters:

NOTE: Keep in mind these amounts will be converted to their appropriate amounts in the actual analysis.
Projected Production:
Calculation Metrics (For conversion purposes/Annual Production):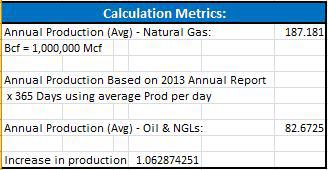 Projected Annual Production of Natural Gas and Oil & NGLs:
NOTE: For natural gas, I have assumed production increases by 10% for 3 years, 8% for the next two then decreases by 5% per year. For Oil & NGLs, it increases by 6.2875% for 5 years, then decreases by 5% per year until 0.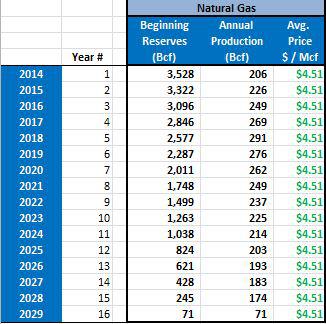 Projected Revenue:
Key Assumptions & NPV: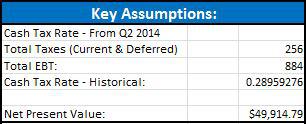 Actual Calculations: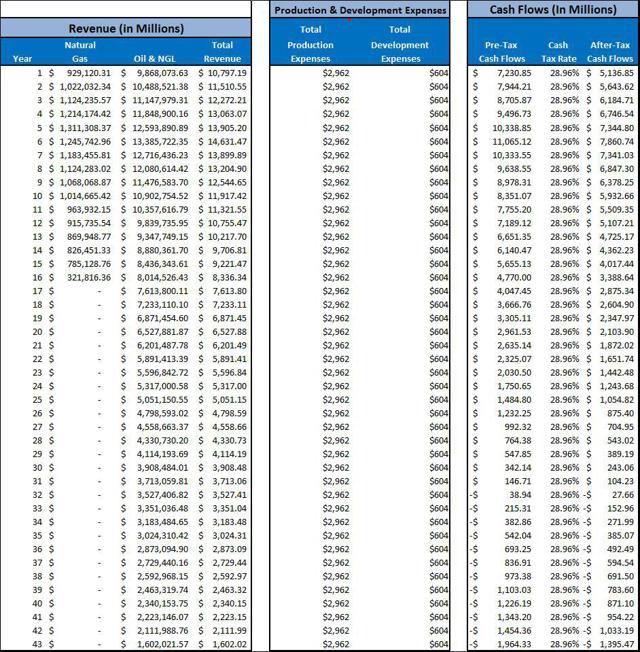 Other Assets:

Downstream Business Segments:
NOTE: I have used a conservative EBITDA multiple of 1x for the refining and 2x for the upgrader due to the growth of EBITDA year over year.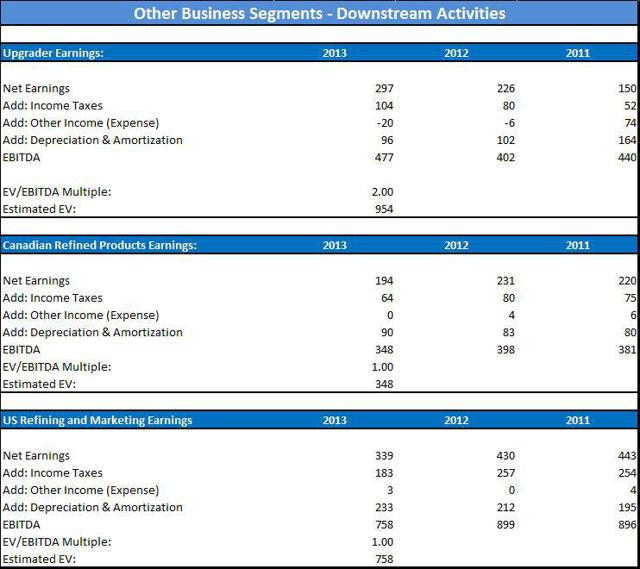 Valuation Metric 2: Comparable Companies
NOTE: For this valuation, I have used comparable companies to assess Husky against its major competitors Imperial Oil, Suncor (NYSE:SU), Royal Dutch Shell (NYSE:RDS.A) (NYSE:RDS.B) and Canadian Natural Resources Limited. Using metrics like EV/EBITDAX, EV/Proved Reserves and EV/Daily Production, we can see how Husky is valued in relative terms with its competitors.
Major Definitions & Calculations:
Equity Value = Stock Price x Shares Outstanding
Enterprise Value = Equity Value + Asset Retirement Obligations + Capital Leases + Unfunded Pension Obligations + Preferred Stock + Non-Controlling Interest + Total Debt - Cash & Cash Equivalents - Net Value of Derivatives - Investments in Equity Companies
EBITDAX = Operating Income + Depreciation & Amortization + Asset Retirement Accretion + Stock-Based Compensation + Non-Cash Derivative Losses + Impairment Charges + Other One-Time & Restructuring Charges + Exploration Expense + Loss on sale of assets


Future Outlook:
From the solid performance delivered in 2013, Husky is well positioned to continue their success in 2014 and the years following. The continued investment in longer-wavelength projects such as heavy oil thermals, resource plays and oil sands provide steady production and more predictable cash flow to support growth projects in Asia Pacific and Atlantic regions.
Production was further boosted in Q2 from strong performance by resource plays and the start-up of the Liwan Gas Project. In Western Canada, the Ansell liquids-rich gas play is a key development, with 11 horizontal wells drilled and five completed at Ansell in second quarter, contributing 17,000 boe/day compared to 13,500 boe/day in Q2 of 2013. Husky is also anticipating 4 well-pads later this year.
Thermal developments delivered roughly 44,000 bbls/day, compared to 41,000 bbls/day in Q1 and 37,500 bbls/day a year ago. For Heavy Oil, thermal project at Sandall is now averaging 5,300 barrels a day, ahead of the projected 3,500 per day.
Anticipated thermal projects from Rush Lake, Edam East, Edam West and Vamn will increase production by roughly 33,500 by second half of 2016.
Future Forecasts:
Husky energy is forecasting and on-target for an annual growth rate target of 5% to 8% within the 2012 to 2017 timeframe. From their 2013 production guidance and forecast earnings call, they have raised their production guidance to 330,000 to 355,000 barrels of oil equivalents per day, a 6% on the high-end from last year.
Husky Energy has also forecasted CAPEX of $5 billion, which includes work with Stanoil (partner in the Fleming Pass) to secure drilling rig for discoveries in that area. They are projecting steady investment in new heavy-oil thermal projects, downstream infrastructure and completing Liwan Gas Project and Sunrise.
Reserves Growth & Important Metrics:
Husky has achieved a Reserve Replacement Ratio of 125% in 2013, excluding economic considerations and revision of previous estimates. This represents the amount of proved reserves added to a company's base relative to the amount of oil and gas produced; a ratio of 100%+ is needed for survivability in the long run for oil and gas companies. Husky has a target to achieve a RRR of 140% through 2017 plan period.
Husky's production and reserves have grown steadily since 2011, and based on that trend, should continue to grow at a similar rate in the future.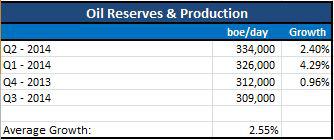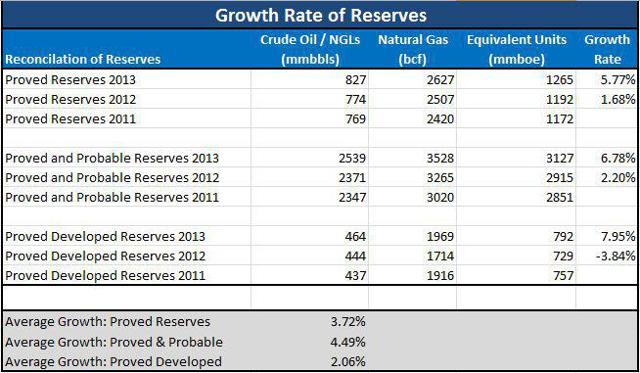 Husky Energy Stability and Diversification Opportunity:
Another benefit of investing in Husky Energy for the long term is the stability of its share price. Using a beta comparison to some of its major competitors (as of 08/04/2014), Husky has a lower beta than the average of its 7 other major competitors. Regardless, its beta of 0.76 poses less risk than many of the equities available in the market today.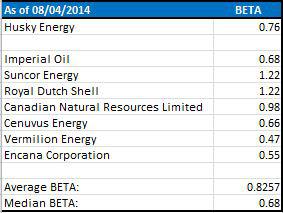 Historical Benchmark Comparison (With S&P TSX Index):
1-year comparison:

10-year comparison:

Conclusion:
From its original founding, Husky Energy has been a good investment for the investor. With its potential for massive growth in the long run from its three main growth pillars, its healthy dividend yield relative to other companies and its diversification opportunity, Husky Energy is a solid investment for the long term.
Disclosure: The author has no positions in any stocks mentioned, but may initiate a long position in HUSKF over the next 72 hours. The author wrote this article themselves, and it expresses their own opinions. The author is not receiving compensation for it (other than from Seeking Alpha). The author has no business relationship with any company whose stock is mentioned in this article.
Editor's Note: This article discusses one or more securities that do not trade on a major U.S. exchange. Please be aware of the risks associated with these stocks.