Microsoft (NASDAQ:MSFT) stock is trading close to where it was a decade ago, and has been stuck in a range of $25 to $30 for much of the period. But despite the challenges to its growth, most analysts tracked by Alacra Pulse remain hopeful the software giant will break out on the upside.
The median price based on the most recent targets tracked by Alacra Pulse remains at $32, with a mean of $31.75. Microsft closed Thursday at $26.89. Of 20 analysts who have changed or reiterated their price targets since the last prognosis, 13 have a positive rating, seven are neutral and none are negative.
Current 12-month price targets of selected sell-side and independent analysts. Click image to enlarge.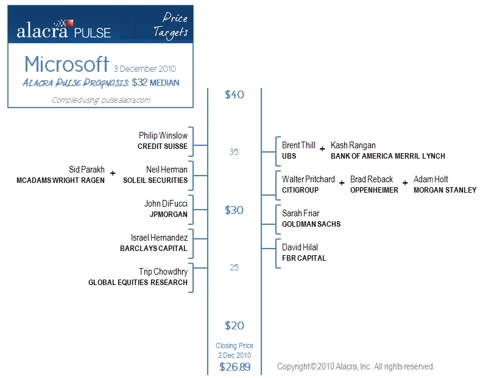 Solid holiday sales of Xbox Kinect – the company recently said it has sold more than 2.5 million since its Nov. 4 launch – were met with encouragement, though they remain only a piece of the puzzle for the company.
Trefis asks how much even greater console sales will really "move the needle" for the company on a stock level, despite allowing it compete more effectively with Nintendo's Wii.
UBS this week reiterated a $35 price target on Microsoft, and kept its Buy rating on the company, noting that it's "still early in the upgrade cycle." UBS was among a series of analysts positive on Microsoft's first quarter results; the company reported revenue of $16.2 billion on Oct. 28, helped along by a combination of Windows 7, Office 2010 and Xbox 360-related sales.
Credit Suisse's Philip Winslow lowered his price target to $36 from $40 but remains bullish on the company with a Buy rating. He sees the company as undervalued: "In the mid- to long-term, we believe that the market has not only meaningfully undervalued Microsoft's ability to expand operating margins for the next several years (given the increased focus on cost control), but also the sustainable revenue growth and defensive competitive characteristics of Microsoft's dominant market positions with respect to its client operating system and office productivity suites."
At the end of last month, Citigroup reiterated a $32 price target and Buy rating on Microsoft shares. It called negative investor fears of Apple product overthrows "overblown" even in the face of one shareholder allegedly "suggesting it's time to break up the company."
Oppenheimer's Brad Reback thinks the company still has wind in its sails. "While the company's tablet & phone challenges are well documented, we believe MSFT is quietly building a leading cloud presence," he notes. He has a $32 target.
Trip Chowdry of Global Equities remains a skeptic, with a $25 price target: "Microsoft is so big that it's getting crushed under its own weight, and it will be stuck in this range forever. It doesn't mean Microsoft is a bad company; it's just a bad stock."