Big-data analysis software developer, Varonis (NASDAQ:VRNS), reported Q2'14 financial results, beating EPS expectations by $0.02 and revenue expectations by $1.3M. Varonis reported record high quarterly revenues of $24.6M, which are 38% higher than Q2'13 revenues and 41% higher than Q1'14 revenues. The main driver for the revenue increase is the licenses segment, which grew by 79% compared to Q1'14 and 37% compared to Q2'13. Licenses revenues accounted for 58% of the company's revenues and were greatly impacted by seasonality. As shown in chart 1, licenses revenues usually drop in Q1 and rise again in Q2 towards a peak in Q4.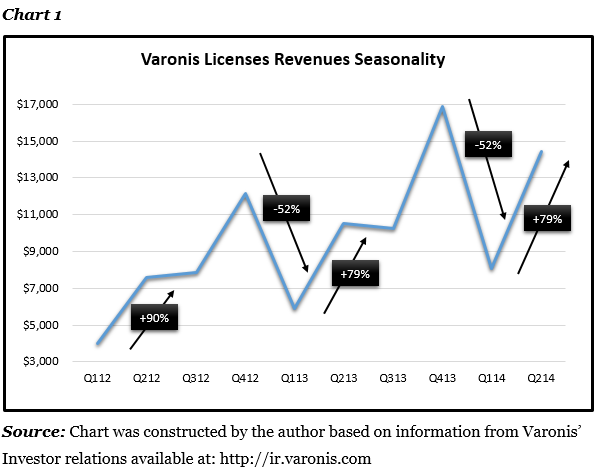 The seasonality trend is a good rationale behind the guidance increase that CFO Gili Iohan announced. In its Q1'14 earnings release, Varonis provided a revenues outlook range of $96.5M-$98M for 2014. In Q2'14, the company slightly raised that outlook and showed a range of $98.7M-$100M, which is 2% higher than previously published. Even though Varonis raised its revenues forecast for 2014 by more than $2M, its operating loss did not change. As shown in chart 2 below, Varonis' cost of revenue and operating expenses have increased continually every quarter since Q1'12, so a possible reason for the flat operating loss outlook is a further increase in cost of revenues and operating expenses.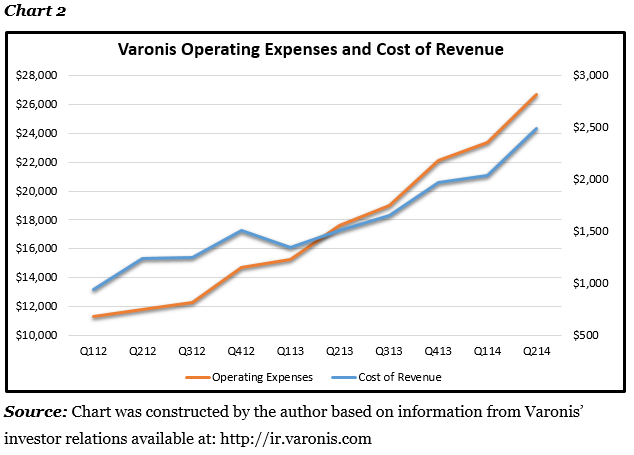 Sales and marketing expenses drive most of the increase in operating expenses, and they accounted for 65% of the total operating expenses in Q2'14. Varonis increases its sales and marketing expenses every quarter to support the new products introductions, sales of existing products and improve customer engagement. Once Varonis achieves the right size of sales and marketing operations to support all these missions, the company will slowly decrease its investment in sales and marketing.
Stabilizing sales and marketing expenses is a key milestone in Varonis' path to profitability. Increase in revenues is fully offset by an increase in sales and marketing that prevents the company from being profitable. Once Varonis stabilizes its sales and marketing expenses, revenues increase will become more meaningful and could shift the company to profitability.
Sales and marketing stabilization is not expected in 2014. In the first half of the year, Varonis spent $31M on sales and marketing, which is 70% of the amount spent the previous year. This trend of sales and marketing expenses suggests that Varonis will increase sales and marketing at least in 50% year-over-year if the company keeps the second half expenses flat to the first half. Sales and marketing stabilization is also not expected in 2015 as Varonis executives mentioned in the earning release that further sales and marketing investment is required in order to achieve their sales targets and further expand globally. These investments take time to sink in and be fully implemented in the company. I expect Varonis to lower its sales and marketing investment at the end of 2015 or beginning of 2016 and profitability should follow a few quarters after that, according to the revenues trend.
Stock Analysis
As shown in chart 3 below, Varonis' stock has fluctuated sharply since the company went public at the end of February. The company had a very successful IPO, and its stock achieved a 100% increase at the end of the first trading day. A week after the IPO, Varonis' stock reached its all-time high of $53, increasing 143% from the IPO price of $22.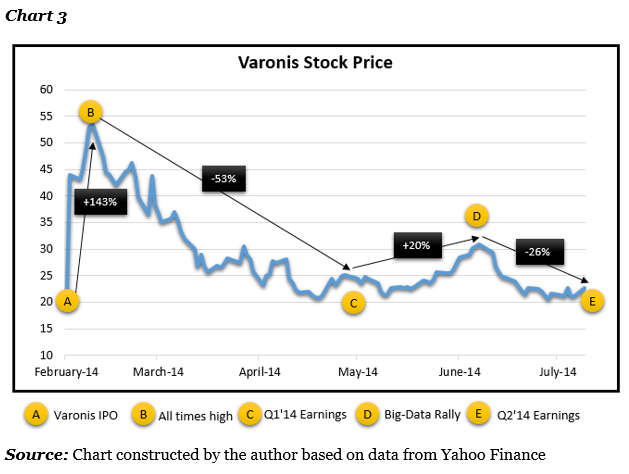 Since the March 2014 peak, Varonis' stock has plunged 53%, along with the rest of the big-data software vendors, and reached a low of $20 at the end of May. Afterwards, Varonis stock rallied, together with the other big-data stocks, and completed a 20% increase before dropping again to the bottom $20. The instability of Varonis' stock makes it a risky alternative for investors who look for a quick upside in a micro-cap tech company. However, technical analysts could spot a double bottom pattern in Varonis' stock price that may suggest a short-term upside.
Conclusions
Varonis reported decent financials in its Q2'14 earnings release, with increased revenues in licenses and maintenance that are offset by increased operating expenses and cost of revenue. Varonis kept its gross margin flat around 90% and slightly reduced its operating loss. The company raised its revenue outlook for the year by 2%, but the expected increase in operating expenses forced operating loss to remain flat for 2014, as was announced in the previous quarter's earnings release. Varonis' stock fluctuated sharply and completed a few rallies and few avalanches in stock price since its IPO earlier this February. Varonis is still in the process of expanding its sales operation and scaling its products to more clients. This process takes time and requires further investment from the company. Varonis can be a good investing alternative for the two- or three-year horizon, but is risky for the short term.
Disclosure: The author has no positions in any stocks mentioned, and no plans to initiate any positions within the next 72 hours. The author wrote this article themselves, and it expresses their own opinions. The author is not receiving compensation for it (other than from Seeking Alpha). The author has no business relationship with any company whose stock is mentioned in this article.
Additional disclosure: Information provided in this article is for informational purposes only and should not be regarded as investment advice or a recommendation regarding any particular security or course of action. This information is the writer's personal opinion about the companies mentioned in the article. Investors should conduct their own due diligence and consult with a registered financial adviser before making any investment decision. Lior Ronen and Finro Financial Consulting and Analysis are not registered financial advisers and shall not have any liability for any damages of any kind whatsoever relating to this material. By accepting this material, you acknowledge, understand and accept the foregoing.