The latest earnings release produced positive surprises, but Facebook (NASDAQ:FB) exhibits typical tech stock volatility that requires steeling one's nerves and having faith in the company's fundamentals. It's very important that investors buy high quality stocks with strong fundamentals. It is also important that we analyze how FB's fundamentals are evolving.
It seems like FB, the social media giant, is proceeding to invade the world with its dynamic and proactive strategy and business model. Also, its strong fundamentals make it a great investment.
FB's share has produced 33% price return year to date and a fantastic 94% return in the last year. FB reported mammoth growth with its market capitalization reaching $190 billion.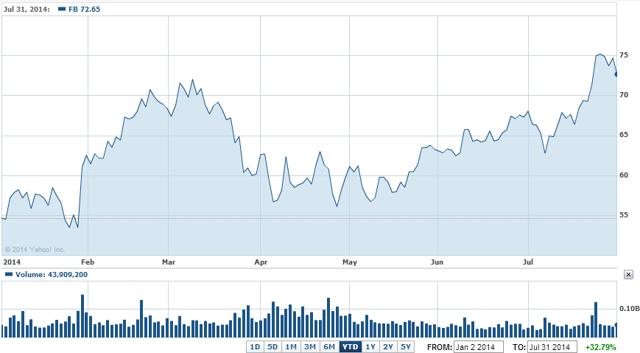 A Big Surprise Company
FB has proven itself to be a big surprise company in the past years hitting analysts' estimates with double digit surprises. In the latest reported results for the quarter ended June 14th, analysts' consensus EPS estimate lagged by 31.20% compared to FB's reported EPS of $0.42. In the quarter ended March 14, FB managed to deliver an astounding 41.70% surprise. For the quarter ended December 13 the surprise was 14.80% and in the quarter before that the surprise was 31.60%. The huge surprises are evidence that FB's business model, based on smart adaptability, is very successful and is catering to the needs of its growing user base.

Source: Yahoo Finance
Expecting Explosive Top-line Growth
Looking at the analysts' consensus estimate for the topline, it can be seen that analysts, on average, expect the current quarter revenue to be $ 3.11 billion up by 54.10% year on year. Analysts expect the explosive growth to continue in the next quarter ending Dec. 14 and analysts are hoping FB grows the topline by 44.60% compared to last year.

Source: Yahoo Finance
Full year ending Dec. 14 consensus revenue estimate is $ 12.24 billion reflecting an increase of 55.50% compared to last year. For the next year, ending Dec. 15, analysts estimate revenue growth of 34.40% YOY. FB has proven its strength in the tech industry characterized by its rapidly evolving technology. FB's ability to embrace change in order to improve performance for its users makes it the king of social media. FB is expected to continue to create value for a significant portion of the global population by integrating people, businesses and societies, helping this world to become a true global village. Creating value for over a billion users will allow FB to generate exploding top-line growth in the coming quarters.
About 90% of FB's revenue comes from advertisement and FB is the second largest player in the US internet advertisement industry after Google ((NASDAQ:GOOG), (NASDAQ:GOOGL)). FB is expected to continue to offer new and innovative ways of socializing. This will help the company to retain its dominant position in the social media industry. Facebook is also expected to maintain its status as an attractive advertisement medium for businesses around the world.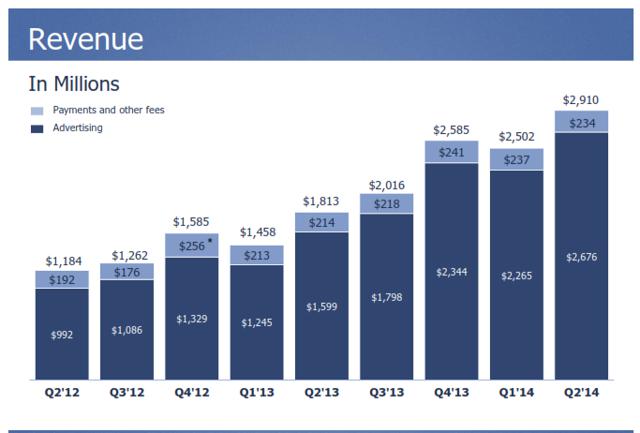 Source: Company earnings presentation
EPS estimates
Consensus analyst estimates for EPS for the current quarter ending September '14 is $0.40 reflecting an increase of 60% YOY. In the next quarter ending December '14, analysts are projecting an average 52% increase in EPS YOY. For the current full year ending December '14, analysts estimate an 84% increase in EPS YOY. In the next year EPS growth is expected to slow down but will still reach a double digit figure of 25%.

Source: Yahoo Finance
Global Invasion
It's fascinating to see healthy year on year growth of 14% in FB's user base that now reached 1.3 billion monthly users. USA and Canada experienced 3% growth in monthly users while Europe experienced 7% growth. Asia experienced 21% growth and the Rest of the World geographical segment experienced 19% growth. Emerging economies with increasing internet penetration are driving the growth in FB's user base. It's amazing to see how FB succeeds in bringing such a large proportion of the world's population to its user base.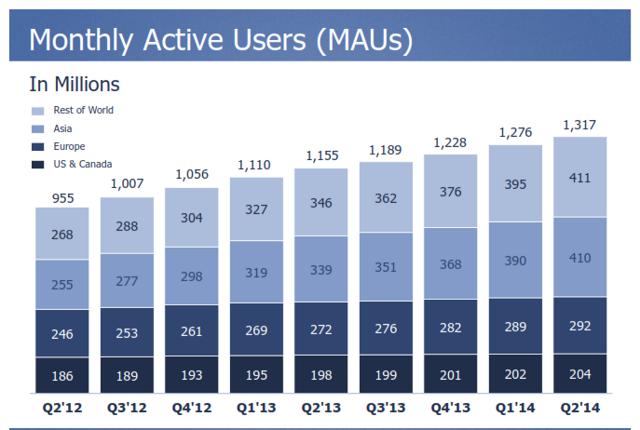 Source: Company earning slides
Monetizing Mobile Growth
FB was successful in capitalizing on growth from the emerging mobile platform and that is imperative for the growth of internet companies. FB managed to bring about 31% growth in mobile monthly active users. This healthy growth rate means that FB quickly monetized the ongoing shift of users from other platforms to the mobile platform.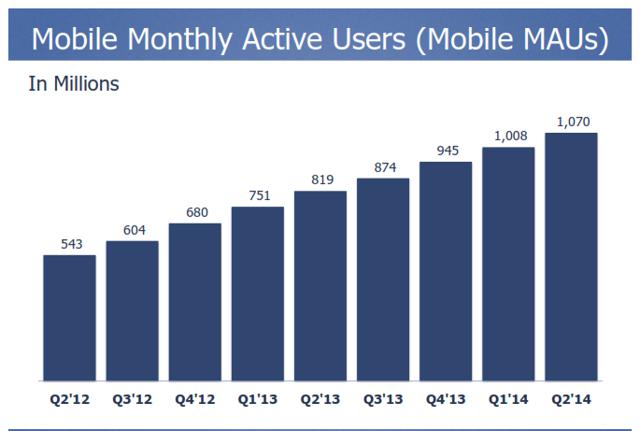 Source: Company earning slides
Valuation
The valuation given by thirty nine brokers covering FB calculated a mean value of $85.82 and median value of $86. This presents an upward potential of about 15%. Valuations range from as high as $100 with an upward potential of 33% and as low as $57.54 with a downward potential of 23%. This is a wide dispersion in expected price return. It appears that nearly the same number of analysts that expect a return above the mean also expect a price return below the mean. On the basis of an average value estimate FB appears to be undervalued at its current price level and presents itself as a good investment opportunity.

FB also appears to be undervalued on the basis of a relative valuation. The P/E ratio is too high but after incorporating the growth potential the PEG ratio reveals that FB is undervalued compared to the sector and the S&P 500. Hence both the target price analysis and comparative valuation give a good indication that FB is currently undervalued and is a good investment opportunity.

Conclusion
Facebook continues to beat EPS estimates by huge margins. The stock has been on fire producing a 34% price return year to date and a 91% return in the last twelve months. With the monthly active user base exceeding 1.3 billion, Facebook appears to have taken over the world. The top and bottom lines exhibit explosive growth and this trend is expected to continue in the coming quarters. Stock valuations indicate an upward potential. Analysts expect a 15% upside and the PEG ratio backs this expectation. Therefore, Facebook is a good investment opportunity at the current price.
Facebook is working to monetize the growth from the emerging mobile platform. The company's valuation presents upside potential making Facebook an attractive tech investment.
Disclosure: The author has no positions in any stocks mentioned, and no plans to initiate any positions within the next 72 hours. The author wrote this article themselves, and it expresses their own opinions. The author is not receiving compensation for it (other than from Seeking Alpha). The author has no business relationship with any company whose stock is mentioned in this article.