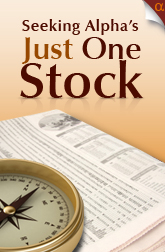 Several times a week, Seeking Alpha's Jason Aycock asks money managers about their single highest-conviction position - what they would own (or short) if they could choose just one stock or ETF.
---
Zach Liggett is co-founder of Goldeneye Asset Management, a family-focused RIA based in Elk Rapids, Mich. He has more than 10 years of industry experience, including seven years in Japan, four of them with WestLB Securities Pacific.
If you could only hold one stock position in your portfolio (long or short), what would it be?
Teleflex (NYSE:TFX). This is an under-followed strong cash generator in a relatively resilient sector. The company is transforming itself from a diversified manufacturing company to a pure-play medical products firm. It has good potential for above-average earnings growth and valuation multiple expansion over time, and it also offers a well-covered 2.7% dividend yield.
Tell us more about the company behind the stock.
Teleflex is primarily focused in the medical device, surgical instrument, and disposable medical product fields with a couple of non-core businesses serving aerospace and commercial markets. Currently, the non-core businesses account for roughly 22% of revs and 17% of operating profit, although management is methodically moving to divest these businesses and ultimately become a pure-play healthcare company.
Teleflex's core business features a broad portfolio of well-known brands found primarily in critical care and surgical care settings. The majority of its product lineup consists of single-use, disposable items, such as catheters, sutures, and endotracheal tubes. This is a global company with a low-cost manufacturing footprint and nearly half of its sales outside the U.S. Beyond its divestiture strategy, management continues to invest in both R&D and sales and marketing, and sees continued room to leverage its brands globally, grow the top line and boost margins.
How does your choice reflect your investment approach?
Our firm structures customized investment portfolios for individuals and families that meet real needs, and we specialize in helping clients who seek to align their portfolios with companies doing positive things for the world. With that in mind, we pursue real, absolute return strategies by investing when and where we identify attractive expected real returns.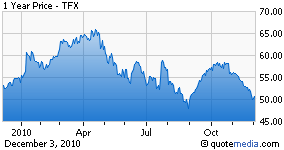 Our risk management efforts prioritize the minimization of permanent losses. When it comes to stock selection, we start by screening out a few "sin" sectors like tobacco and gambling, and look for companies bringing solutions to global challenges and/or those who embrace a sustainability focus as a core competitive advantage.
From this universe, we then seek companies that we believe possess durable competitive advantage, strong cash generation capability, and sound financial management. Those that make the cut then go on a watch list until their market valuations present sufficiently attractive expected returns and appropriate fit for a client's portfolio.
How much is your selection based on Teleflex's industry, as opposed to a pure bottom-up pick?
Our team is focusing investments in areas that we consider "mission critical" to basic human needs, as we fear a multi-year period of systemwide deleveraging will negatively impact companies more dependent on discretionary consumption. Healthcare is one broad sector that fits this bill, and we see reasonably strong sector-specific tailwinds, given aging demographics, rising international living standards, and increasing focus among hospitals and care providers towards safety and cost-effectiveness.
Within healthcare, we like companies, including Teleflex, with a high proportion of sales from recurring consumables.
How is Teleflex positioned with regard to competitors?
Competition is fierce, but Teleflex has relatively strong market position, especially in the vascular access and anesthesia areas. Management estimates product market share in the niches it serves of 19% in Critical Care, 6% in Surgical Care, and 27% in Cardiac Care. Its expertise and innovation in infection prevention is increasingly helping it win further market share from slower competitors.
How does the stock's valuation compare to its competitors?
At $50, TFX trades at roughly 12x consensus EPS estimates for next year, with a nearly 10% free cash flow yield and a dividend yield north of 2.7%. Comps like C.R. Bard (NYSE:BCR) and Merit Medical Systems (NASDAQ:MMSI) trade closer to 14-15x expected earnings and offer significantly lower free cash flow yields.
Teleflex maintained its dividend through the recession, but it's had a long streak of increasing payouts. While it's cut long-term debt, debt/equity could be lower; is there any concern going forward that the nice yield is being financed too much from borrowing?
Teleflex debt peaked in 2007 at around $1.6 billion in conjunction with the Arrow acquisition. Since then, debt has been pared down to the $1 billion level. With cash generation strong (operating cash should be in the $240 million range this year), I believe they have sufficient organic capacity to fund capex, service debt, and continue supporting the current level of the dividend.
As cash flow grows in the years ahead and as the company divests its remaining non-core assets, this capacity should continue to improve.
Does your view differ from the consensus sentiment on Teleflex?
Teleflex remains off the radar of most big Wall Street firms. The smaller houses that cover the stock are relatively bullish, although judging by the relative price action in the stock since its October earnings announcement, near-term sentiment seems weak. At $50, the stock looks attractive to us.
Does the company's management play a role in your selection? If so, how?
We monitor things like management stock ownership, turnover, insider transactions, compensation structure, etc., when reviewing any prospective investment or current holding. Teleflex has not triggered any alarms on these items for our team.
What catalysts, near-term or long-term, could move TFX significantly?
Continued progress on the sale of non-core assets, organic healthcare segment revenue growth, and balance sheet deleveraging are all likely catalysts to drive earnings and dividend growth as well as valuation multiples higher.
As part of its divestitures, Teleflex recently agreed to unload part of its aircraft-products subdivision Telair for just under $100M; what sort of non-core assets are still on the balance sheet, and how much of a drag might they be?
The recent Telair deal was for just the actuator part of that business which management announced will do about $25 million in revs this year. I estimate that the rest of the aviation business (mainly cargo-handling systems) will do about $150 million in revs this year with mid-single digit operating margins.
The commercial business (marine steering and throttle controls and drive parts) should do at least $180 million in sales with high single-digit operating margins. These are decent businesses, but they generate nowhere near the 20%-plus operating margins of the medical business, so as they get divested consolidated margins should improve.
What could go wrong with your pick?
Our biggest concerns are on the macro front. Should the U.S. economy and financial markets face a new down leg, the ability of Teleflex to divest its non-core businesses at reasonable prices may be delayed.
Also, with roughly 35% of revenues from Europe, worsening macro problems there could prove a headwind to growth.
Thanks, Zach, for sharing your choice with us.
Disclosure: Long TFX as of Dec. 1 in appropriate client accounts, and in personal account
Read more Just One Stock interviews »
If you are a fund manager and interested in doing an interview with us on just one stock or ETF position you'd hold, please email us at Just One Stock.