A huge 37% price return by LinkedIn (NYSE:LNKD) in just 3 months is no doubt enticing but it is still at a 14% loss based on the stock performance over the past year. LNKD has been a highly speculative stock and its volatility is expected to continue until the company manages to produce meaningful profits. As the company is in a rapid growth phase, it is expected to be a few more quarters before LNKD's stock produces higher earnings to make it a better justified and less volatile investment.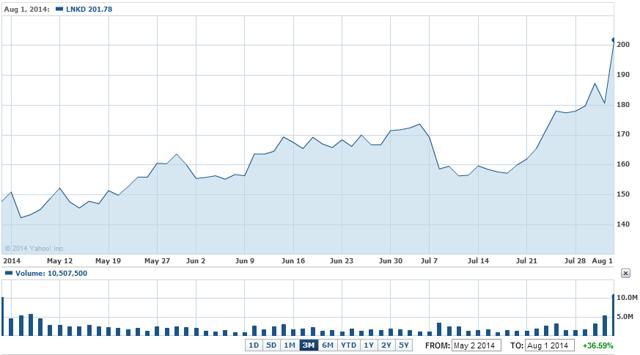 Click to enlarge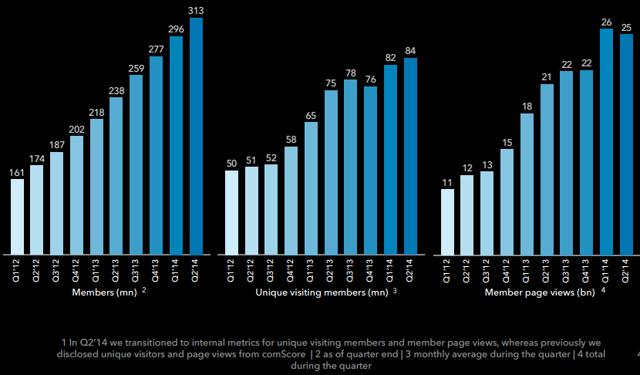 Click to enlarge
Source: Company's earnings slides
LNKD is successfully increasing user engagement with each passing quarter. Its membership has experienced 32% growth YOY and to date its membership base has grown to 313 million. LNKD's effort to attract users through different features is proving to be successful. There is an increase in monthly average unique visiting members of 12% YOY. Unique visiting members have grown to 84 million in the second quarter of 2014."Member page views" is another metric that reflects the increase in LNKD's user engagement. In the second quarter of 2014 there have been 25 billion member page views, which is 19% higher than the figure reported in the second quarter of 2013.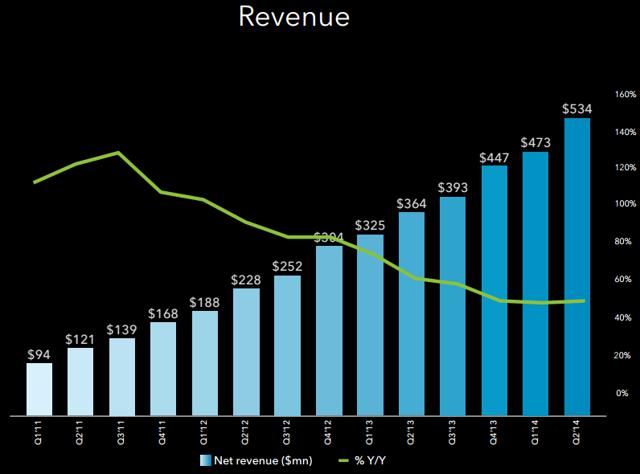 Click to enlarge
Source: Company's earnings slides
During the 2ndquarter of 2014 net revenue reached $534 million reflecting a very significant growth of 47% in the top line YOY. Consensus analyst estimates for the current quarter ending September 14projecta growth of 41.30% YOY. Analysts estimate sales growth of 36.50% for the next quarter ending December 14.The consensus estimate for the whole year is a growth of 42% in the top line. The estimate for the next year ending Dec 15 is 33.40% growth in the top line. LNKD needs to maintain its financial discipline so that the explosive top-line growth could flow down to the bottom line and justify the high valuation made by the market.

Click to enlarge
Source: Yahoo Finance
Big EPS Surprise
In the second quarter of 2014, LNKD delivered a 30.80% surprise, beating analysts' consensus estimate of $0.39 compared to the actual EPS of $0.51. In the previous quarters, there were surprises but smaller than the most recent. Big surprises are what investors want to see from these high hope tech companies that help share prices increase. This variation in surprises is an indication that the stock may yield a large price gain but it can also create a big loss for its investors.

Click to enlarge
Source: Yahoo Finance
Looking at the analyst estimates for the EPS, the consensus expects EPS to grow by 21% YOY for the current quarter ending September 14. Expectations are higher for the next quarter ending December 14 where the consensus estimate is 33% YOY growth in EPS. Consensus estimate for the whole year expects a 14% growth compared to last year's full year EPS. This is not impressive if we look at the high valuation of LNKD's stock and explosive top-line growth. However, for the next year ending Dec 15the consensus estimate is a 47% YOY growth in EPS. This bottom line grow this very important to realize as bottom line growth is what investors want to see.

Click to enlarge
Source: Yahoo Finance
EBITDA is used as a proxy for operating cash flow and is an important measure to judge the sustainability of a company's operations. Adjusted EBITDA for the 2nd quarter ended June 14 was $145 up 63% compared to the figure reported last year. Strong cash flows correlated with earnings are an important barometer used to judge the overall performance of the company. LNKD has to grow its cash flows in order to fuel the growth it is aiming for.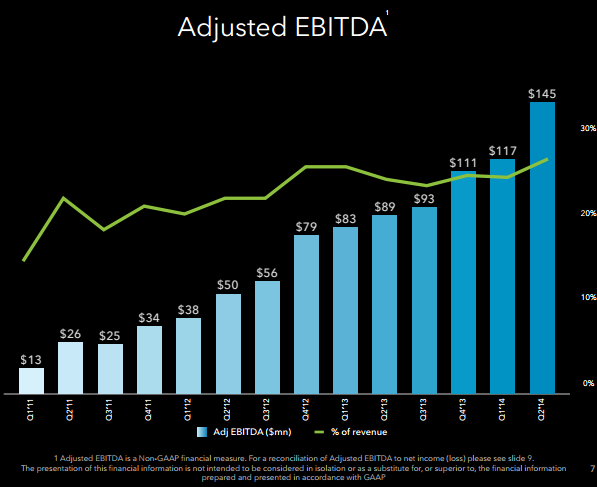 Source: Company's earnings slides
Another metric that is showing improvements in operating efficiency is revenue per head count. Annualized average revenue per employee for the recent quarter ended June 14 is $382,000 up from the figure of $363,000 reported a year ago. This is a 10% increase showing signs of improvement in operating efficiency. LNKD has to keep improving its operating efficiency with the passing of time.
Penetrating Global Hiring Market
LNKD is focusing on penetrating the estimated $85 billion global hiring market. Presently, LNKD is deriving less than $1 billion from that market. This shows how big the global hiring market is and speaks of the growth opportunities available to LNKD through its talent solution business.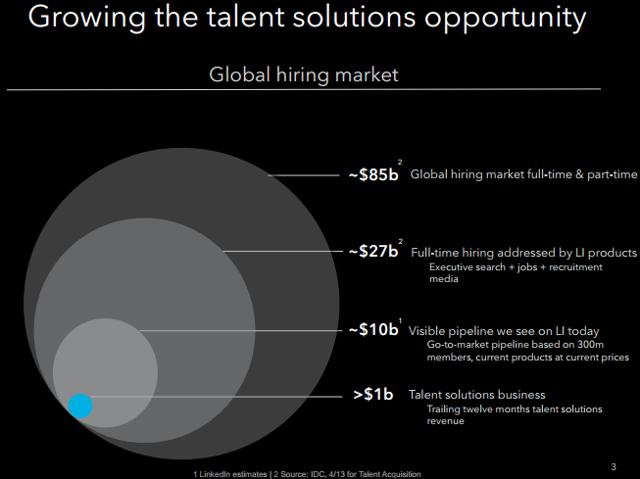 Click to enlarge
Target Price Estimates
The average price estimates made by 34 brokers is a 15% price return. The most optimistic price estimate is a 49% upside potential and the most conservative price estimate expects a loss of 23% on the current price. The range of estimates is wide and there is much variation among analysts' expectations. The wide range means that the stock is expected to undergo the same high volatility it has experienced in the past. Loading up one's portfolio with LNKD's stock would not be a good idea considering the variation among analysts' estimates.

Source: Yahoo Finance
Price multiples do not favor LNKD's stock. The P/E is very high at 109.66 at current price. LNKD still has to monetize the growth opportunities that it is hoping to capture and is struggling with its bottom line. Even after incorporating the expected growth into the P/E ratio LNKD's stock still isn't attractive at its current price compared to the industry, sector, and S&P 500.LNKD needs to improve its bottom line to make its multiple-based valuation more attractive to investors.

Conclusion
LinkedIn seems to have good prospects ahead and its fundamentals are improving. Its revenue is growing at a very high rate and LinkedIn should not lose its focus on its bottom line and cash flow growth. High risk sometimes equates to high reward but allocating stocks to a portfolio calls for caution. Loading a portfolio with LinkedIn's stock would bring high volatility to the portfolio and investors need to consider this downside carefully.
Disclosure: The author has no positions in any stocks mentioned, and no plans to initiate any positions within the next 72 hours. The author wrote this article themselves, and it expresses their own opinions. The author is not receiving compensation for it (other than from Seeking Alpha). The author has no business relationship with any company whose stock is mentioned in this article.