Previously I had written an article entitled "Will Panera Continue To Outperform?" that I wanted to add an update to. My original Panera article can be found here. In a recent news development, Panera (NASDAQ:PNRA) has decided to add some additional technological changes to the way that customers can order from its restaurants.
In my past article I discussed the ability for Panera to potentially add in new technology and adapt by adding more drive through locations or speed up its service to steal more diners away from fast food places. Being able to get a quick meal is particularly important for those on their lunch break from work, which is a significant amount of Panera's business. A recent news article discussed how Panera is now working on technological changes to allow to-go orders using mobile and web platforms to have food waiting for you.
I experienced this new change in Panera's strategy first hand while eating lunch at the location nearby. The picture I snapped below with my smartphone shows the new process that Panera is implementing. The front of the store also had a new section where customers could stop by and pick up their food without having to wait in line, making it extremely quick and convenient. This update in Panera's strategy that I foresaw coming in my previous article was worth reiterating as a potential long term catalyst for Panera stock. One of the biggest downsides to Panera previously was its long lines and potential wait times, but the new initiative alleviates this concern. This new strategy is likely to continue to be implemented into an increasing amount of Panera locations.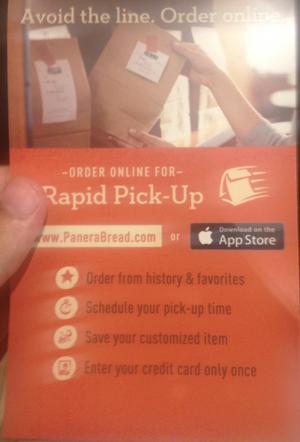 Disclosure: The author has no positions in any stocks mentioned, and no plans to initiate any positions within the next 72 hours. The author wrote this article themselves, and it expresses their own opinions. The author is not receiving compensation for it (other than from Seeking Alpha). The author has no business relationship with any company whose stock is mentioned in this article.