Regions Financial (NYSE:RF) delivered so-so earnings in Q2 as its EPS was in line and revenue missed by a measly $10 million. RF has given investors a return of about 1% YTD as many regional (and national for that matter) banks have struggled to raise their stock price.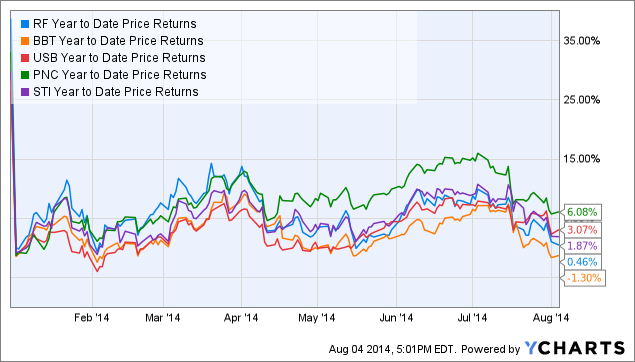 RF Year to Date Price Returns data by YCharts
Many investors feel that the banks will be providing mediocre returns until the Fed's long awaited interest rate hike occurs. After ongoing speculation, it is expected that this event will come in the first quarter of 2015. In the mean time, what are banks to do? They are stuck with relatively low Net Interest Margins and therefore low interest income until rates rise. Regions has been focusing on lowering costs and developing its credit card division so that it can take full advantage of the new interest rate environment. A leaner, more efficient company will be able to benefit more from higher interest rates, but does the bank have enough growth to deliver large profit in the coming years?
All figures below found on RF's Q2 Earnings Call, unless otherwise noted.
Cost Reduction
For the quarter, total non-interest expenses were $827 million, a decrease of 2% sequentially and salaries and benefits fell 3%. Deposit administrative fees also were lowered $9 million. Management's "branch optimization staffing strategy" and consolidation has driven the expense trimming as the company lowered its headcount by 839, or 3.5% and improved its efficiency ratio to 64.2%. CEO Grayson Hall was asked about the potential for more layoffs in the future and stated that "incrementally there are still opportunities", but it seems to me that most of the job cuts have been completed. On the company's Earnings Call, CFO David Turner stated that Regions remains "committed to driving continued efficiencies across the organization" despite the success already achieved. Turner believes that further cost reduction is possible.
Credit Card
The credit card division at Regions has been a focal point in the past as management believed an improving economy will provide an opportunity for its credit card portfolio to thrive. While Regions would still like to increase its customer base, its existing credit card portfolio delivered a strong quarter. Card and ATM fees increased 6% and credit card balances grew 3%. These numbers are a result of a 14% increase in credit spending among customers and 3% growth in new credit card sales. Management expects growth in balances to continue throughout the year.
Financial Services Division
A potential growth category for Regions is its brand new Corporate and Investment Banking Financial Services Group. Announced this week, the new business segment will be led by Tom Dierdorff, an executive with 20 years of experience in the field. Dierdorff worked for Suntrust Robinson Humphrey where he was a managing director for the last seven years and also spent 11 years at Wachovia Securities. This move is one that will need to be re-evaluated in a few years once the department has a chance to establish itself, but it can be interpreted right now. I think this is a sign that RF is looking beyond the interest income and planning years down the line. It will be very interesting to see Regions compete with some of the bigger banks in the corporate space.
Growth
RF has seen some growth across the board, but not an overwhelming amount. Total loan production increased an outstanding 22%, but loan balances only inched up 1.1%. Management reaffirmed its guidance of loan growth in the 3% to 5% range for the fiscal year, which means growth will decelerate in the back half of the year. For deposits, the bank is expecting growth in the 1% to 2% range for the year. Net interest income grew 0.7% in the quarter as NIM fell 2 basis points. Going forward, RF expects its NIM to drop 5 to 7 basis points. Non-interest revenue increased 4%, led by the success in the credit card division.
Conclusion
The bottom line for Regions is similar to that of most banks: interest rates need to rise. The company has been making some of the right moves by lowering costs and developing new revenue generating departments, but it doesn't compose a compelling overall story. Regions will absolutely benefit from a rise in interest rates, nevertheless the bank needs to have robust growth in loans its non-interest divisions to excite investors about the future. I do think RF can and will go higher (due to interest rates), but it is not an irresistible stock. I would advise searching the financial sector for more attractive options before deciding to buy RF.
Disclosure: The author has no positions in any stocks mentioned, and no plans to initiate any positions within the next 72 hours. The author wrote this article themselves, and it expresses their own opinions. The author is not receiving compensation for it (other than from Seeking Alpha). The author has no business relationship with any company whose stock is mentioned in this article.