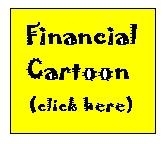 Outlook: While President's Obama's deficit commission didn't receive the backing that would "land it" in front of lawmakers, it was an important exercise in "consciousness raising" for the American public as to the extent of our nation's financial quagmire. (See "financial cartoon" - just food for thought!)
Don't Do This at Home: The simple question to put to the American people is: Would you run your household like this? Chronically spending more than you produce and continuously financing that deficit with debt? Personal bankruptcies only represent 1.4% of households annually; yet, our representative government has spent like a profligate household placing "Our" nation on a road to financial implosion. (This is not Tea Party talk, it is financial pragmatism.)
The Numbers Are Startling: Under our current tax and spending policy, the deficit is projected to reach 15% of GDP in 2035 with projected federal debt amassing to 185% of GDP over the same period.
Wrong Neighborhood: To put each of these numbers in perspective, the original Euro Zone Pact set a limit on deficits at 3% of GDP which many consider a reasonable long-term target. Greece, the "basket case" of the euro, has a current debt to GDP ratio projected to rise to 156% in 2012.
Painful Reality: Even under the most austere tax and spending commission proposals, national debt as a percentage of GDP is still projected be 40% of GDP in 2035. This will require shared pain from many sacred cows.
The "One-Two Punch": It is going to be hard for lawmakers to duck this problem now that this balloon has been floated. The current "one-two punch" of first extending the Bush tax cuts to help stabilize and fan the nascent recovery, and, secondly, a fulsome national debate—with the upcoming presidential election as a platform—to address the restructuring mechanics of our federal spending and taxing infrastructure, is the right sequencing of events.
Stock Recommendation: While there will be a high propensity for external shocks to the stock market over the next six months, the US economy is building a credible base for recovery. Consumer sentiment is strong, retail sales checked in greater than anticipated, factory output is expanding, corporate profits are strong and their coffers are overflowing with cash. Missing in action is job growth, a related housing recovery and a clear operating environment for business.
As a contrarian, I like the prospects of Cisco Systems (NASDAQ:CSCO). The stock has been crushed in the aftermath of its recent earnings and guidance—leading some to question whether CSCO is "rolling over" as an industry leader.
CSCO still generates spectacular profit margins, is flush with $40 billion in cash and its P/E ratio is in-line with the S&P 500. Throw in the pre-announced prospects for a dividend of 1% to 2% yield in 2011 and you have an investment of interest.
It's About the Future: We live in an increasingly digital world with communications becoming ubiquitous. This is a franchise name in an exciting business that will rebound as the recovery takes hold. This is a 2011 harvest, as it is likely dead money until early next year.
Money Flow: Mutual Funds: This was the second week in a row that not only saw outflows of monies for long-term mutual funds but more importantly for total bond funds—specifically, a result of the continued run on municipal bond funds. The potential inclusion of eliminating the tax-exempt status of muni bonds roiled the muni market that was already fatigued with over-supply, tepid demand and municipal finance weakness (highlighted by California and Illinois).
The total outflow of monies from mutual funds for the week ending 11/23/10 was $2.94 billion. Domestic equity funds continue to experience outflows at $2.6 billion while there was only a trickle of funds flowing into foreign equity funds ($0.14 billion).
Caution: I continue to caution investors of fixed-income securities that we may just be seeing evidence of the beginning of the end—particularly with interest rates taking on an upward bias at the long end (see, "CEF Focus Stock(s) for the Week" section below).
(Investors should consider ProShares Short 20+ Year Treasury ETF (NYSEARCA:TBF) as a long-term play in a rise in interest rates. Again, this is an investment for sophisticated investors with the time and interest in studying this investment.)
Money Market: Money market funds decreased by $3.25 billion to $2.81 trillion the week ending Wednesday December the 1st. Taxable government funds increased by $630 million, taxable non-government decreased by $4.6 billion. Interestingly, tax-exempt funds increased by $730 million—possibly as a result of the short duration of the investments.
CEF Weekly Review: The 13 closed-end fund (CEF) types on average were flat for the week ending 12/3/10. The high-low spread was +5.5% versus a +3.7% the previous week on a flat average price change versus an increase of 0.5%, respectively. On an aggregate, unweighted basis, the weekly average price change for the 500 plus CEFs in the Eqcome database was down 0.5%.
click to enlarge images
The PowerShares CEF Income Composite (NYSEARCA:PCEF), an ETF that invests in taxable income CEFs, was up 0.1% for the week. The S&P 500 was up 3.0% for the week and up 9.8% YTD. The S&P 500's average daily share volume for the week was 4.24 billion, up 32.4% against the previous holiday shortened week of 3.2 billion shares.
(Click here for YTD CEF Performance. The table is based on a smaller CEF sample size as all the data fields are not available for the CEF universe.)
The Eqcome CEF Fear Index for the week increased as the more dominant fixed-income component of this market segment share prices eased. The average price decrease was 0.5% while NAV was up 0.7%.
The CBOE Volatility Index (VIX), which typically moves inversely with the stock market—but is mostly a measurement of volatility based on stock options' premiums—gave up most of its previous week's concerns over the European debt crisis and declined 18.9% to 18.01. Investors reveled in the S&P 500 surge of 3.0% and did little to protect themselves from the prospects of falling stocks prices. As always, one should cast a wary eye on a VIX reading of less than 20 as now it's in the range of contra status indicator.
CEF Weekly Fund Type Performance: The 13 CEF fund types weekly performance reversed field as equity-oriented fund types dominated advancing share prices. The extreme ends of the spectrum changed positions with WrldEqFnds and GenEqFnds advancing 3.1% and 2.1%, respectively.
State and National Muni CEFs resumed their downward share price trajectory after a winning week.
Weekly CEF Winners and Losers: One of the CEFs with the greatest positive spreads was Nuveen Tax-Advantaged Floating Rate Fund (NYSEMKT:JFP). JFP price remained flat versus its NAV which declined 7.0%; this generated a positive PrcNAVSprd* of 7.0%. This drop in NAV was significantly greater than its PrefStkFnds' peers and appeared an outlier.
JFP is a small unleveraged CEF that focuses on tax-advantaged floating rate current income mostly by investing in preferred stocks. Its biggest holding as of 8/31/10 was Elmira Svgs Bk Fsb, Elmira, NY, Pfd 9.00, representing a quarter of its portfolio. Its annualized monthly yield is 7.3% and trades at a 1.6% premium. There was no unusual volume in the stock.
One of the CEFs that experienced the greatest negative PrcNAVSprd was Cohen & Steers Total Return Realty Fund (NYSE:RFI). RFI price declined 6.8% while its NAV advanced 1.7% generating a negative PrcNAVSprd of 8.5%.
In a press release on Wednesday, RFI announced that its projected capital gains of $.19 to $.37 per share short-term and $.26 to $.44 per share long-term capital gains will be paid together with RFI's regular quarterly distribution in December. Its current distribution was $.22 per share in September.
Eqcome CEF Portfolio™: Joe maintains three separate CEF portfolios that have different investment objectives: CEFBig10™, CEFMuni10™ and CEFDisc10™ (see website).
The first is a balanced equity-income portfolio, the second a tax-exempt income portfolio and the third a portfolio whose objective is capital gains with a secondary objective of current income. These portfolios will soon be available to retail investors at a nominal fee to maximize equity-income for retirees and retail investors. (See performance data here.)
Economic & Earnings Outlook: (Click here for next week's economic calendar; click here for earnings announcements and estimates.)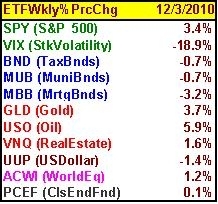 ETFs: For a more detailed EFT performance by sectors, click here.
Insider Trading: The first three days on December saw two insider trades.
One transaction was a continuation of indirect buying by Rodney F. Dammeyer's DRD Family Partnership, LP. The trust acquired 1,765 shares at $12.20 per share raising its stake in Invesco Van Kampen Advantage Municipal Income Trust II (NYSEMKT:VKI) to 63,604 shares. Mr. Dammeyer is a director of several of the Invesco Van Kampen sponsored CEFs.
The other transaction was by a Rosalind Davidowitz, a 10% owner of Engex (EGX), who acquired 1,800 shares at $3.58 per share. This brings her holdings up to 326,124 shares representing approximate 20% of the shares outstanding.
(Click here for a hyperlink to the Joe Eqcome's CEF Weekly Insider Report.)
CEF Distribution Announcements This Week: The following is a link to a table of CEF distribution announcements this week as well as the previous week's with yet expired ex-dividend dates. The list is not intended to be inclusive. (Click here for Joe Eqcome's Weekly CEF Distribution Announcements)
Significant CEF Corporate Events: FINRA awarded three investors $541,000 in arbitration against Morgan Keegan income funds. The award represented close to a 90% recovery of the amount sought in the claim. The hearing was conducted in Little Rock, Arkansas before a three person panel. The case involved retirees who had invested a substantial portion of their savings into RMK High Income Funds, RSF, RMH, and RHY, believing them to be bond funds and safer than equities.
The Panel found Morgan Keegan and Company, Inc. liable on one or more of the causes of action pled which included state securities act allegations and federal Rule 10b-5 claims. Claimants alleged that Morgan Keegan materially assisted in the preparation of S.E.C. filings which failed to adequately disclose the concentration in bottom tranches of structured products.
CEF Focus Stock(s) for the Week: There are some menacing signs building for leveraged fixed-income CEFs that investors should keep in the back of their minds when reviewing their portfolios.
Of particular consideration is the leveraged HiYldBndFnds that invest in low-grade muni bonds. The investment returns for HiYldBndFnds have been breathtaking as valuations have recovered from the post Lehman Bros' lows.
The items that draw attention to this fund type and its muni sub-group are as follows:
As of the end of November there were 67 HiYldBndFnds trading at a 1.0% premium versus a 1.8% discount to the CEF market segment.

Excluding both national and single state muni bond CEFs, the leverage for the HiYldBndFnds is 22.3% versus 14.4% for the balance of the industry.

Of the 67 classified as HiYldBndFnds by the WSJ, 19 have as an investment objective to invest in high-yield municipal bonds. The leverage on this group of CEFs was 29.1%.

Talk of removing the tax-exempt status of muni bonds under a restructuring of the tax code as proffered by the President's commission on deficit reduction will weigh on munis.
This group of 19 has three potential strikes against them: 1) lower credit muni paper; 2) a question as to whether these portfolios, cast as HiYldBndFnds, have adjusted downward with other muni holdings; 3) their higher leverage.
Higher Rates? If this nascent trend of investors moving money out of bond funds (see section above) and into equities, coupled with the likelihood of incipient inflation boosting interest rates, this particular sub-group of 19 would be victim of a "hat trick".
Cursory Screen: On the basis of a cursory screen of the database, two of the MFS CEFs "popped up". The first was MFS High Income Muni Trust (NYSE:CXE) and the other was MFS Municipal Income Trust (NYSE:CMU).
CXE and CMU have leverage of 39.6% and 38.7%, respectively; both are trading at premiums higher than the average; both are the only CEFs of this sub-group that's experienced negative NAV changes YTD.
Compensating for this weakness is their relatively high nominal annualized monthly yields of 7.4% and 8.2%, respectively. (Both have recently declared December monthly distributions that go ex-dividend on December 13th.)
My remarks are regarding these two CEFs are only as a result of a cursory screen and do not reflect a fundamental analysis. What it reflects is an exercise of investment suppositions regarding the potential vulnerability of this CEF sub-segment and those stocks that might be ill-positioned if the investment scenario as outlined above comes to pass.
Caveats: The "CEF Focus Stock(s) for the Week" section includes CEF stocks of interest to me—and possibly other retail investors—and are subject to further analyses. Their inclusion in this section should not be viewed as recommendations based on the analysis provided here alone. Such stocks are basically a "heads-up" of something that might be of interest—or, not.
---
[*] All things being equal, price and NAV should move in tandem. A price movement greater than the NAV generates a positive PrcNAVSprd and may be interpreted as negative on a near-term basis and indicate that the stock is overvalued relative to its NAV which in theory is the stock's intrinsic value. The opposite would be true for a negative PrcNAVSprd.
---
Disclosure: Author owns a diversified portfolio of CEFs and ETFs and is long stocks in the CEFBig10™, CEFMuni10™ and CEFDisc10™ as well as CSCO and TBF