Walgreen Sold Off, the Question is Why
Walgreen Co. (WAG) sold off hard on August 6, 2014. It dropped $9.91 to 59.21, a drop of 14.34%. News reports suggest that it sold off upon an announcement that it would complete a close-to-£6 billion ($10.1 billion) cash and shares deal to buy the remaining stake in U.K. drugstore chain Alliance Boots on Wednesday morning.
That deal alone, though, wasn't really the proximate cause of the sell-off. It was the further announcement that the drug store chain would not do a so-called tax inversion as part of the deal. That is where a United States corporation buys a foreign corporation and relocates its headquarters to the acquisition's country in order to reap tax benefits. Walgreen said it would not relocate or reincorporate.
Under one train of thought, this is a shady reason for such a sharp sell-off, and it likely will reverse at least in part in the days ahead.
Background
Walgreen was the brainchild of Charles R. Walgreen, Sr. He opened a drug store in Chicago in 1901, and it was a success. The company had four locations by 1913, added another in 1915, and had nine total by 1916. In 1919, Walgreen had 20 locations, and then Prohibition took effect. This helped Walgreen, because "prescription" alcohol remained legal for the duration.
By 1930, the chain had expanded to 397 stores. It was growth built upon booze, both legal and (according to some accounts) illegal. Alcohol turned out to be a Depression-resistant commodity, and the chain kept growing even after the repeal of Prohibition.
Walgreen currently operates over 8,000 stores, with a few in Guam and Puerto Rico but the vast majority in the United States mainland. It has its headquarters in West Deerfield Township at Deerfield, Illinois, where it employs about 1100 people.
Current State of Play
Walgreen was considering relocating its headquarters to Switzerland, where it is merging with European drugstore chain Alliance Boots. However, news reports on 6 August 2014 were that Walgreen in fact would not relocate and would not reorganize the company in a tax inversion play that would have cut the amount of U.S. taxes that it had to pay.
As a general matter, corporate inversions, wherein a corporation buys a small or dormant corporation and takes over the corporate attributes of that corporation, is nothing new. The tactic has been around for many years and became hugely popular during the dot.com era of the late 1990s, when it was a quick and cheap way to gain a stock exchange listing. The new wrinkle is that it recently has become fashionable for certain corporations to engage in this tactic with foreign corporations with an avowed purpose of dodging U.S. taxes. A reported 47 corporations have done this during the last decade.
The issue has become political, with the White House and certain politicians accusing or implying that the companies who do this sort of tax inversion are "unpatriotic." This reduces the amount of taxes the government collects that can be used by the government to help everyone. The counter-argument is that corporations have a fiduciary duty to their shareholders to reduce costs, which boosts profits and makes shareholders wealthier, and also gives the corporations more funds with which to develop new products and help people, thereby benefiting everyone.
According to his website, Illinois Democratic Party Senator Dick Durbin sent a letter to Walgreen accusing the company of not being appropriately sensitive to its "deeply patriotic" customers:
"Customers have many choices about where to shop and where to have their prescriptions filled. I believe you will find that your customers are deeply patriotic and will not support Walgreen's decision to turn its back on the United States. Nearly all of your $2.5 billion in profits earned last year were from sales to U.S. taxpaying customers," said Durbin. "Is 'the corner of happy and healthy' somewhere in the Swiss Alps?"
There are many reasons why Walgreen could have decided not to engage in the tax inversion, if it was seriously considering it at all. Whether or not the "decision" was at least partly due to strong-arm tactics from the government is debatable. Perhaps the company simply came to the sudden realization that there are Walgreen Drugstores on every other block in the U.S., that these would be easy for protesters to target, and that in any event some portion of its customers would buy the "patriotism" argument and shop elsewhere, causing it to lose business.
However, certain things are not debatable: the inversion is not happening according to the company, and the stock price did drop sharply.
Prospects
With everybody taking sides on the relative degree of patriotism of all involved, it should be noted that Walgreen never said that it would do a tax inversion. In fact, if it had wanted to do a tax inversion, it likely would have proceeded differently. So, could there be another reason for the sharp sell-off?
Well, yes: guidance. Walgreen CEO Greg Wasson also lowered guidance, projecting adjusted earnings per share of $4.25-4.60, well below Street expectations of $5. It also announced a $3 billion share buyback, below what some expected, and raised its dividend to 33.75 cents per share, up from 31.5 cents per share.
This could have been a case of the company using one piece of unpopular news - the decision not to do the tax inversion - to cover another piece of unpopular news - the weak guidance.
Of course, it also could have been simply coincidental and unrelated.
A cynic might conclude that Walgreen intentionally low-balled its guidance so that it has a better chance of outperforming down the road, when earnings are announced, after investors have forgotten about the lowered guidance in the first place because they didn't notice it in the first place due to the tax inversion news. People, under this argument, will aim their anger in another direction, while the public relations coup of "better than expected" earnings when the time comes makes management look like saviors.
They beat earnings expectations for the second quarter by three cents, and revenue rose 11% to $34.6 billion, exceeding the $33.47 billion Street estimate. So, the company was hardly in free-fall before this announcement.
Timing
If you buy this thesis, the question becomes one of timing. Do you simply buy the stock right away? Clearly, someone was buying today. But people were hurrying even harder to sell, thus the price drop.
These types of special situations are only for aggressive, experienced investors who are willing to act fast and accept the consequences if they are wrong.
Below is the daily chart.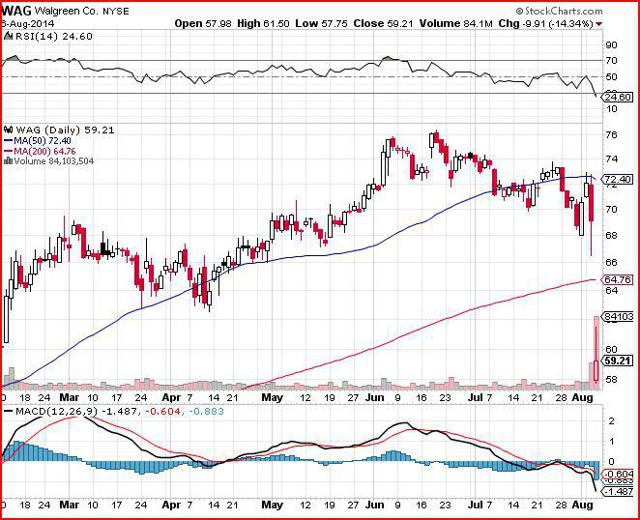 Source: Stockcharts.com
The chart shows significant technical damage, but it is hardly irreversible. The company's stock price plunged through the 200-day moving average. It did, however, find support at congestion from last December and January. That in and of itself is a good sign: it shows that traders are respecting the technicals and not running out of the building screaming in panic. Technically, we expect at the very least a re-test of the 200-day moving average.
Below is the weekly chart.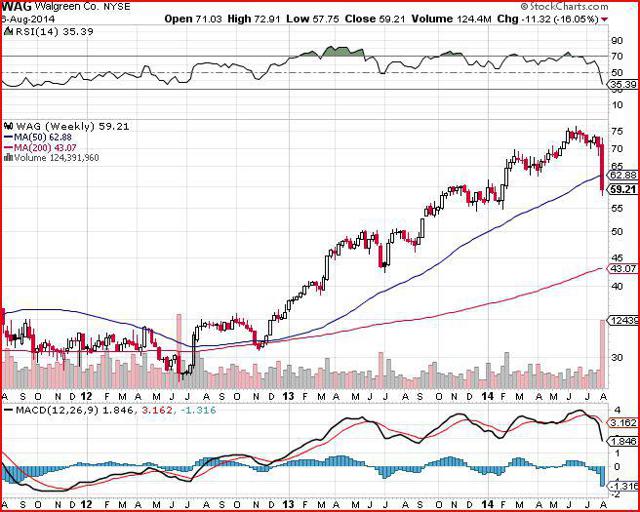 Source: Stockcharts.com
Technically, there is a strong likelihood that the gap will be closed. However, the prudent investor will watch market action in the morning and decide on the fly. The low of August 6th should hold for this to be a buy, and that vicinity is a good place for a stop.
The hoary old Wall Street rule of thumb is that you wait three days before looking at a stock that craters like this. A risk-averse investor thus will wait at least two or three days to "let the dust settle." However, this stock could move quickly, in which case most of the potential gains would be gone by then. The dividend increase is nice, though not by itself a reason to buy a stock going through this kind of turmoil.
Conclusion
Walgreen represents a special situation that could turn into a good buy at current price points below $60.
Disclosure: The author has no positions in any stocks mentioned, and no plans to initiate any positions within the next 72 hours. The author wrote this article themselves, and it expresses their own opinions. The author is not receiving compensation for it (other than from Seeking Alpha). The author has no business relationship with any company whose stock is mentioned in this article.