Zynga (NASDAQ:ZNGA) hasn't figured out a way to sustain the growth of its business, but it isn't quite down and out yet, because it still generates revenue from some of its franchises, and has accumulated a lot of cash on its balance sheet from its past success.
So coming out of earnings, investors are probably skeptical, as the company produced another top line miss. While top line results are important, in rare instances, and I mean rare, the market can be overly aggressively pessimistic, especially when the risks to owning the business aren't well understood.
Quarterly results, what stood out?

Source: Zynga
Revenue growth continued to decline, and falling user engagement has left many scratching their heads as to whether everything Zynga does quickly turns into a fad. The product lifecycle on games are quite finite, and since no one can predict the success of future games, no one's willing to buy the stock either.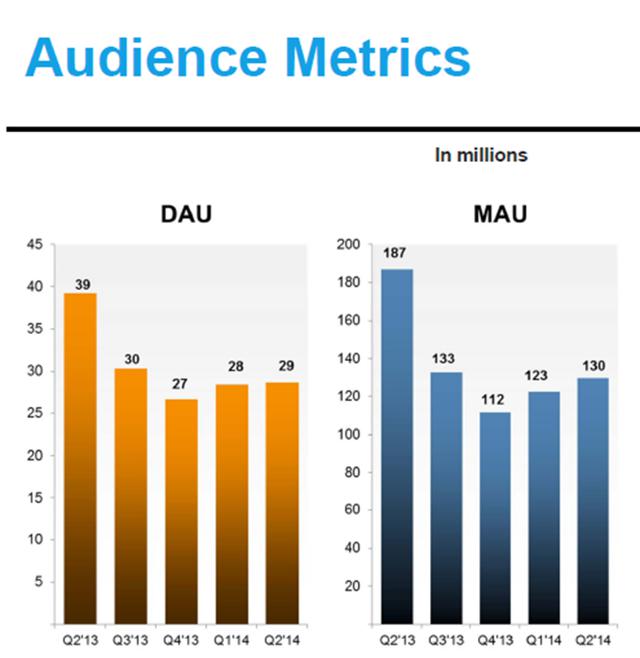 Source: Zynga
Daily active user figures have declined by 25.6% year-over-year, higher revenue per user metrics helped to offset the impact on top line, however, based on Zynga's guidance, it's likely that active user figures will continue to decline. And while the company does communicate that it's developing new games using sports licenses and other means, no one can predict as to whether these new games will be successful.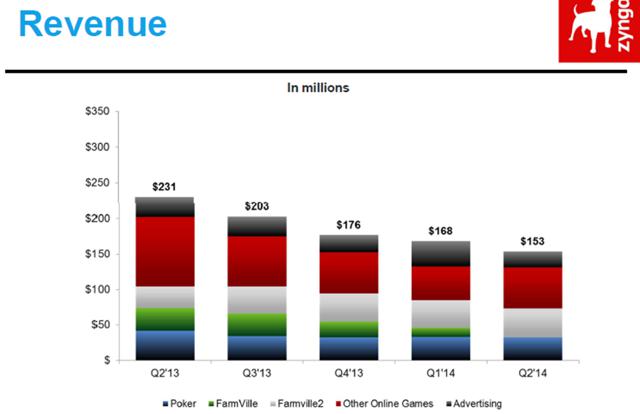 Source: Zynga
The impact from new game launches won't be felt for quite a while, meanwhile revenue growth is set to nose dive from many of its pre-existing franchises. Farmville and poker generated the vast bulk of revenue in the most recent quarter, and until another smash hit franchise emerges as a front-runner to sustained growth, the company will continue to pitch this idea of new stuff in development, as if it's a biotech company working on new drugs that are waiting on FDA approval. But unlike drug development, we can't even quantify the potential market for many of these new games, and with new games being released on a regular basis on both the Android and Apple app store, the competitive dynamics aren't exactly hot either.
Ultimately we know what causes the stock price to fall (declining revenue growth, declining active users). However, we also know that if Zynga has a successful quarter, where revenue and user engagement grow q-o-q, the investment thesis will flip from negative to positive, as a workable business model will force analysts to re-think, and mention the distinct possibility of a turnaround. Assuming a business model can result in continued additions to shareholder equity, the stock will move higher on better fundamentals.
Bottom line
So based on how the business is shaping up, investors may be better off putting on a non-directional option trade. If anything this stock will continue to decline at a rapid pace as investors continue to discount the stock due to heightened risk factors. The other case scenario is the stock finally finds bottom, as investors are able to quantify the risks of owning the stock beyond balance sheet metrics, and become willing bargain hunters.
In the case of Zynga, I think volatility will push the stock price above $3.50, or below $2.50 over the next year. Purchasing the 2016 January call option with a $3.50 strike costs $.58 and the 2016 January put option at the $2.50 strike, costs $.53. You would risk a dollar, and would break even, assuming the stock moves a whole dollar beneath $2.50 or a whole dollar above $3.50. I think the trade will earn significantly more if the stock price rebounded, but if in the event it doesn't, further depreciation will generate small gains, or offset some losses.
The option premium does not reflect the after hour declines, so the option trade is only meant to give you a basic idea on potential break-even.
Disclosure: The author has no positions in any stocks mentioned, and no plans to initiate any positions within the next 72 hours. The author wrote this article themselves, and it expresses their own opinions. The author is not receiving compensation for it (other than from Seeking Alpha). The author has no business relationship with any company whose stock is mentioned in this article.