After the market closed on Aug. 7, shares of CBS Corporation (NYSE:CBS) inched up a fraction of a percent on news that the business reported earnings that exceeded expectations, but revenue that fell shy of what analysts anticipated. Despite seeing positive results in its Publishing operations, the company fell short pretty much everywhere else, especially in its Entertainment segment.
Mixed results failed to impress
For the quarter, CBS reported revenue of $3.19 billion. In addition to representing a 5% decline from the $3.37 billion management reported the same quarter a year earlier, the company's top line came in shy of the $3.24 billion analysts anticipated. Although other factors were at play, the biggest contributor to CBS's shortfall was its Entertainment segment, which saw sales fall 9% from $2.01 billion to $1.84 billion due, in large part, to its loss of its NCAA Division I Men's Basketball Championship licensing revenue this year. The only area of growth posted by management came from the company's Publishing segment, which saw revenue climb 12% from $189 million to $211 million.
| | | | |
| --- | --- | --- | --- |
| | Last Year's | Forecasted | Actual |
| Revenue (billions) | $3.37 | $3.24 | $3.19 |
| Earnings per Share | $0.76 | $0.72 | $0.76 |
Although CBS fell short on sales, profits came in better than expected. For the quarter, management reported earnings per share of $0.76. This matched the earnings reported during the second quarter of 2013 and was 6% greater than $0.72 Mr. Market had been hoping for. Despite seeing lower revenue and overall lower profits, earnings on a per share basis stayed even with last year due to a 7% drop in share count from 624 million shares to 581 million.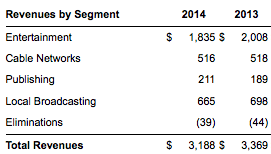 Takeaway
Right now, Mr. Market appears to be at a loss when it comes to CBS. With shares largely unchanged in after-hours trading, it seems that the allure of higher profits is being offset by meaningfully lower sales. Moving forward, it will be interesting to see what transpires with CBS, but if management can refocus its efforts on growing instead of buying back shares with the cash it received from divesting CBS Outdoor Americas (OTC:CBSO), then the 19 times earnings (using 2013's profits and its most recent closing share price) the business is trading for might make it an attractive long-term play.
Disclosure: The author has no positions in any stocks mentioned, and no plans to initiate any positions within the next 72 hours. The author wrote this article themselves, and it expresses their own opinions. The author is not receiving compensation for it (other than from Seeking Alpha). The author has no business relationship with any company whose stock is mentioned in this article.