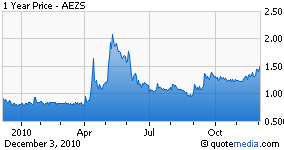 Many of those who purchased at $1.15 per share following my September 17th article have sent me inquiries about my current view on AEterna Zentaris (NASDAQ:AEZS) and where to sell AEZS. AEZS is currently $1.54 per share, which represents nearly a 34% gain in the past 10 weeks. Some may have locked in gains, but I am still accumulating AEZS at these levels. My conviction is that the stock is still tremendously undervalued, especially considering recent developments and expected near-term catalysts.
AEZS operates as a late-stage drug development company specialized in oncology and endocrinology. Its lead oncology compounds include perifosine, an orally active PI3K/Akt pathway inhibitor that is in Phase III registration trial for multiple myeloma; and AEZS-108, a doxorubicin-targeted conjugate in Phase II for the treatment of advanced ovarian and endometrial cancer. The company's lead endocrinology compound, AEZS-130, is an oral ghrelin antagonist in Phase III trial as a diagnostic test for Adult Growth Hormone Deficiency. Its pipeline also includes earlier-stage compounds, such as AEZS-112 that is in a Phase I trial in advanced solid tumors and lymphoma, as well as AEZS-120, an anti-cancer vaccine in pre-clinical development. Updates on pipeline developments and studies will be given below. The key point is that AEZS has found a novel, incredibly promising way to attack cancer cells and neutralize them before they get out of control.
AEZS has out-licensed rights for Perifosine to Keryx Biopharmaceuticals (KERX) for North America but retains all rights in the rest of the world (excluding Korea). Studies show that AEZS's retained market for Perifosine is at least equal to or greater than North America alone. Keryx's market cap is well over $300 million while AEZS is still at around $128 million. Price parity for Perifosine alone would represent well over 100% upside from these levels. The company also has plenty of cash (approximately $0.48 per share).
AEZS has partnership agreements with Shionogi and Co. (SGIOF.PK), Sanofi-Aventis (SNY), ARES Trading S.A., Nippon Kayaku Co. Ltd., Spectrum Pharmaceuticals (SPPI), Handok Pharmaceuticals Co., Ltd., and Keryx Biopharmaceuticals. The company sells its products in the United States, Canada, Switzerland, the United Kingdom, the Netherlands, and Japan.
Recent Developments
There have been a few, very positive recent developments since my article on September 17th:
11/29/2010 - Coverage was initiated by MLV Capital with a $5.50 price target. MLV analyst says, "We use a discounted P/E model applied to our projected 2015 EPS to arrive at our current value of $4.00 per share and one-year price target of $5.50 per share. In our view, a 40% discount rate is appropriate for current uncertainties regarding the timing and outcome of ongoing and future clinical trials. We believe a 25x P/E multiple is appropriate for our projection of the company's growth."

11/18/2010 - Aeterna Zentaris presented Positive Phase 2 Efficacy and Safety Data for AEZS-108 in Advanced Endometrial Cancer at ENA Meeting in Berlin, Germany. "The safety and efficacy of AEZS-108 in our study on advanced endometrial cancer was very encouraging," commented Prof. Günter Emons. "We must keep in mind that we used AEZS-108 as a single agent treatment only, and still achieved good rates of objective response and disease stabilization. Importantly from the patients' point of view, overall survival was similar to what has been reported with more aggressive and less well tolerated combination chemotherapy regimens." Based on those data, an Overall Response Rate (ORR = CR+PR) of 30.8 % and a Clinical Benefit Rate (CBR = CR+PR+SD) of 74.4% can be estimated. Juergen Engel, Ph.D., President and CEO of Aeterna Zentaris added…"These exciting positive results in endometrial cancer along with positive data for

ovarian cancer

disclosed earlier this year, reaffirm AEZS-108's potential as a novel targeted approach for the treatment of cancer. We now look forward to the further late-stage development of AEZS-108 for the benefit of women battling gynecological cancers."

11/17/2010 - Aeterna Zentaris presented encouraging preclinical data on two novel orally active anti-cancer compounds at a major conference in Germany. Data showed that AEZS-129 and AEZS-132 block important signalling pathways (PI3K/Akt and Ras/Raf/Mek/Erk) which contribute to the proliferation and survival of cancer cells. Targeting these multiple signalling pathways could result in improved treatment efficacy for such cancers as lung, colon, prostate, breast, endometrial cancer and melanoma. Juergen Engel, Ph.D., President and CEO of Aeterna Zentaris stated, "Data from the studies on AEZS-129 and AEZS-132 presented today, demonstrate that these two novel orally active anti-cancer compounds can inhibit the growth of tumor cells without critical safety issues. They are also prime examples of our innovative drug development programs in oncology, using molecules that work by using a targeted approach in order to tailor the treatment to a patient's specific condition and tumor characteristics. Although still in preclinical development, we believe AEZS-129 and especially the first-in-class dual PI3K/Erk inhibitor, AEZS-132, could be part of the next generation of cancer treatments."

10/5/2010 - Aeterna Zentaris Inc. announced that an interim review of a Phase 3 trial of AEZS-130 (macimorelin, SolorelTM), demonstrates the compound may provide a simple, well-tolerated and safe oral diagnostic test for Adult Growth Hormone Deficiency (AGHD). The data was presented by Beverly M.K. Biller, M.D. of the Harvard Medical School/Massachusetts General Hospital in Boston, at the 5th International Congress of the Growth Hormone Research Society (GRS) and the Insulin-like Growth Factors (IGF) Society in New York City. AEZS-130 (macimorelin, SolorelTM) has been granted Orphan Drug Designation by the Food and Drug Administration (FDA) as a diagnostic test for AGHD. Completion of the Phase 3 Study is expected this year and filing a New Drug Application is expected early next year.
Upcoming Catalysts
There are several near-term catalysts which I believe will continue to propel AEZS' share price:
American Society of Hematology Presentations starting December 4th through the 6th. There will be a lot of data on Perifosine, which will give indications of the drug's efficacy and safety in other applications. This will provide greater visibility into the application of Perifosine in a much larger market, besides the Phase 3 program in

multiple myeloma

and advanced metastatic colorectal. These presentations include preliminary phase II results for relapsed/refractory Lymphomas.

Possible European partner announcement this month. Sources report that AEZS is in talks with a European partner. This could bring a very large upfront payment that I would expect to be nearly the size of AEZS' current market cap.

Investors and Analysts meeting scheduled

on December 14, 2010

. Expect very positive results and detailed plans.
Chart technicals on a 6-month by daily are now very bullish and show AEZS is starting a new uptrend. The stock price will likely see the $1.80 range on the next leg up. AEZS hasn't yet tested its 52 week high of $2.19, but I wouldn't be surprised to see that soon. AEZS could very well see a radical upside move above $3 that could be just days away from now.

Disclosure: Long AEZS and KERX