Executive Summary
The Walt Disney Company (NYSE:DIS) is a company headquartered in California that offers a variety of different underlying companies. Disney operates media networks (ABC, ESPN), parks and resorts (Disneyland, Walt Disney World), Walt Disney Studios, cruise lines, and consumer products, among others. The company has a reputation as a financially strong company that has performed well in the recent past. Disney has been a company that I considered worth researching to consider adding to my "shopping list" if the market goes on "sale" as part of the recent volatility.
Pros:
The company has some interesting developments and catalysts that could allow Disney to maintain its reputation as a strong performing stock. The company was recently in the news for creating a number of new content deals that could lead to potential revenue growth. Perhaps what is one of the more exciting deals in the works for Disney is their projected reproduction of the movie The Jungle Book. The new version of the Disney classic is expected to hit theaters on October 9th of 2015. Although whenever remakes of movies occur there is a possibility of a flop, I imagine Disney is relatively confident in The Jungle Book remake being successful. The movie will feature stars like Bill Murray, Christopher Walken, Sir Ben Kingsley, and Scarlett Johansson to name a few.
From a valuation standpoint, Disney shares are still relatively fairly valued in what is otherwise a rather expensive market. Although the price to earnings ratio for Disney is slightly above the S&P average of 18.2 at 21.9, the shares are still somewhat fairly valued. When looking at Disney's growth rate in relation, the current PEG ratio is around 1.5; meaning Disney currently trades at a price to earnings ratio of about 1.5 times its growth rate. Although this may not indicate a "screaming" buy, the stock is still somewhat reasonably valued and a market volatility scenario could allow investors to purchase shares at a discount from today's share price.
One of the largest advantages of investing in Disney is its history and its past performance track record. Looking at both the long- and short-term charts for Disney in comparison to the S&P, it is quite clear that an investor would have been better off investing in Disney over an S&P index fund. Without getting into the details of risk and diversification, taking a look at the charts below shows the levels of outperformance for the two different time periods.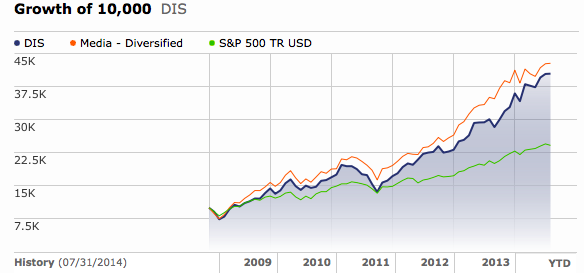 Both Charts Courtesy of Morningstar
From personal observations, it seems that both Disney movies and resort vacations tend to be extremely popular this year. Of course the movie Frozen has been a huge success for the company, but in personal observations I have noticed a huge amount of people discussing the movie as well as discussing trips to Disney parks in Orlando, Florida. Although my observations only account for a small percentage of the overall population, Disney seems to be as popular as ever in 2014.
As an added note, as an investor who prefers dividend paying stocks, Disney's modest 1% yield is enough to feel that you are at least being recognized for being a shareholder.
Cons:
The primary risk that comes with investing in Disney is economic risk and consumer preferences risk. The economic risk is unavoidable, but could lead to potential downturns in spending at parks and resorts as well as the performance of home entertainment releases and company branded consumer products. Consumer preferences will depend on whether or not the content that Disney produces continues to be "crowd pleasers". Disney has a following of fans that are likely to continue to support its content, as well as a brand recognition factor that many parents and families feel they can trust.
Other minor risks include potential technological changes that could adversely affect certain Disney companies, or potentially violate many of the copyrights on Disney content. Being able to protect its content is something that the company is constantly working on to ensure the protection of its assets.
Summary:
As with any individual stock, Disney comes with some risks as well as some pros and cons. The stock has strong fundamentals, a well rounded management team, and the history and brand loyalty to withstand almost any economic or political volatility situation. Although entertainment spending may decrease in tough economic times, Disney has the type of brand loyalty to bounce back in economic recoveries. The stock offers good long-term prospects and a small dividend that can be reinvested for dollar costing averaging over time. For long-term blue chip stock investors, you may be able to pick up shares at a discount before the end of the year.
This article is given for informational purposes only and is not to be construed as investment advice. Contact your investment professional and do your own due diligence before investing.
Disclosure: The author has no positions in any stocks mentioned, and no plans to initiate any positions within the next 72 hours. The author wrote this article themselves, and it expresses their own opinions. The author is not receiving compensation for it (other than from Seeking Alpha). The author has no business relationship with any company whose stock is mentioned in this article.