By Sumit Roy
Natural gas inventories rose by 82 bcf last week, close to expectations.
Natural gas was last trading up by less than 1 percent to $3.96/mmbtu after the Energy Information Administration reported that operators injected 82 billion cubic feet into storage last week, within the 80 to 84 bcf range of analyst estimates.
The latest injection was below last year's build of 96 bcf and above the five-year average build of 52 bcf.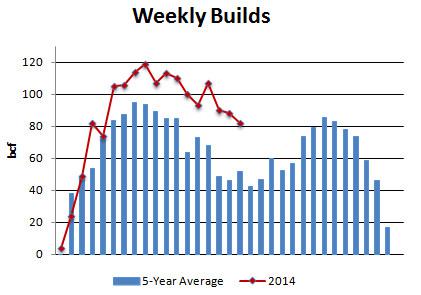 In turn, inventories now stand at 2,389 bcf, which is 552 bcf below the year-ago level and 606 bcf below the five-year average (calculated using a slightly different methodology than the EIA).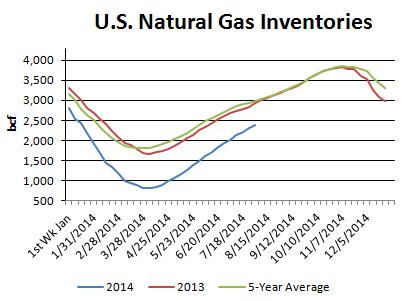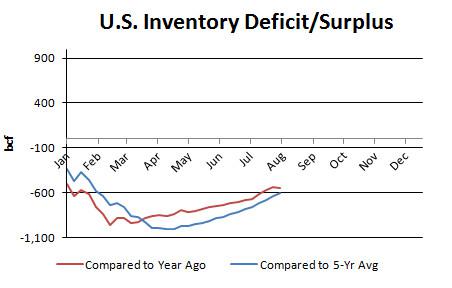 The weather last week was cooler than seasonal norms, but warmer than the same week a year ago.
According to the Edison Electric Institute, utilities generated 84,199 GWh in the week ending Aug. 2, up 0.4 percent from a year ago.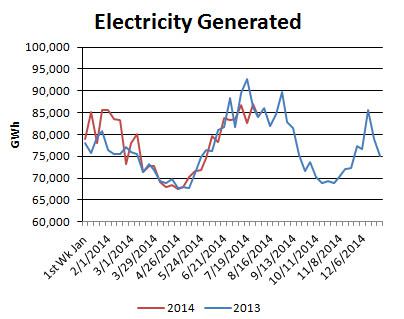 Looking forward, the NOAA's 6- to 10-day outlook calls for mixed weather across the country, with cooler-than-normal temperatures expected for the Midwest and East Coast, and warmer-than-normal temperatures expected for the West Coast and parts of the South.
NOAA 6- TO 10-DAY OUTLOOK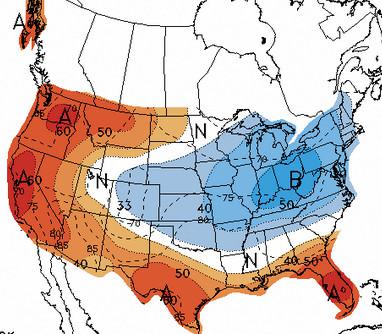 Meanwhile, Baker Hughes reported that the number of rigs drilling for natural gas in the U.S. fell by five to 313 last week.
Natural Gas Rig Count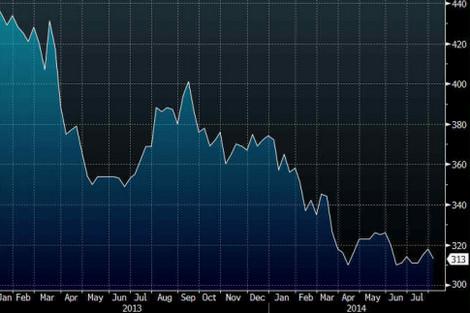 Natural Gas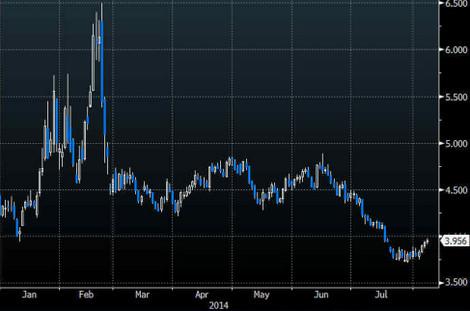 Bottom Line: The latest inventory data from the EIA were neutral, as the inventory deficit against the five-year average fell from 637 to 606 bcf, and the deficit against last year rose from 538 to 552 bcf.
For the first time since early May, the year-over-year inventory deficit increased. However, that increase was solely due to the weather, which was extremely mild during the same week last year. It's almost certain that the inventory deficit will resume its downward trend starting with next week's report.
We still expect the year-over-year deficit to drop below 500 bcf by the end of the month and drop below 400 bcf by the end of September. In the context of surging natural gas production-which was up 4.6 bcf/d from a year ago in May-we do not believe the market is concerned about the inventory deficit any longer.
Indeed, the deficit is the only thing that is preventing the bottom from falling out of prices. Once the deficit is completely erased-which could happen as soon as the early part of winter-natural gas will likely fall to much lower levels in order to spur demand and incentivize production cutbacks. Quite simply, output is growing much too fast to be absorbed by the market.
In the near term, we see rallies above $4/mmbtu as selling opportunities. We expect the recent low near $3.75 will be broken in the coming weeks before prices bottom out ahead of a potential pre-winter bounce.