By Michael Cintolo, Chief Analyst, Cabot Market Letter
In recent years, we've seen a bunch of big, liquid, leading stocks go up for a year or two based on a spectacular product or service that drives sales and earnings much higher. Then these stocks chop around, top out and then decline for many months … par for the course with a growth stock.
Historically, about 70% of these big leaders tend to be in the graveyard, never to be heard from again-think Cisco (NASDAQ:CSCO), EMC (EMC), JDS Uniphase (JDSU) and the like from the late-1990s bubble. But the unusual thing is that, since the mid-2000s, we've seen a bunch of these former leaders come back to life, usually because they've leap-frogged their big-selling product to offer something even better.
(Our theory is that, in a less-dynamic economic environment like we've seen for the past 12 years, much of the country's top talent decides to stay with their company instead of starting their own higher risk ventures. Hence, many of the best ideas come from the same companies over and over again as the top talent stays there and profits. But I digress.)
Apple (NASDAQ:AAPL) is the most obvious example; it first rode the iPod to great heights, then the iPhone, and finally the iPad. But we've also seen firms like Priceline(.)com (NASDAQ:PCLN) do the same, with its renewed emphasis on Europe's market driving unreal earnings growth in recent years. And Netflix (NASDAQ:NFLX) has been a leader three times, first by taking down Blockbuster with DVDs by mail (2003), then thanks to its streaming video (2010-2011) and, last year, with its emphasis on original programming!
With this in mind, we're more alert to prior leaders that have gone through the wringer, come back to some extent and are setting up again. One we're watching closely is Keurig Green Mountain (NASDAQ:GMCR), a firm we owned a couple of times during the 2009-2011 bull market, before fears of patent expirations (about 15% of the current K-Cup sales are now from unlicensed competitors) and even some accounting shenanigans cratered the stock.
A continuation of decent (though slowing) growth brought the stock back from its oversold bottom, but now, after the stock has consolidated for five months (which itself came after a nine-month pause), there are two new catalysts that could re-energize GMCR. The first is its Keurig Bolt brewer, which will be ready for sale in the weeks ahead. There are two big attractions here-first, Bolt can brew 64 ounces of coffee in about two minutes (brew size is the #1 non-price reason many people haven't switched to single-serve brewers yet), and the new brewer will renew the firm's patents on its K-Cup franchise, locking out competition and easing some pricing pressures.
Second and likely much bigger is Keurig Cold, a single-serve machine that will sell for similar prices to the current Keurig line ($130 or so) and be able to produce cold carbonated and sparkling beverages (though without a separate CO2 tank). The big backer here is Coca-Cola (NYSE:KO), which has bought 16% of GMCR's shares! The first Keurig Cold production facility has already been opened, though the product probably won't hit the market until sometime next year. Still, if the company can grab just a few percent of the monstrous soda market in the U.S., Keurig Cold could prove incredibly lucrative.
On a numbers basis, there's not much exciting about the company right now-there's a small dividend and a decent share buyback program, but earnings growth is slow, with analysts forecasting earnings up only 10% to 15% next year.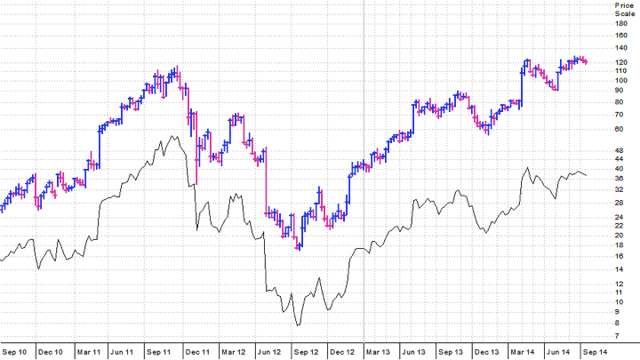 Click to enlarge
Source for chart: WONDA William O'Neil + Co., Inc.
But we think that might prove extremely conservative. While the Bolt is likely to provide an incremental-type improvement, the Cold is an entirely new product that could significantly boost the bottom line … just as we saw with Apple's iPhone and iPad and Netflix's streaming and original programming. Of course, there are no guarantees that will be the case, but with Coca-Cola putting its money where its mouth is (its stake is worth about $3 billion!), we think the odds favor Keurig Cold being a big success. GMCR has tightened up of late. In the August 6 quarterly earnings report, the company reaffirmed its 2014 net sales outlook and raised its EPS outlook. WATCH.
There are other big-cap stocks that could also prove to have second legs to their growth waves, such as Baidu (NASDAQ:BIDU), which has stepped up its investments in mobile search and other areas, and Adobe Systems (NASDAQ:ADBE), which has embraced the cloud, leading to a subscription-based, recurring-revenue model that's off to a great start. We'll be watching these and other potential "old-but-new" leaders should the market remain in an uptrend.
Disclosure: The author has no positions in any stocks mentioned, and no plans to initiate any positions within the next 72 hours. The author wrote this article themselves, and it expresses their own opinions. The author is not receiving compensation for it. The author has no business relationship with any company whose stock is mentioned in this article.