The private equity industry has some $1 trillion available to invest. The retail industry could be just the spot for it. Barron's noted that the retail sector has been hit unusually hard, and as a result many operators within it trade at unusual values.
The three stocks below look to be some of the more interesting picks that Barron's turned up as potential buyout or activist targets. But what's more is that even if takeovers never happen, these stocks could still perform well on the back of a recovering economy.
Barron's also highlighted GameStop, Staples and Whole Foods. These three stocks are less attractive. GameStop pays a solid dividend and has managed to continue growing earnings by buying up shares. However, the competition is very robust. Namely, the move toward digital downloads. GameStop is already trying to hedge the decline of game and console sales by breaking into the mobile phone market. Its store base doesn't look attractive as a buyout and there doesn't appear to be much that an activist can do.
Staples is facing increased competition thanks to the Office Max and Office Depot merger. The office supply space has been all but replaced by Amazon. What's more is that the company doesn't appear to be attractive as a buyout and it already has an aggressive store closing plan in place. I could see an activist getting involved and trying to push for a Staples-Office Depot merger, but the regulatory headwinds would be a lot to overcome.
As far Whole Foods, the company is facing a lot of competition that's squeezing margins. I don't see much an activist would be able to accomplish in terms of operations, but they could get involved to try and force a sale of the company. Regardless, Whole Foods is much more expensive than the three stocks below in terms of valuation.
On to the stocks that you should own:
1. A home goods retailer
Bed Bath & Beyond (NASDAQ:BBBY) has been beaten down this year, but still has a leading market position and a balance sheet with no debt which make it an attractive buyout target. After a disappointing earnings release, the stock has now tumbled 23% this year. The shares now trade at a P/E ratio of 13, below the company's 16.5 five-year average P/E ratio.
Its online sales make up less than 5% of its sales, so it's still very much a bricks-and-mortar retailer. Bed Bath & Beyond has 1,300 stores, but still believes it can boost that number. The retailer is looking to fend off an activist investor by announcing a buyback program. Over the next two to three years, the company plans to buy back $3 billion in stock. That's good enough to reduce its outstanding share count by 25%.
One of the most interesting topics when it comes to brick-n-mortar retailers is whether or not Amazon should get into the business. It's unlikely for the ecommerce giant to undergo a massive brick-n-mortar rollout, but buying up an already established brand wouldn't be a bad idea. Bed Bath & Beyond already has a solid store base, and its market cap of just under $13 billion makes it a relative easy buy. It also carries no debt.
But Bed Bath & Beyond is, in part, on this list because of its cheapness, which has come as a result of market share losses to Amazon. However, Bed Bath & Beyond gets little revenues from online. A purchase of Bed Bath & Beyond wouldn't necessarily cannibalize any revenues and give it an opportunity to cross sell. It could also allow Amazon to turn every retail store into a distribution center.
On the other hand, pairing up with another homegoods retailer could be a possibility. Bed Bath & Beyond and Williams Sonoma operate on different ends of the homegoods spectrum (low-end versus high-end), a marriage of the two would allow the merged company to capture more of the market. The big incentive for Bed Bath & Beyond is that Williams Sonoma has figured out online sales to some degree -- where it gets around 50% of its revenues from ecommerce.
With no debt, a 25% plus return on invested capital, trading at multi-year lows (both on a P/FCF and EV/EBITDA basis) it's hard to see how Bed Bath & Beyond won't attract a suitor or two.
2. A top discount retailer
TJX Companies (NYSE:TJX) looks to be a cheap growth story. With a $38 billion market cap, it would be a tough takeover candidate, as TJX is one of the largest off-price retailers around. TJX managed to capture market share thanks to customers trading down during the financial crisis.
As part of its growth story, TJX is focusing on its online business. It just launched its official website tjmaxx.com in late 2013. Meanwhile, its HomeGoods brand is gaining traction in Europe.
In the off-price market in Europe, there's little to no competition. TJX's sales in Europe grew 13% in 2013. And it's looking to up its stake in Europe by opening 40 stores this year -- 25% more stores than it opened in the region last year.
Now, who could buy TJX? Rather who would want to? It doesn't really make sense for a Wal-Mart or Amazon. We think the most likely scenario for the off-price retail space is a merger of TJX and Ross Stores. We're already seeing a similar scenario unfold in the dollar store industry. Either Dollar Tree or Dollar General will emerge with Family Dollar.
As the economy rebounds, some customers will be trading up from off-price and dollar store retailers. Merging gives these companies the best ability to compete with higher-end retailers. In TJX's case, it's the likes of Nordstrom and Macy's.
Ross Store's market cap is right at $14 billion, less than half TJX's. TJX could also go the way of buying up Kohl's or Dillard's, which have $11 billion and $5.3 billion market caps, respectively.
They also trade much cheaper than Ross Stores, which trades at 1.3x sales. Kohl's trades at a P/S of 0.8x and Dillard's is 0.6x. However, it still appears that Ross might be the best bet for TJX. Ross has virtually no debt, unlike Dillard's and Kohl's, meaning a deal would be easier for Ross. Allowing TJX to take on little debt to get the deal done.
By acquiring Ross' some 1,200 stores in the U.S. (most of which are in major states: Florida, Texas and California), it would increase TJX's domestic presence and accelerate its domestic store buildout. TJX actually only has a few stores in these three states. And the increased purchasing power of the two major off-price merchandise buyers would be very advantageous.
3. A department retailer that needs an activist investor
Target (NYSE:TGT) has been underperforming its chief peer Wal-Mart. Barron's believes that Target could attract an activist investor.
We're already seeing activist investors getting involved in the consumer goods retail space. Famed activist Carl Icahn is pushing for two of the leading dollar stores, Family Dollar and Dollar General, to merge. Meanwhile, Jana Partners owns 10% of PetSmart and is also pushing for a sale.
Target is down the least of the three stocks listed and trades at one of the higher P/E ratios at 20. But it has an enticing dividend yield at 3.5%. What's more is that Target has boosted its annual dividend payment for 56 straight years.
The 2013 credit and debit card data breach, which included a hack that captured information on 40 million customers, has been a point of concern for the company. Its image has been hurt, but it also has to spend money to boost its security. It's slowly recovering from this and the CEO resigned in May due to the data breach. The company is in the process of finding a new CEO.
The shares of the retailer are down 16% over the last year, while Wal-Mart is essentially flat. And while Target doesn't appear cheap on the surface at a P/E ratio of around 20, it's a compelling investment when factoring in Wall Street's growth expectations. Target's P/E ratio to growth rate, or PEG ratio, is 1.55, which is below Wal-Mart's 2.0 ratio.
When Bill Ackman got involved back in 2007, he noted that Target was continuing to underperform Wal-Mart. This has continued over the last three years.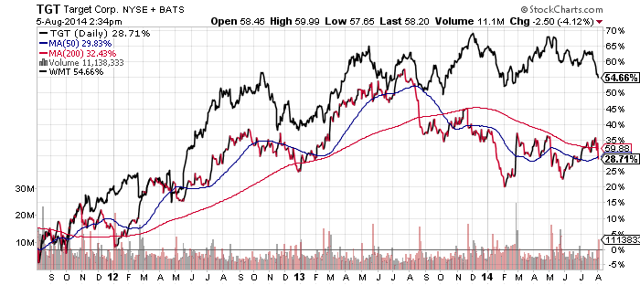 Ackman was also pushing for the company to spinoff its real estate into a REIT. At the time, Target had upwards of $40 billion in real estate value. Ackman also wanted the retailer to sell off its credit card operations.
While it's unlikely that an activist will revisit Target with the hopes of unlocking real estate value, there's a few things an activist could look to enact. First off its struggling Canadian operations and it needs a plan for international expansion. Target also has a brand perception problem. A new CEO, recently appointed, is a step in the right direction. Meanwhile, its REDcard should go a long way in keeping, and building, loyalty.
Target has noted that REDcard holders visit the stores twice as much and spend 50% more than non-REDcard customers. The penetration of REDcard customers is also on the rise, up to nearly 20% as of last year, compared to 6% in 2009.
Bottom line
These three potential takeover targets, or activist targets, look to be interesting plays in the current retail environment. Investors who are looking for beaten down turnaround stocks in the retail space should have a closer look at all three of the stocks above.
Disclosure: The author has no positions in any stocks mentioned, but may initiate a long position in BBBY over the next 72 hours. The author wrote this article themselves, and it expresses their own opinions. The author is not receiving compensation for it (other than from Seeking Alpha). The author has no business relationship with any company whose stock is mentioned in this article.